Reviews and recommendations are unbiased and products are independently selected. Postmedia may earn an affiliate commission from purchases made through links on this page.
Article content
As time goes on I see more and more homeowners interested in reducing home maintenance chores, and this is why synthetic deck material is exploding in popularity. Of all the exterior home maintenance tasks, keeping an all-wood deck looking good all the time is one of the biggest, most expensive and most demanding ongoing chores of them all. Synthetic decking material eliminates the need for ongoing finishing and refinishing of deck surfaces, plus it never rots. Let me show you why I've come to like synthetics a lot over the last 20+ years and why you might consider it for your next new deck or deck rebuild.
Article content
What are composites?
Something called "composite deck lumber" was invented by the Trex company and first came to market in 1996. I used it for the first time a few years later and all current versions of composites are made from a blend of wood fibers and plastic, usually sourced from recycled shipping pallets and grocery store shopping bags. This is what the term "composite" means, but these days it has come to mean more than just a blend of wood fibers and plastic. It's loosely used to describe all types of synthetic deck lumber, including 100% plastic versions. Strictly speaking, all-plastic lumbers are not composites, but you needn't get into fine distinctions. All of the benefits and drawbacks of true composites apply pretty much across the board to 100% plastic deck lumber, too.
Article content
Everything in the world needs maintenance, and composites are no exception. The advantage for you is that the maintenance composites require is minimal – nothing more than an occasional sweeping or washing down. Once in a while you might have to scrub to remove lichen or moss that develops in shady areas, but that's no big deal. There's definitely no need to sand, strip or apply a finish to composites.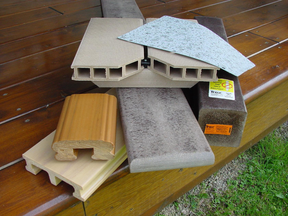 Are composites worth it?
While all these advantages are desirable, the higher price tag of composites scares some people away. That's where you need to put things into perspective. When you choose composites, you're not just buying a building material. You're also paying ahead of time to avoid all the labour and deck stain that a wood-deck equivalent gobbles up over the life of the deck. In this sense, considered over time, composite lumber is one of the most economical deck options of all. This is even more true now that regular wood lumber has risen so much in price. The cost difference between composites and wood has definitely narrowed, at least for now.
Article content
In an effort to reduce costs, some composites are made hollow. Other types are solid and of similar thickness and width to real wood lumber. Which one is best? That depends. Hollow versions cost less, but they also require end caps and other details that make hollow versions look less like wood than solids. If keeping the budget in check is top priority, then go with a hollow product. For best appearance, I prefer solids.
The premium price of composites should be met with the greatest care on your part to showcase the beauty of the material, and this comes down to a few things. Hidden deck board fastening system is one of the most important.
While it's certainly possible to use regular, unhidden, face-driven deck screws to secure composite deck boards, this is far less than ideal because composite decks look so much nicer when you can't see any screw heads. Some composite deck lumber profiles are made to use a proprietary hidden fastener system, while others require a separate hidden system.
"If only I'd known how much work this would be!" is a lament I hear often from readers several years into ownership of a new, all-wood deck. If only they'd chosen composites.
Steve Maxwell built a wrap-around all-wood deck on his house and ended up taking off all the wood and replacing it with composites years ago. Visit Steve online at BaileyLineRoad.com and join 31,000 people who get his free Saturday morning email newsletter each week.