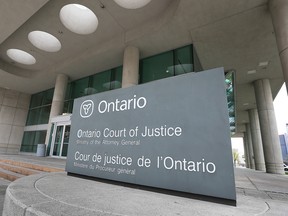 Article content
Three years later, fear and anxiety remain part of the day-to-day lives of some young girls approached and propositioned by a Windsor man as they were walking in their neighbourhoods, a Windsor court heard Wednesday.
Article content
Jeffrey Muxlow, 34, was sentenced to six months house arrest after pleading guilty to two counts of invitation to sexual touching involving young girls — one of them only 11 years old — in the summer of 2019.
Article content
Muxlow was also placed on two years probation, and he's prohibited for five years from contact with children under 16 years of age and from attending any places where children congregate, including schools, daycares, playgrounds and community centres. Ontario Court Justice Sharon Murphy also ordered the Windsor man's name to be included for life on a national sexual offender registry.
At Muxlow's sentencing Wednesday, the judge read out victim impact statements from the girls and a victim's mother. The girls described the ongoing fear and anxiety they feel — ranging from apprehension around vehicles similar to Muxlow's, to an inability to walk to school or the bus stop alone.
Article content
A court-imposed publication ban covers the names and other identifying information about the young complainants. Essex County OPP originally charged Muxlow with four counts involving alleged encounters on Tecumseh streets.
As part of his sentence, which includes limited exceptions for work and family, Muxlow must also attend counselling as directed and submit to a DNA order. He is also subject to a weapons prohibition.
Assistant Crown attorney Craig Houle and defence lawyer Evan Weber made a joint sentencing submission to the judge. Both lawyers said they took into consideration Muxlow's lack of a prior criminal record, as well as his taking responsibility by pleading guilty, sparing the victims the trauma of appearing at a trial.
Article content
And while Muxlow's actions had a serious impact on the victims, Houle and Weber noted they also had not gone beyond the verbal invitations.
In brief remarks prior to the judge announcing the sentence, Muxlow apologized for his actions.
"We're here because you acted on impulses and made overtures to children," Justice Murphy said. "You can see, three years later, what the continued impact is of your momentary choices.
"Every one of them has had their security taken away."