The Ray's fresh, contemporary design mixes a breezy resort look with the tropical warmth and texture of rattan and linen.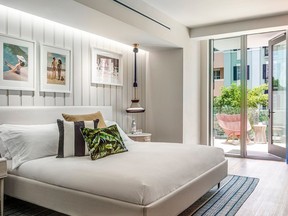 Postmedia may earn an affiliate commission from purchases made through our links on this page.
Article content
The new Ray Hotel has done the nearly impossible. It has made the irresistible, trendy town of Delray Beach, Fla., even more desirable, adding head-to-toe glamour, luxurious furnishings and sumptuous gastronomy, including one sublime Asian restaurant by Michelin-starred chef Akira Back.
Article content
The Ray is a chic urban resort that looks lighthearted and mellow but takes hospitality seriously. It opened about a year ago and was a smash hit right away.
Article content
I checked in on a sultry Florida day and hardly realized that I was in downtown Delray.
The Ray's fresh, contemporary design mixes a breezy resort look with the tropical warmth and texture of rattan and linen. The lobby chairs could be from Bali and the large-scale, avant-garde artwork reminded me of MoMA in Manhattan. The Ray is in "downtown" Delray, yes, but the view from my guest room was of a grove of trees and the rooftop pool is surrounded by greenery.
Formally called the Ray Hotel Delray Beach, Curio Collection by Hilton, this stylish getaway is two blocks from the Atlantic Ocean, and two from the main drag, Atlantic Ave.
Article content
Delray Beach is eminently walkable, but the shopping along a three-kilometre stretch of "the Avenue" is an epic undertaking, so I boutique-hopped using the hotel's chauffeured electric golf carts, as well as summoning the town's new Freebee "taxi" carts with a handy app.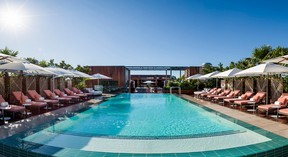 Dining: The Ray is home to the best of Delray Beach food and drink at three seductive venues: The open-air Rosewater Rooftop, the sumptuous Ember Grill, and Akira Back, a temple of modern Japanese cuisine. Schedule a happy-hour stop at Ember and Rosewater to sample wines, bites and fancy cocktails.
Akira Back's transcendent cuisine is a fusion of his Korean heritage, U.S. upbringing and Japanese techniques. Here, food is art, meticulously crafted and beautifully presented, but with a big flavour impact. Scallops float atop chiffony foam. Caviar glistens.
Article content
I recognized dishes of tataki, crudo, tiradito, sashimi and tempura, but I also ventured into Wagyu beef tobanyaki, the Hot Mess (crab with spicy sauce), the Cow-Wow roll (short rib) and indulgences like sea urchin, tomahawk steaks and miso black cod.
Chef Vic Casanova, of California, Las Vegas and New York fame, has taken over the other restaurants. The street-side Ember Grill is big-deal dining with a rich design, by Studio Munge of Toronto and New York. It features seafood and meat delicacies like tuna crudo, beef carpaccio, ribeye steaks, porterhouse for two and filet mignon.
The exciting, sociable Rosewood Rooftop combines a poolside bistro, a bar, a party venue and a supper lounge. Also designed by Studio Munge, the Rosewood is draped in leafy trellises and shaded with pergolas and canopies. Menu must-haves include ceviche, sushi with local yellowtail or Americana at its best with towering club sandwiches and burgers.
Article content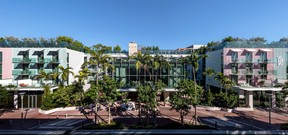 Accommodations: The rooms and suites are upbeat, with an easygoing tropical air and earthy textures like natural wood floors, linen curtains and sisal rugs with splashes of sea blue.
Art is important here. A collection of retro prints of sunbathers and swimming pools by Slim Aarons, the mid-20th-century photo master, add whimsy and colour.
My room had so many deluxe features that I felt spoiled: Good closet space, bathrobes, a mini-bar, a Nespresso machine, a 65-inch TV, organic linens by Eucalypso and a glass balcony.
The bathrooms are equipped with the finest fixtures by Waterworks, Kohler and Toto, and the shower has a glass wall with a view (plus a shade for privacy). And most importantly, the housekeeping was impeccable.
Article content
Around town: The Ray's neighbourhood is the Pineapple Grove Arts District, which pops with street sculpture, galleries, furniture and artisan shops, as well as Artists' Alley, a warehouse exhibition space for local creatives.
The hotel is a short walk from Delray Beach Market — one of the town's newest attractions — which is home to an array of eateries and, soon to open, a branch of N.Y.'s Bounce Sporting Club. Or you can head for the coastal Sandoway Discovery Centre, where shark and alligator feedings are dramatic highlights.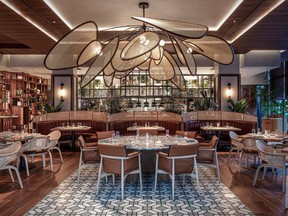 IF YOU GO
Palm Beach County: thepalmbeaches.com. Delray Beach: downtowndelraybeach.com.
The Ray Hotel Delray Beach, Curio Collection by Hilton: 561-739-1700, therayhotel.com; 233 N.E. 2nd Ave., Delray Beach, Fla. Hilton Honors valid at 18 brands including Curio, Canopy, LXR, Hilton Garden Inn, Hilton Homewood Suites and Waldorf Astoria.
Article content
Price: rooms from US$300; suites from US$800. Weekends and holidays are higher. Resort fee of US$30 (per room) includes WiFi, beach transport/access/chairs/umbrellas, rooftop pool, bicycles, local shuttle. Valet parking, US$38.
Dining (reservations recommended): Akira Back Delray: 561-739-1708, akirabackdelray.com, daily from 5 p.m. Ember Grill: 561-739-1705, embergrilldelray.com, daily from 5 p.m., happy hour Mon.-Fri., 5 p.m.–6 p.m. Rosewater Rooftop: 561-739-1706, rosewaterdelray.com; breakfast, Sat.-Sun., lunch/dinner daily; happy hour daily, 3 p.m.- 6 p.m.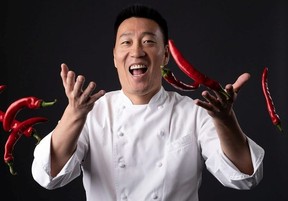 As travel prices rise, Canadians look for ways to save this winter

Hotel Intel: Farouche's cabins tame the Tremblant wilds — just a little