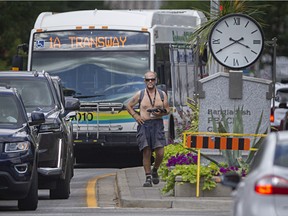 Article content
At age 15, Christine Wilson-Furlonger begged for money to feed herself outside a Big V on Ouellette Avenue, thankful police and business owners turned a blind eye.
Article content
Having learned the city will look into a partial ban on panhandling at one councillor's request, the now-adult Street Help administrator told the Star such a ban would have a devastating effect on Windsor's poorest residents.
"It's discouraging that we can't see that kind of attack on the homeless put to rest," Wilson-Furlonger said Tuesday.
During Monday's council meeting, Ward 1 Coun. Fred Francis asked staff to investigate the feasibility of a bylaw that prohibits panhandling in residential, business, and tourism districts. At the request of Mayor Drew Dilkens, boulevards and street medians were added to the list.
"It's something that we see on a constant basis," Francis told the Star after the meeting. "It's time we take our downtown back. It's time we take other parts of our city back. We can't just sit idly by and do nothing."
Article content
Francis is not the first Windsor councillor to try to limit panhandling. When Dilkens held the Ward 1 seat in 2014, he asked administration for a report on the possibility of establishing a panhandling-free area in the city's core.
After consulting with legal advisors, city staff at the time then suggested an anti-panhandling bylaw would be vulnerable to constitutional challenges.
That report noted the Ontario Safe Streets Act of 1999 already prohibits aggressive panhandling. Anyone violating the Act can be fined a minimum of $500 for a first offence and up to $1,000 for subsequent offences.
Francis on Monday said he anticipates a bylaw banning panhandling might face human rights and Supreme Court challenges. That's why he's asked city administration for a report that identifies what can be done, and what can't.
Article content
"There's a lot of people out there that think city council is doing nothing. Within the law, there are certain things that we cannot do," he said.
"There are areas that people are panhandling that they shouldn't be panhandling. It's a nuisance, and it's driving business away from downtown. It's driving tourists away from downtown."
Banning panhandlers likely unconstitutional: City report

Local officials to probe how homeless man froze to death in downtown Author of the article:

City wants to hear from anyone not in receipt of final 2022 tax bill
Francis said that while he's hearing complaints from residents, he's also seeing the issue first-hand, with panhandlers who have "almost set up shop" at busy intersections and knocking on the windows of vehicles stopped at red lights.
Article content
Wilson-Furlonger's charitable organization relies on donations to support Windsor's homeless — "a different kind of panhandling," she said. She called it "typical" of council to "focus on the poorest of the poor, the easiest victims to target," and said council would serve the community better by creating housing.
"Attacking panhandling — what good will it do? It'll be a huge waste of police resources," she said. "Are we going to take these people to court?"
When Wilson-Furlonger panhandled in her youth, "I didn't have an option," she said. "I became a productive member of my community — we have to be careful on judging."