"Im just looking forward to continue winning games and keeping this thing rolling."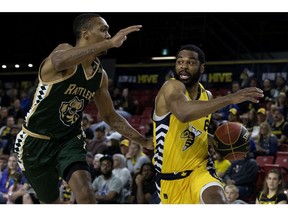 Article content
The Saskatchewan Rattlers had no finish under the basket for the first half but they certainly finished in style Wednesday.
Indeed, the Rattlers came up big when it counted in their Canadian Elite Basketball League game against the previously undefeated Fraser Valley Bandits by pulling out a 86-77 victory at SaskTel Centre.
Saskatchewan improved to 2-1 for the season, already surpassing its win total from last season.
It was the second straight win at home for the Rattlers.
"It was great knocking off an undefeated team, a team that was pretty much No. 1 in the power rankings, so it felt good to come home and beat them but we've got another game coming up this Saturday against them (Bandits) again, so we've got to have that 24-hour mindset and focus on the next game," said Rattlers power forward Malik Benlevi, who finished the game with six points, six rebounds and two assists.
"A little tough inside," admitted Benlevi. "Myself, I missed a lot of shots that I normally make. We missed a lot of lay-ups, but we've got great three-point shooters that we believe in so we've got to keep finding them, like (Devonte) Bandoo, Scottie (Lindsey), Tony (Carr). We've just got to keep finding each other, where we are."
Carr led the way with 25 points, including three baskets from beyond the arc. He added seven rebounds, four assists and three steals.
"It feels great, man," said Carr, a former second-round NBA Draft pick of the Detroit Pistons.
Article content
"It's always great to play in front of our home fans and it's even better when we get a chance to get a win. There's a lot of great teams in this league, so every game's going to be a grind but I'm glad we've got some smart players, some veteran guys and a great coach. If we all just stick together, we'll pull out a lot of wins down the stretch."
It was yet another physical game for the Rattlers, who got into foul trouble prior to the Elam-ending.
Carr, normally a calm customer, displayed some frustration.
"I'm used to playing physical — I'm from north Philadelphia," offered Carr. "But there's a difference between physicality and what that is out there. We'll adjust to it. We already know what the territory is. It just makes us better as a team, so I'm just looking forward to continue winning games and keeping this thing rolling."
Devonte Bandoo, Scottie Lindsey and Jordy Tshimanga had 14 points apiece for Saskatchewan, which led by nine, 29-20, after the opening quarter. Tshimanga added 13 rebounds to go along with a key blocked shot in the final stretch.
The teams were tied 45-45 at the half and 63-63 after three quarters.
Shane Gibson paced the Bandits with 17 points. Former Rattler Alex Campbell added 14 points for Fraser Valley.
The Rattlers remain undefeated at home to start the new season. Their next home game is June 15 against the Scarborough Shooting Stars.
"I'm glad we got one," said Rattlers coach Dean Demopoulos. "I'm glad the young guys contributed in a significant way. Our team wasn't in the game early, mentally, physically for whatever reasons, but got back into it gradually and guys who had bad starts ended up having really good finishes.
"That's a positive thing."
Sebastian Aris took the long way to the CEBL hoop

Rattlers take 2022 CEBL season-opener on home court
The news seems to be flying at us faster all the time. From COVID-19 updates to politics and crime and everything in between, it can be hard to keep up. With that in mind, the Saskatoon StarPhoenix has created an Afternoon Headlines newsletter that can be delivered daily to your inbox to help make sure you are up to date with the most vital news of the day. Click here to subscribe.