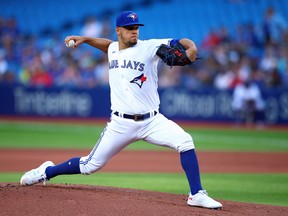 Article content
On Loonie Dogs Night, the Blue Jays were in no position to stomach yet another loss.
Article content
The boys of summer were back to town following a horrific road trip that saw Toronto go 1-6, including a sombre sweep in Seattle.
Prior to hitting the road, the Jays had dropped the final three games to Tampa.
The start of a six-game homestand leading into baseball's all-star break was viewed as a must win.
Article content
The Jays accomplished their goal by taking Tuesday's series opener over visiting Philadelphia, 4-3.
The score didn't reflect Toronto's dominance, but the outcome did speak to the Jays' inability to string together hits with runners in scoring position.
The Jays had a chance to create separation from the Phillies in Toronto's bottom half of the sixth inning.
Lourdes Gurriel Jr. was coming up clutch each time he stepped in the batter's box.
Article content
Only this time, Gurriel Jr.'s hard-hit ball into the left-centre gap went over the wall for a ground-rule double.
Two runs should have scored, but only one would officially be recorded when Teoscar Hernandez was sent back to third base.
Still, the Jays would eventually load the bases, but managed to score the one run when three should have been able to cross home plate.
Gurriel Jr. and Hernandez combined to produce five of Toronto's 11 hits through six innings.
The Jays ended the night by pounding 14 hits.
Jays starter Jose Berrios struck out 13 in six innings to earn the win.
Jordan Romano recorded the save, his 19th of the season.
TRIPLE TROUBLE
Leaving runners in scoring position has been an issue with the Jays almost from the moment the 2022 baseball season was hatched.
Article content
It reared its ugly head during the team's recent woes on the road and it almost came back to haunt the Jays against the Phils.
In Toronto's bottom half of the first, George Springer reached base on a hit and stole second.
Bo Bichette reached base.
Hernandez stepped to the plate with two out and faced a 2-2 count against Philly starter Andrew Bellatti.
Hernandez hit a screamer to the outfield to score both Springer and Bichette.
Hernandez tried to leg out a triple, but was thrown out at third on a great relay and throw by the Phillies.
Hernandez last hit a triple on June 4 when Minnesota was in town, his one and only triple of the season.
He would have had his second, but was denied on a great throw by the Phillies.
SPRINGER OF GLOVE
Article content
Springer made yet another highlight reel grab in dead centre with one on and none out in the top half of the fifth inning.
With leadoff hitter Kyle Schwarber at the plate, the burly batter sent a rocket to straight-away centre.
At first glance, it looked like a sure run-scoring double.
On the dead run, Springer left his feet to secure the ball as he tumbled into the wall.
It was a vintage catch from the all-star who isn't shy when sacrificing his body.
Philadelphia would knock in the game-tying run in its same at-bat, but the damage would have been greater had Springer not produced that great catch in the outfield.
CATCH-22
The Jays were in that enviable position of having too many catchers and not enough at-bats once Danny Jansen was reinstated from the 10-day injured list.
Article content
As a result, highly touted prospect Gabriel Moreno was sent to triple-A Buffalo.
With Jansen back with team and in his familiar role behind home plate, the wise move was to sent Moreno to triple-A where the kid can get more playing time.
"Keep playing every day,'' said Jays skipper Charlie Montoyo. "Get at-bats.
"Having two catchers now, it's going be tough to give him very many at-bats. That's the whole point."
There was no point in keeping Moreno around knowing his role would be limited.
At this stage in his development, he needs to be playing every day, which he wasn't going to get with the big-league club.
He's only 22 years old.
The Jays promoted Moreno on June 11.
In 58 at-bats spread over 18 games, Moreno hit .276 with zero homers.
Article content
When the Jays summoned the kid from the minors, Moreno was dubbed the top prospect in Toronto's farm system.
As for Jansen, the Jays slotted him in the ninth hole in the batting order.
It was his first game back since a fractured finger sidelined Jansen on June 6.
Prior to his setback, Jansen appeared in 19 games and clubbed seven home runs.
In his absence, the Jays saw the emergence of Alejandro Kirk and his evolution as an all-star.
Kirk batted clean up in the first game of a two-game series against visiting Philadelphia.
In his first at-bat, Kirk struck out swinging with runners at first and second and one out.
The Jays, meanwhile, are sticking with Zack Collins and his left-handed bat.
Collins hasn't behind the plate for a full game since May 7, but his presence does allow the Jays some much-needed flexibility and options when asked to hit.
Article content
OPEN AND SHUT CASE
Philadelphia went with an opener in Bellatti, who had allowed one run over his past eight appearances, a stretch of 7.2 innings that featured two walks, 12 strikeouts and two earned runs.
The righty went an inning versus the Jays.
His biggest mistake was the two-out hit Bellatti yielded to Hernandez.
Bellatti would be replaced by fellow righty Mark Appel.
The Jays, meanwhile, will send right-hander Ross Stripling to the mound to start Wednesday's series finale.
Stripling pitched five innings in Seattle last week, striking out six, surrendering seven hits and yielding two runs.