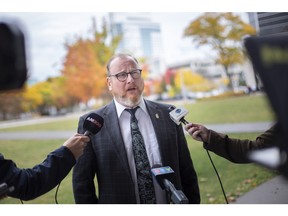 Article content
A mental health emergency room downtown, initially funded by the city with money currently earmarked for the Legacy Beacon project and water park upgrades, is part of mayoral candidate Chris Holt's plan to tackle homelessness and mental health issues in Windsor.
Article content
Holt on Wednesday committed to launching a two- to three-year pilot program that will see a city-funded mental health emergency room in the core if elected. The province would take over the program's implementation following the pilot period, he said.
Article content
Such an emergency room would offer specialized wrap-around support to residents in need and free up Windsor police officers who continue to spend hours waiting in hospital emergency rooms each time they bring in a person in distress.
"Windsor will be on the front lines of policy and partnership development in addressing urban mental health issues that are in need of leadership all across our province and country," Holt said.
Holt acknowledged that incumbent Mayor Drew Dilkens has emphasized the need for a place where police can bring people in crisis. Dilkens last month pledged to "advocate as strongly as possible" for funding for qualified partner organizations to set up a 24/7 mental health emergency room downtown. But Holt said he doesn't want the city to "stand on the sidelines hoping to convince other levels of government to do something."
Article content
"We will lead and show them what needs to be done and prove that these programs will in fact lead to desired outcomes."
To cover the pilot program's estimated $9 million operating cost, Holt pledged to use funding already approved for the streetcar project and new waterslides at Adventure Bay. Both projects may go forward in the future, but only after the mental health pilot program is complete, he said.
"We're just reprioritizing projects. We're reprioritizing building this mental health ER in our downtown to decrease the perception of a lack of safety in our downtown," he said.
Holt focuses on seniors, small business in affordability plan

Candidate Holt pledges to build 25,000 homes in next decade

Holt pledges support for new hospital, reveals health-care plan
Holt also committed to working with and supporting the Downtown Mission in its search for a new home, as well as helping the mission create a comfortable outdoor area at its current location — an idea Holt credited Ward 3 candidate Brian Yeomans with bringing forward.