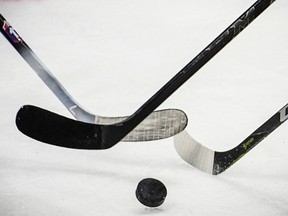 Article content
Hockey Alberta is creating a board of volunteers to oversee maltreatment allegations where individuals have been discriminated against. 
Article content
The provincial organization posted online saying it is looking to appoint one maltreatment officer and four maltreatment investigators for the 2022-23 hockey season. Job postings online show the officer, who will work with Hockey Alberta staff to set out regulations and procedures for investigations and adjudications has already been filled. Meanwhile, they are searching for investigators who will conduct investigations and hearings related to infractions and allegations of misconduct around discrimination.
Article content
"The appointment of a maltreatment officer and four maltreatment investigators is part of the ongoing work to provide a safe and inclusive environment for all hockey participants by establishing a consistent process for investigation and decision-making pertaining to allegations of maltreatment and discrimination," reads a posting online from Hockey Alberta. 
Article content
Ryan Clutterbuck, an assistant professor with Brock University's sports management program, said Hockey Alberta's decision to have an increased focus on maltreatment is positive, calling it a step in the right direction.
"I would say that it's a timely and important initiative," said Clutterbuck. "Any attempts to bring some structure and accountability to the decision-making process, I would say is a positive."
He said the board could be successful at addressing any abuse within the hockey community if the eventual board is filled with people willing to dedicate their time to the position and are provided the right resources when doing so. Clutterbuck said Hockey Canada should be applauded for taking steps in addressing any issues within the community.
Article content
"Hopefully, the situation is that there's transparency, there's a formalized process and then ultimately that can lead to better, more ethical decisions," said Clutterbuck. "That's the aspiration, that's the dream and of course any parent or hockey fan would hope they do really well."
Hockey Alberta did not respond to requests for comments.
The creation of the board comes after a summer where Hockey Canada has been embroiled in sexual assault allegations at some of the highest levels of the game.
Federal government knew since 2019 about Hockey Canada fund used to pay sex abuse claims

Majority of Canadians want change in Hockey Canada senior leadership over sex misconduct culture: poll
A woman accused several Canadian Hockey League Players, including members of the 2018 world junior championship team of sexual abuse leading to widespread criticism of how Hockey Canada dealt with those allegations. It then came to light that the national organization had established a fund from player fees that was in part used to address abuse allegations.