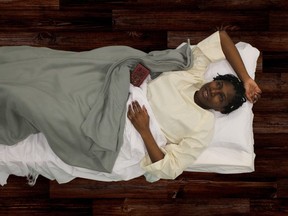 Reviews and recommendations are unbiased and products are independently selected. Postmedia may earn an affiliate commission from purchases made through links on this page.
Article content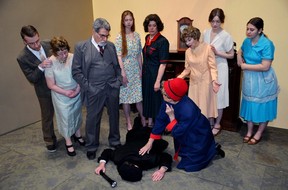 For mid-March theatre offerings, Workshop Theatre and FSquared have murder on their minds while Inside Out Theatre looks at discrimination the deaf community in Canada suffered for almost 100 years.
Article content
Workshop Theatre is presenting Agatha Christie's A Murder is Announced in the Victor Michell Theatre at the Pumphouse on March 10-11 and again on March 14-18.
A Murder is Announced is one of just a handful of stage thrillers featuring Christie's super sleuth Miss Marple, who just happens to be in the sleepy hamlet of Chipping Cleghorn when someone announces in the local paper that a murder will take place on Friday 13th. There are eight possible victims but, when the lights go out and a stranger is killed, those eight people suddenly become the prime suspects. Miss Marple, Inspector Craddock and each audience member must try to identify the killer before he or she can strike again.
This thriller features Christie's other sleuth Hercule Poirot's favourite trick when Inspector Craddock asks the eight people to restage the crime scene so he and the audience can reconstruct the murder in their heads.
Article content
Though A Murder is Announced premiered in London in 1977, it has only ever been produced in Calgary in 1987 at the Pleiades Theatre in the Planetarium where Georgie Collins directed a cast that included Valerie Pearson, Roberta Mauer Phillips, Nancy White, Donna Belleville and John Cotton.
Workshop Theatre's version features Alana Gowdy as Miss Marple, Gino Savoia as Inspector Craddock and Lisette Allen as Leticia Blacklock.
AJ Pearce, who plays suspect Edmund Swettenham, was in a production of A Murder is Announced in England in 2007. The play has remained a perennial favourite in the U.K. for 45 years and regularly boasts professional tours featuring popular TV personalities in the three main roles, the most recent being in 2019.
Article content
Evening performances are at 7:30 p.m. with 2:30 p.m. Saturday matinees. Advance tickets are available at workshoptheatre.ca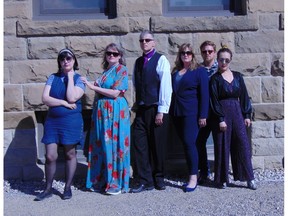 NO ONE ACTUALLY KNOWS WHODUNNIT
The clever gimmick in FSquared's Now Whodunnit? is that not even the nine suspects know who the guilty person is until the last moments of the play because it is an improvised murder mystery.
Now Whodunnit? was a runaway hit at last summer's Fringe Festival where it played to overflow crowds. Back by popular demand, it runs in the GRAND Theatre on March 9 and 11 at 6 p.m. and March 12 at 3 p.m. For advance tickets and to secure a Fringe discount, go to tickets.calgaryfringe.ca
At each performance, an audience member gets to suggest a location for the murder and then the cast members create a suspect and a motive. Cast member Jennifer Chevais explains "it's fun to be actively trying to set each other up to be the guilty person. Improv is all about making your stage partners look good and in Now Whodunnit? you make them look good by making them look guilty."
Article content
Each performance hosts a guest detective who comes in to question the suspects and determine who is the guilty person. Kelly Misko says "the Guest Detective plays a big part in shaping the narrative. Beyond being in total control of the outcome, they bring their own playing style and personality to the stage. Having a different detective each performance keeps the shows fresh."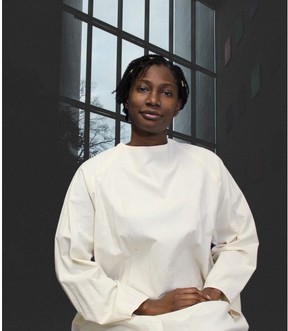 NO ONE'S LISTENING WHEN PEOPLE SPEAK DIFFERENTLY
Beginning in the 1880s, Canada imposed a signing language ban to try to force deaf people to learn to speak.
Local deaf artist Landon Krentz's new play, 100 Years of Darkness, is a bilingual play featuring both American Sign Language and English simultaneously to entertain both deaf and hearing audience members.
Article content
Krentz explains "the intention is to create an authentic and equal shared theatrical experience because the vast majority of the deaf community is usually deprived of equitable theatre experiences. Deaf audience members do not often have the opportunity to see themselves on stage so this is an exciting milestone."
In 100 Years of Darkness, three deaf students are forced to navigate life at an institution run by a hearing scientist whose goal is to 'cure' them by assimilating them into a hearing society. The play also features a romantic tragedy of two queer couples due to language barriers.
Directed by Jules Dameron and Karen Johnson Diamond, 100 Years of Darkness features Jules Dameron, Ebony Gooden, Mustafa Alabssi, Brian Jensen and Conrad Belau.
The play is recommended for ages 13 and over and will be held in the Pumphouse's Joyce Doolittle Theatre March 9-11 and March 15-18 at 7:30 p.m. and advance tickets are available at showpass.com/100-years-of-darkness.