Ottawa police Sgt. Violeta Dimova told court she began her blood spatter analysis with the study room's carpeted floor.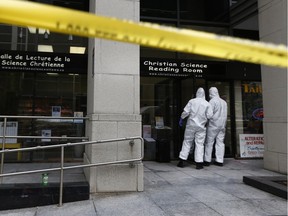 Article content
Warning: Some details in this story may be disturbing to readers.
Article content
The jury in Tyler Hikoalok's first-degree murder trial heard its first forensic evidence Tuesday as Crown prosecutors are expected to focus this week on DNA linking Hikoalok to the May 24, 2018 killing of church librarian Elisabeth Salm.
Article content
Ottawa police Sgt. Violeta Dimova testified as an expert in bloodstain pattern analysis Tuesday as the jury was shown photos of the crime scene inside a study room of the Christian Science Reading Room at 141 Laurier Ave.
Salm was found by a co-worker hours after she was brutally beaten and sexually assaulted inside the study room and was rushed to hospital, where she died the following day.
Hikoalok pleaded not guilty to first-degree murder in a killing prosecutors described as a "vicious and brutal attack."
Article content
Dimova told court she arrived on the morning of May 25 and reviewed crime scene photos with Det. Tim Nolan, the identification officer assigned to the case, who provided some basic information. Nolan told Dimova the victim was not expected to survive.
Nolan testified earlier that he had collected evidence from the scene and visited Salm in the hospital, where a sexual assault investigation team took swabs from her body and sent them to the Centre of Forensic Sciences for analysis.
The Crown is expected to call forensic scientists who will testify that Hikoalok "could not be excluded as a match to the semen and the male profile identified on the victim's body."
No other DNA profile was found on Salm's body.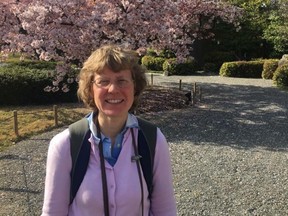 Assistant Crown attorneys Brian Holowka and Lisa Miles told the jury a bracelet and a shoe worn by Hikoalok at the time of his arrest would also turn up a probable DNA match for traces of Salm's blood.
Article content
On Tuesday, Dimova told court she began her blood spatter analysis with the study room's carpeted floor — the "most fragile, easily contaminated" area of a crime scene — where the most obvious and significant starting point was a 50-by-60-cm "saturation" stain.
Dimova took swabs from the floor and from dozens of surrounding "spatter" stains, which were in both circular form to indicate droplets and in elliptical form to indicate the "directional movement" of the blood, the forensic investigator testified.
Crime scene photos show a large red stain on the floor and blood spattered across the nearby bookshelf and wall, on a table and on two chairs in the room.
Dimova said she counted more than 45 spatter stains on the wall, which showed signs of a directional movement away from the large stain on the floor. There were dozens of blood spatter stains on the legs and on the underside of a table, and more blood on the magazines scattered on top.
Article content
Samples were collected and sent for analysis at the CFS, Dimova said, and came back as a positive match with Salm.
Dimova is expected to continue Wednesday with her analysis of a blood smear found on a hallway door handle that exited from the study room to the lobby of the Gillin Building.
Hikoalok's trial heard testimony last week from the detectives who analyzed security video surveillance showing a figure entering the building at 9:14 a.m. on the day of the killing and leaving through a separate exit from the parking garage at 10:21 a.m.
Two police officers identified Hikoalok from a still image taken from the video and he was arrested on May 27.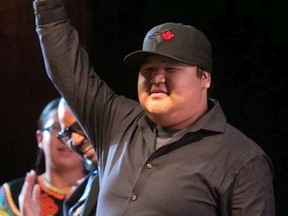 His arresting officer testified last week that Hikoalok said during the arrest he had been "blackout drunk a couple days ago … I didn't know I killed anybody," according to testimony from Const. Steve Luchies.
Article content
There was nothing unusual about Hikoalok's behaviour or his demeanour, according to testimony from his teacher, school principal and a youth counsellor, and he did not appear to be intoxicated when he showed up at the Debbie Campbell Learning Academy on Albert Street around 11 a.m. on the day of the killing.
His former teacher, Tracy Ludmer, told court she had taught Hikoalok for years at the alternative school and his demeanour was "the same as it usually was" when he dropped in to visit her classroom that morning.
Hikoalok had left the school after his 18th birthday in January 2018, but Ludmer said he still dropped by two or three times a week, and had also visited the previous day.
Youth counsellor Ron Destiné said he interacted with Hikoalok on May 24 and recalled Hikoalok telling him he had been in a recording studio making music the previous night.
Article content
"I did not note any (signs of intoxication)," the counsellor told court.
School principal Ashley Potter testified he observed "nothing out of the ordinary" when he said a friendly hello to Hikoalok in a classroom some time around 11 a.m. that day, then engaged in light conversation as Hikoalok joined him in the kitchen to help prepare calzones, his favourite lunch.
Hikoalok stayed and ate lunch, as he did regularly with the program, and thanked staff before leaving for the day, Potter said.
"He came over to say thank you, and I jokingly told him to put his dish away in the dishwasher," Potter said. "He thanked me again and left."
Twitter.com/helmera
'I didn't know I killed anybody' Hikoalok told arresting officer, murder trial hears

Probable DNA match led police to arrest Tyler Hikoalok three days after brutal killing of church librarian