From cranberry cream to cheddar streusel apple, here are a pair of recipes that make for delightful deserts
Reviews and recommendations are unbiased and products are independently selected. Postmedia may earn an affiliate commission from purchases made through links on this page.
Article content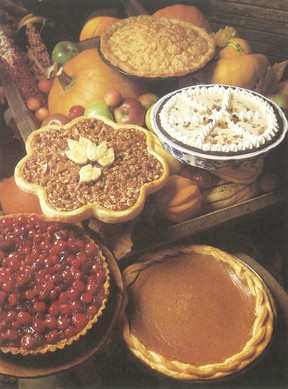 When my friend Maeve, one of the best cooks I know, arrived from back east for a visit, she said, "let's eat out or do takeout for dinner while I'm here." (She usually cooks for a family of six every night.)
I happily agreed and the first place we went was the Savary Island Pie Company, one of the finest bakeries in British Columbia and my favourite go-to bakery, located in West Vancouver (and Tofino). We had to decide from more than a dozen varieties of retro-style fruit and cream pies.
Article content
If we'd had any seasonal fresh fruit such as apples, blackberries or peaches, and had thought ahead, we could have dropped it off and they would have baked the pie for us. In the end, we settled on a strawberry rhubarb pie and a tourtiere (which my friend Betty calls "torture pie" when she makes it at Christmas because it's an arduous process).
---
Cranberry Cream Pie
Cranberries need not be limited to sauces. Their intense colour and flavour combined with a creamy, no-bake filling, make a spectacular pie.
Crust
1¼ cups (300 mL) graham-cracker crumbs
2 tbsp (25 mL) sugar
1/3 cup (75 mL) chopped pecans
6 tbsp (75 mL) butter, melted
Cream-cheese filling
1 pkg (8 oz) cream cheese, at room temperature
1/3 cup (75 mL) icing sugar
Article content
1 tsp (5 mL) vanilla
2 tbsp (25 ml) Grand Marnier
1 cup (250 mL) whipping cream
Cranberry Topping
1 cup (250 mL) sugar
3 tbsp (50 mL) water
2½ cups (625 mL) cranberries
2 heaping tbsp cornstarch
To make crust, preheat oven to 350 degrees F. Place crumbs, sugar, nuts and melted butter in a mixing bowl and mix until combined. Press mixture onto the bottom and sides of a 9-inch pie plate or 11-inch tart pan. Bake crust for 8 to 10 minutes or until lightly browned. Cool to room temperature.
To make filling, mix cream cheese and sugar in a small mixing bowl with electric mixer on medium speed until light and fluffy, about 3 minutes. Scrape sides of bowl and mix in vanilla and Grand Marnier. In separate bowl, beat whipping cream until soft peaks form. Fold it into cream-cheese mixture and spoon it into cooled crust, spreading the top even. Refrigerate several hours or until well chilled. (The pie may be covered with foil and refrigerated or frozen, if desired.)
Article content
To make topping, cook sugar, 1 tbsp water and cranberries in a medium saucepan, stirring constantly, until mixture comes to full boil and berries begin to pop. Remove pan from the heat. Dissolve cornstarch in 2 tbsp water; stir it into the cranberries. Return them to boil and cook, stirring constantly, until mixture comes to a boil and thickens. Remove from heat and cool to room temperature. Spread it over the cream-cheese layer. Cover with plastic wrap and refrigerate until serving time or overnight.
Serves 6 to 8.
---
Cheddar Streusel Apple Pie
Packaged puff pastry forms an easy-to-make crust to hold layers and layers of juicy spiced apples. Topped off with a crown of crunchy cheddar-cheese streusel, this pie is a tribute to a favourite combination of flavours. Adapted from Season's Greetings by Marlene Sorosky, published by HarperPerennial.
Article content
1 lb (500 g) package frozen puff pastry (I use President's Choice)
Cheddar cheese spread
1 cup (250 mL) all purpose flour
½ cup (125) sugar
¼ lb (125 g) butter, melted
1 cup (250 mL) shredded sharp Cheddar cheese (about 4 ounces)
¼ tsp (1 mL) salt
Filling
5 tart cooking apples (about 3 pounds), such as Granny Smith or Pippin
¾ cup (175 mL) sugar
¼ cup (50 mL) all-purpose flour
1 tsp (5 mL) ground cinnamon
1 tsp (5 mL) grated lemon peel
1/8 tsp (0.5) ground cloves
1/8 tsp (0.5) salt
Remove 1 sheet of puff pastry from the package; return the second sheet for another use. Defrost puff pastry in refrigerator or at room temperature until it is pliable but still very cold. Roll it out on a lightly floured board until large enough to cut an 11-inch circle. Drape the pastry into a 9-inch pie dish, pressing it onto the bottom and up the sides. Pleat the top edges at 1-inch intervals. Refrigerate while preparing the filling.
Article content
To make Cheddar Cheese Struesel, mix flour, sugar, butter, cheese and salt in a small bowl with a fork until well combined. Set aside.
Preheat oven to 400 degrees F. Place an oven rack in the lowest position. To make filling, peel, halve and core the apples. Slice them into ¼-inch slices and place them in a large bowl. Add sugar, flour, cinnamon, lemon peel, cloves and salt, toss with a large spoon until well mixed. Pour apples into the crust, mounding the top. Crumble cheese streusel over the top. Place pie dish on a baking sheet and bake until the top is golden brown and the pie starts bubbling around the side, If the top gets too brown, place a sheet of foil loosely over it the last 10 to 15 minutes of baking.
*The pie may be held, loosely covered, at room temperature overnight. Reheat at 400 degrees F for 10 minutes before serving.
Article content
Serve warm. The pie will be very juicy.
Serves 8.
---
Kitchen Hack: Hard to roll?
If pastry sticks to the rolling pin, chill rolling pin in freezer and dough won't stick.
Kasey Wilson: Paninis have become part of the snacking tradition

Kasey Wilson: Rich, smoky paella can pull off salad status, too

Kasey Wilson: Weekend brunch the perfect social event that can save you money
---
More news, fewer ads, faster load time: Get unlimited, ad-lite access to the Vancouver Sun, the Province, National Post and 13 other Canadian news sites for just $14/month or $140/year. Subscribe now through the Vancouver Sun or The Province.