Jason Arkinstall, 48, has been in pretrial custody since his arrest in 2020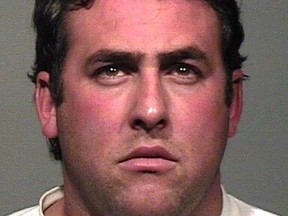 Article content
A federal prosecutor says a Hells Angel arrested two years ago in southeast B.C. trying to smuggle sacks full of methamphetamine and cocaine across the border should get a 12-year prison term.
Article content
Crown counsel Maggie Loda told a sentencing hearing for Jason Arkinstall on Tuesday that the biker's only motivation was profit when he attempted to bring 90 kilograms of meth and 119 kg of cocaine into B.C. from Idaho on October 23, 2020.
Article content
U.S. border agents spotted Arkinstall and a friend just south of the border with five duffel bags of meth and coke — then with an estimated value of more than US$2 million. Arkinstall, a member of the Hells Angels' Mission chapter, pleaded guilty to importing the drugs in September 2021.
Loda said the huge quantity and high value of Arkinstall's load were aggravating factors for Surrey Provincial Court Judge Mark Jetté to consider in imposing sentence on the 48-year-old father of two.
Article content
"The value of the drugs is incredibly high, higher than identified in any of the cases before you. And the motive in the circumstances must be for profit," Loda said.
She said cocaine and meth are "both scourges on society — both responsible for misery and suffering among the most vulnerable in society. Cocaine is not indigenous to Canada, and therefore importation is necessary for its continued presence here. Methamphetamine is synthetic and therefore requires either production or importation for its presence here."
Arkinstall's smuggling operation was more complex than the usual case of a trucker carrying drugs in a secret compartment through a controlled border entry, Loda said.
"This is not simply other people putting drugs in the truck and then Mr. Arkinstall driving across the border. This involved two-way radios, co-ordination, camouflage, ATVs, snow cover — all evincing planning and sophistication beyond the usual mule-driver cases," she said.
Article content
Arkinstall's criminal record should also he considered an aggravating factor in sentencing, she told Jetté. The biker has previous convictions for trafficking, assault with a weapon and "simple possession," Loda said.
She did not mention his membership in the Hells Angels Motorcycle Club Tuesday nor his arrest in Spain in 2013 for trying to smuggle half-a-tonne of cocaine into the country aboard a boat that sailed from Colombia. He and fellow B.C. Hells Angel Chad Wilson were later deported back to Canada. Wilson was shot to death under the Golden Ears Bridge in 2018.
Arkinstall has been in pretrial custody since his arrest. He appeared in Courtroom 110 via video-link Tuesday.
His lawyer Ken Westlake said that a sentence of seven years would be more appropriate for Arkinstall, who indicated shortly after his arrest that he would accept responsibility and plead guilty. Westlake highlighted letters of support written by Arkinstall's current wife, ex-wife, parents and older son — all highlighting his "extreme kindness and generosity" to them and others.
Article content
"So there's another side to him beside the offence here, versus the caring person who has actually helped a lot of people deal with trauma in their lives," Westlake said.
Arkinstall is "extremely remorseful" about the problems he has caused his family with his arrest and incarceration — especially during COVID-19, which limits prisoner visits.
"He's quite an emotional person with respect to this … to the point that I don't think he needs deterrence, personally, anymore," Westlake said.
Jetté asked Arkinstall if he wanted to say anything to the court. The biker then apologized to his family for "missing a big chunk of their lives."
Jetté replied that the impact on Arkinstall's family was "one of the things that's most damaging about what you've done and I know you have to live with that every day."
"The other part that's damaging is what these drugs would have done in the community. I hope you've thought about it as well."
Arkinstall said that he had taken "that into account and I accept my responsibility on that factor as well, your honour."
Jetté reserved his decision until next month.
Biker clubs linked to Hells Angels popping up across B.C.: Police

Hells Angel and several others allegedly involved in B.C. trafficking ring

High-level gangster vanishes while on parole in B.C.