Jason Arkinstall was convicted of smuggling large amounts of cocaine and methamphetamine worth millions into Canada two years ago.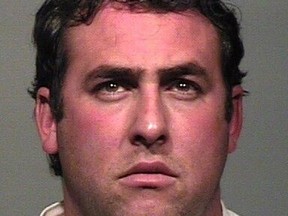 Article content
Hells Angel Jason Arkinstall was sentenced on Wednesday to 10 years for smuggling large amounts of cocaine and methamphetamine worth millions into Canada two years ago.
Article content
Surrey Provincial Court Judge Mark Jetté said that Arkinstall was entitled to extra credit for time in pretrial jail during the pandemic, meaning his remaining term is six years and three months.
Article content
Crown prosecutor Maggie Loda told a sentencing hearing last month that the 48-year-old biker's only motivation was profit when he attempted to bring 90 kilograms of meth and 118 kilograms of cocaine into B.C. from Idaho on Oct. 23, 2020.
U.S. border agents spotted Arkinstall and a friend near the border with five duffel bags full of drugs. The two men fled but were later arrested on the Canadian side of the border.
Arkinstall, a member of the Hells Angels' Mission City chapter, pleaded guilty in September 2021 to importing the illicit substances.
Article content
Loda argued that Arkinstall should get a 12-year prison term based on the quantity of drugs and his criminal history. His defence lawyer Ken Westlake said a seven-year sentence would be more appropriate.
Jetté said Wednesday "that the sentence of seven years jail suggested by defence counsel would not be fit, given Mr. Arkinstall's criminal record — in particular his prior conviction for drug trafficking, the quantity of drugs involved, and the fact that two schedule-one drugs were imported into Canada."
"On the other side of the ledger, I find that Mr. Arkinstall's early guilty plea justifies the sentence itself fall somewhere below the 12 years sought by Crown Counsel," Jetté said.
"I have concluded that a fit sentence in this case is 10 years jail."
Article content
He noted Arkinstall's statement to the court at the end of his Sept. 27 sentencing hearing in which he apologized to his family.
"Mr. Arkinstall acknowledged the impact his conduct has had and will continue to have on the most important people in his life in his brief comments to me at the end of the sentencing hearing," Jetté said. "However, I had to prod him as well to acknowledge the harm that would have been inflicted on untold others in the community had this shipment of drugs hit the street."
Jetté said that Arkinstall was not alleged to have been "the owner of the drugs or the operating mind of whatever organization" was behind the smuggling operation.
"It is understood, however, that the only reasonable inference is that some sort of monetary benefit was Mr. Arkinstall's motivation for participating in the scheme," he said.
Arkinstall appeared by video for his sentencing wearing red jail garb. He expressed no visible emotion when he heard Jetté's decision.
Arkinstall's long-time membership in the notorious biker gang was not mentioned during his sentencing. Nor was his arrest in Spain in 2013 for trying to smuggle half-a-tonne of cocaine into the country aboard a boat that had sailed from Colombia. He and fellow B.C. Hells Angel Chad Wilson were later deported back to Canada. Wilson was shot to death under the Golden Ears Bridge in 2018.
Twitter.com/kbolan