Kimani was kept comfortable with her favourite food and drinks, including fruit and vegetables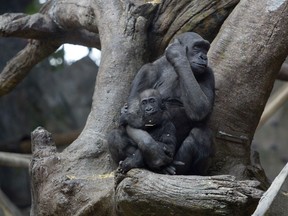 Article content
The Calgary Zoo has put down a beloved gorilla after a short fight with liver cancer.
Article content
Kimani, the zoo's six-year-old western lowland gorilla was euthanized Wednesday morning after a rare pediatric liver cancer affected her liver and lungs. A statement posted on the zoo's website says her condition had deteriorated to a point where her quality of life could no longer be maintained.
"We are heartbroken to share that our Animal Care, Health & Welfare (ACHW) team made the difficult but compassionate decision to euthanize our beloved 6-year-old western lowland gorilla, 'Kimani' this morning," read the statement. "We're grateful for the additional 2.5 weeks that our incredible ACHW team was able to give her through exceptional palliative care so that her troop could say goodbye. A heartfelt thanks to the veterinary and medical teams around the world that leaned in to help in any way they could."
Article content
The zoo had announced Kimani's diagnosis earlier this month after teams noticed she had been acting differently. A veterinarian team then performed blood a complete physical exam, including blood work, radiographs and ultrasound and she was taken to Western Veterinary Specialists for a CT scan of her abdomen and chest.
The vet team also consulted with radiology and human liver specialists to determine that Kimani has liver cancer that has spread to her entire liver, lungs and the support tissue for her heart, esophagus and blood vessels.
She was kept comfortable with her favourite food and drinks, including fruit and vegetables, and was given Pedialyte, dilute fruit teas, and protein smoothies.
The zoo later clarified the cancer had formed prior to Kimani receiving vaccinations.
The African Rainforest Building at the zoo was closed Wednesday.