The lawyer for Tanvir Singh refused to have a summary of what happened to the victim be made public. Singh attacked the girl in Pointe-aux-Trembles in March.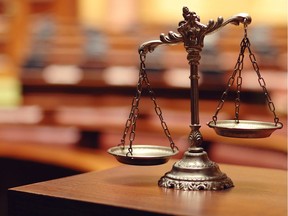 Article content
What should have been a standard court hearing in the case against a man who attacked a 10-year-old girl in Pointe-aux-Trembles earlier this year was delayed Wednesday, after his defence lawyer outright refused to have a summary of what happened to the victim be made public.
Article content
The case against Tanvir Singh, 21, of Anjou was before Quebec Court Judge Christian Tremblay at the Montreal courthouse. The judge was asked to determine whether he agreed with a psychiatric report, filed by two experts at the Philippe Pinel Institute, that determined Singh was not criminally responsible for his actions on March 14 when he attacked the young girl.
The child was heading home for lunch and was walking along Tricentenaire Blvd. near Victoria St. with another young girl when she was assaulted. Singh, who did not know the girl, struck her repeatedly on the head and then dragged her for a short distance before bystanders intervened and called 911. The girl suffered severe injuries and was hospitalized for days.
Article content
A new detail that emerged Wednesday is that Singh was holding "a cutter" in one hand when he attacked the girl.
Defence lawyer Mileva Camire began the hearing by saying the evaluation Singh underwent determined that he was not criminally responsible for his actions on that day. She also conceded the Crown had enough evidence to convict her client of aggravated assault and assault with a weapon.
The attorney also said she and prosecutor Annabelle Sheppard would recommend that Singh be declared not criminally responsible. Under normal circumstances, a judge would agree with the recommendations and order that the accused be detained at a psychiatric hospital before a tribunal decides if he is well enough to leave.
Article content
Singh is an anglophone, and the judge said he wanted to be certain that the accused understood what was being said in court. That was when Tremblay asked that a statement of facts be read into the court record in English.
Camire objected to the judge's request and said she translated a summary for her client before the hearing and made sure he understood it.
"He needs to admit to the facts — just the facts," the judge told Camire.
The defence lawyer proceeded to provide what she called a "short summary."
"There were many eyewitnesses that noticed Mr. Singh crossing the street on the day of the events. He attacked a little girl on that day and he had a cutter in his hand," Camire said before offering the opportunity to Sheppard to say more. But as the prosecutor began to read from a detailed account of what happened, Camire interrupted her and asked to talk to Sheppard in private.
Article content
When they returned before Tremblay, Camire said: "I respectfully submit that I disagree with the way we are proceeding now. Usually when there is a (hearing in which a defendant would be declared not criminally responsible) everybody agrees that there is no summary of the facts, because what (Sheppard) is about to read is from the (psychiatric evaluation).
"This report is placed under seal. It is confidential information. It's a protected statement under the Criminal Code. I am of the view that these elements should not be read out in front of the court."
Tremblay replied that he disagreed and said he needed to be made aware of the facts of the case before deciding whether he agrees with the psychiatric evaluation.
"This is my interpretation (of the Criminal Code). If you disagree, you can have the chance to proceed before (a different judge)," Tremblay said, noting he spent an hour reading the evaluation Wednesday while trying to juggle dozens of other cases. "Next time I will have learned my lesson."
Sheppard and Camire agreed to bring the case before a different judge on Thursday.
Girl, 10, hospitalized after brutal assault in Pointe-aux-Trembles

More crime and law stories