Ontario's health minister says the timing of deliveries "is still being confirmed," with the first shipment of Pfizer bivalent vaccine "in the coming weeks."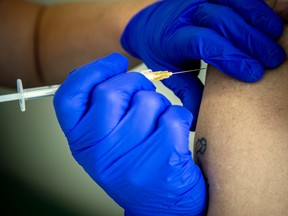 Article content
Youths aged 12 to 17 are now eligible for the most up-to-date COVID-19 booster shot as Ottawa is hit with a new wave of the virus.
Article content
Health Canada approved on Friday a Pfizer-BioNTech bivalent or combination vaccine. It targets both the original virus that caused illness when the pandemic began in 2020 and the latest subvariants, Omicron BA.4 and BA.5, which now dominate in Ontario.
Article content
Health Canada approved the Pfizer bivalent vaccine to be offered to anyone over age 12.
The approval "means that Ontarians aged 12-17 will be able to get fall booster dose as we head into the colder months," Health Minister Sylvia Jones said in a written statement.
Another bivalent vaccine by Moderna was already available, but Health Canada only approved it for people ages 18 and over.
The Moderna bivalent vaccine targets the original virus strain and Omicron BA.1, the variant that dominated in Ontario last winter and spring.
Article content
Some Ontario parents of children ages 12 to 17 have expressed confusion on social media over whether their children can receive second booster doses this fall.
(The primary vaccine dose is two shots, so a second booster is a fourth shot.)
Ottawa Public Health clarified the issue: Youth in that age category are eligible for monovalent mRNA booster doses at a recommended interval of six months after their last shots, regardless of how many shots they have already received. (The monovalent vaccine targets the original coronavirus.)
So a youth between 12 and 17 who received a third shot six months ago can receive a fourth monovalent shot now.
The interval can also be moved up to three months.
Youths ages 12 to 17 who are immunocompromised can receive the Moderna bivalent vaccine as a booster, but only off-label with clinical consent, OPH said.
Article content
Each child from age five to 11 is eligible for one booster dose. Children under five are eligible for a "primary" series, which is two doses, but not boosters.
It's not known when the new Pfizer bivalent vaccine will be available in Ontario, but it could be soon.
Federal Health Minister Jean-Yves Duclos said 2.8 million doses of the new Pfizer booster would be shipped to Canada this coming week, and 11 million by the end of 2022.
Given the slowing uptake of boosters in Canada, 11 million doses will probably be more than enough to give boosters to those who want them.
In Ontario, the statement from the health minister said the timing of deliveries "is still being confirmed," with the first shipment of Pfizer bivalent vaccine "in the coming weeks."
Article content
British Columbia health officials have announced that the Pfizer bivalent vaccine will be available there next week.
This Pfizer bivalent vaccine was authorized through a process similar to the one used for annual flu shots, which meant the approval could come much quicker. The vaccine has already been given to nearly five million Americans and no safety signals have arisen, said Dr. Supriya Sharma, chief medical adviser for Health Canada.
Another common question for people over 18 is whether to get Moderna bivalent boosters now or wait for the Pfizer bivalent targeting Omicron BA.4 and BA.5.
Sharma says there isn't a lot of difference between the results of being boosted with one or the other, even though BA.4 and BA.5 are the dominant strains now in circulation.
Article content
The original vaccines authorized almost a year ago now were very good at preventing infection, but Omicron threw a big wrench into that. While the vaccines remained excellent at preventing serious illness and hospitalization, they stopped being very good at preventing people from getting infected.
Sharma says it's not really clear yet how infection rates will be affected as the new booster rolls out because so many different strains are circulating.
There are at least four different versions of both the BA.4 and BA.5 strains alone.
"I think it's really an interesting kind of place in the pandemic where we haven't been before; there's a bit of a variant soup out there," Sharma said.
"There is some evidence that at least some of the top candidates for the ones that might emerge in the next wave would be covered by these vaccines. But I think it's, you know, we're still learning as we go with the pandemic."
Article content
According to Dr. Howard Njoo, Canada's deputy chief public health officer, while the updated combination Omicron vaccines are good, people who recently got boosters using one of the original vaccines need not worry that they can't get Omicron boosters for another three to six months.
"Evidence continues to show that original mRNA vaccines provide good protection against serious illness and hospitalization," he said.
Ottawa Public Health says the city is now in the midst of a new wave of COVID-19, with high levels of the virus circulating.
With a file from The Canadian Press