Montrealers love to complain about construction gridlock — and we have every reason to. Will an upcoming summit on corralling the chaos of the orange cones yield results?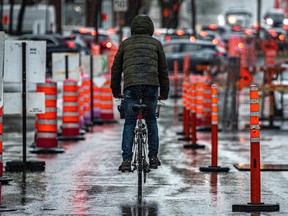 Article content
The orange construction cone long ago became the unofficial emblem of Montreal.
Article content
You'll find it on everything from keychains to throw pillows sold in souvenir shops. Montrealers even dress up as the ubiquitous orange and white striped pylons for Halloween.
Article content
Hilarious, sure. But the inevitable clusters of neon-coloured cylinders that sprout like mushrooms across the city as soon as the snow melts are a headache only dry humour can alleviate.
Most Montrealers have surely been stuck or stymied by the seemingly contradictory directions on detours. Whether you're a motorist, a cyclist or a pedestrian, barricades restricting traffic to "circulation locale" turn through streets into dead ends without warning. Cars, bikes and buses are forced to slalom around craters and skirt heavy equipment on narrowed roads. It's not unusual to cross the street to avoid a trottoir that's barré only to find the opposing sidewalk is just as impassable.
Article content
Gridlock is more than an annoyance. A 2017 study by the CAA found Montrealers lost three million hours a year in traffic at a cost of $75 million in lost productivity and wasted fuel. Those figures predate the pandemic, mind you, but they go a long way in explaining why so many Montrealers have embraced remote work.
If COVID-19 hit pause on many construction sites — or at least reduced the frequency with which many Montrealers had to navigate them — the cones are back with a vengeance, proliferating on highways, downtown thoroughfares and residential streets alike.
When she first ran for the top job at city hall, Montreal Mayor Valérie Plante made a bold pledge to corral some of the chaos on city streets. During her first mandate, she dispatched her mobility squads to try to dislodge double-parked vehicles that cause gridlock during rush hour and to better co-ordinate construction projects. But lo and behold, the problem proved as intractable as potholes and icy sidewalks, two other perennial thorns in Montrealers' sides.
Article content
Prior to her run for a second mandate last year, the public was so fed up with the endless detours and road closures that Plante felt compelled to postpone some scheduled work to give people a break. But she was also forced to admit that the city only controls about a third of the construction activity that goes on in Montreal, so there was only so much she could do.
The rest is handled by everyone from the Transport Ministry to the Caisse de dépôt et placement du Québec (which is building the new REM electric train line) to Hydro-Québec to Bell Canada to the Commission des services éléctriques de Montréal to Énergir to myriad private developers erecting all the condo towers around town — not to mention 19 boroughs and 13 other municipalities on the island of Montreal that also award their own contracts.
Article content
An array of apps appears incapable of keeping track of it all. And two municipal departments mandated to better organize the work — the Assistance à la gestion des interventions dans la rue (AGIR) division and the Équipe de coordination opérationnelle (COP) — fail to communicate effectively enough to put a dent in the blockages, according to the city's auditor general.
Complaining about the chaos they unleash is a popular pastime among Montrealers — and rightly so. But could convening the major players to talk about the issue finally lead to constructive solutions?
Plante's Projet Montréal party committed to organizing such a gathering during last year's municipal election campaign. With the Ensemble Montréal opposition on the mobility mayor's case to keep her promises of late, Émilie Thuillier, the executive committee member responsible for infrastructure, finally announced a summit will indeed be held next year to discuss taming Montreal's mean streets.
Article content
Other cities seem to manage roadwork and major infrastructure projects without being transformed into mazes, so there must be best practices Montreal can learn from. Even if one obvious fix is more people using public transit and leaving their cars at home, perhaps Montrealers need incentives or reminders. At the very least, wringing a pledge for more co-operation out of participants might set the stage for more coherent co-ordination of projects.
But part of the problem is that Montreal has such an infrastructure maintenance backlog, the work that needs to be done will never end. The city alone has $9 billion worth of construction on its books between now and 2030, never mind what the province does.
Montrealers have demanded more accountability from the city and the Transport Ministry after years of hellish bottlenecks, but the private entities that cause a large portion of the mess don't have to face the electorate every few years. Little will change unless they, too, can be made to assume their share of the responsibility for keeping the vehicle and foot traffic flowing in Montreal.
Article content
Too many times, streets have been torn up for one purpose only to be ripped open again for another. One project ends only to have a new seriously disruptive one begin. Developments are green-lit for both sides of major thoroughfares. Even after major infrastructure like the Turcot Interchange is "completed," the cones return for maintenance of "corrective" work. And in some mind-boggling cases, projects have to be redone, like a section of Highway 40 that was so shoddily repaved just last summer, the contractor was ordered to fix it this year.
Even if the summit does manage to make the city less labyrinthine, the orange cone is unlikely to be replaced as Montreal's de facto symbol any time soon.
Allison Hanes: Mobility as big an issue as ever in Montreal

Allison Hanes: There's a chasm between Quebec's green goals and transportation plans