If you're looking for things to do in Metro Vancouver for Halloween 2022, you're in the right place.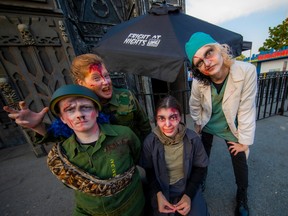 Reviews and recommendations are unbiased and products are independently selected. Postmedia may earn an affiliate commission from purchases made through links on this page.
Article content
Boo! It's October, a season for pumpkins, Thanksgiving and frightful fun. To help with the latter, we've rounded up some of the most spooktacular Halloween activities in Metro Vancouver.
Article content
Whether you want a good scare or looking for something fun and kid-friendly, there's plenty of options lurking around. So gather your family, friends, and your courage and visit these attractions — if you dare.
Article content
---
Fright Nights is getting resurrected in 2022. For its first post-pandemic appearance, Fright Nights is ready to thrill, with haunted houses galore, roaming monsters, live performances, and of course, 15 hair-rising rides. New this year: Nightly opening "scaremonies" and new spooky food items.
• When: Select nights from Oct. 7 to 31, 6 p.m. to 11 p.m. or midnight
• Where: 2901 East Hastings St., Vancouver
• Tickets: Prices vary, date-specific admission. $45 to $54 regular admission depending on date; add-ons available for early access to three haunted houses ($15) and rapid pass ($56)
Article content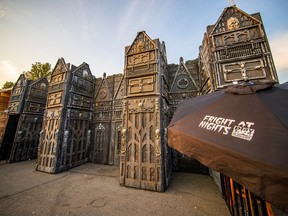 ---
This annual East Vancouver event down Commercial Drive is celebrating Halloween with an intergalactic disco theme this year. For those interested in performing in flash mobs, workshops can teach you how to move to the beat to Michale Jackson's Thriller and The Time Warp from the Rocky Horror Picture Show. There is also a Parade of Little Souls for children who want to join in the festivities in a family-friendly procession at 7 p.m. and, for adults, an after-party at Wise Hall 10 p.m.
• When: Oct. 29, 7 to 10 p.m.
• Where: Parade route TBA. Start at Britannia Community Centre, 1661 Napier St., Vancouver
• Tickets: Workshops by donation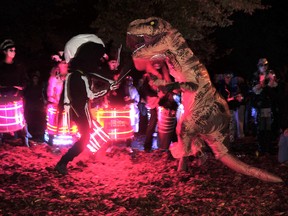 ---
Abbotsford's Maan Farms promised a highly detailed elevated horror attractions that'll leave people begging to check out. Don't miss the Homestead, a "full-contact" haunted experience at a decrepit AirBnb; the Slaughterhouse, the scariest corn maze in Canada; the Way Down, where guests have tho feel their way through the underworld wearing a fabric hood over their heads; and the Midway, with live actors and entertainment. Minimum age is 10 years old.
Article content
• When: Select dates from Sept. 24 to Oct. 31, 7 p.m.
• Where: 790 McKenzie Rd, Abbotsford
• Tickets: only available online, not sold at the door. Admission is designated to a time-slot. Prices change depending on the day, ranging from $45 to 128 for general admission; $65 to $158 for a fast pass, and $80 to $180 for immediate access.
Article content
---
BuWhat lurks in the 10-acre grounds of the Burnaby Village Museum? Find out in this self-guided tour. State-of-the-art lighting, projections and special effects transform the museum into a Halloween haunt. Stroller-friendly, food trucks on hand for coffee, mac and cheese and popcorn.
• When: Oct. 20 to 30, 5:30 to 10:30 p.m. (closed Oct. 24)
• Where: Burnaby Village Museum, 6501 Deer Lake Ave., Burnaby
• Tickets: Can be purchased online,  $10 adults, $5 children 2-12
Article content
---
More than 6,000 hand-carved  pumpkin sculptures will light up a magical pathway. Meet dinos and dragons and classic Halloween characters along the way. The majority of displays are child-friendly, with superheroes and Disney characters. There will also be live pumpkin carving demonstrations and 'gram worthy photo-ops.
• When: Sept. 22 to Oct. 31
• Where: Swanguard Stadium and Central Park, 6100 Boundary Rd., Burnaby
• Tickets: $21.95 adults, $17.95 youth 4-16, children 3 and under are free, $74.80 for a family pack which includes two adults and two youths. Online only. Date- and time- specific.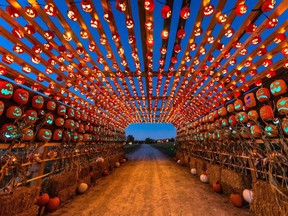 ---
This inaugural event showcases various scarecrows on display at Fort Langley National Historic Site. The event kicks off the Cranberry Festival on Oct. 8. Make a hay day out of it and check out the site's historic buildings, live demonstration, costumed interpreters and self-guided tours of a time in B.C. long ago.
Article content
• When: Oct. 8 to 31, 10 a.m. to 5 p.m.
• Where: 23433 Mavis Ave., Langley
• Tickets: Regular admission fees apply. Free admission on Oct. 8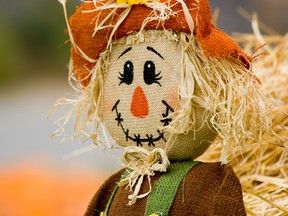 ---
When the sun goes down, the cute scarecrows make way for night-time spooky storytelling on two or three—hour walking tour of Fort Langley village at night. Tours are outdoors, so dress appropriately. Tours are in English, except for one French tour on Oct. 27.
• When: Select dates from Oct. 14 to Nov. 6. Youth tours start 6 p.m., adult tours 7, 8 and 9 p.m.
• Where: 23433 Mavis Ave., Langley
• Tickets: $17.75, $23 or $30.50 depending on tour length. Purchase in advance.
Article content
---
The Steveston Village cannery is transformed into a colourful undersea experience, with spooky sea creatures made of upcycled plastics and waste — a reminder of what is "haunting" our oceans. Unlike previous years, there will be no creepy characters lurking in the hallways. Visitors can explore the at their leisure. There'll also be crafts, games, activities and stories about the sea.
• When: Oct. 2 to 31, 2022
• Where: 12138 Fourth Ave., Richmond
• Tickets: $11.90 adults, $10.20 seniors, free for 0-17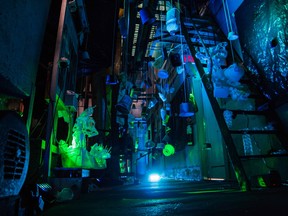 ---
Have a frightfully fun time at this North Vancouver attraction. The 140-metre long Capilano Suspension Bridge will be bedecked in Halloween costume. Kids can enjoy Halloween-themed games or participate in a scavenger hunt for prizes. Tricks, treats and festival pumpkins await. Costumes welcome, but no masks.
Article content
• When: Oct. 14 to 31, 10 a.m. to 8 p.m.
• Where: Capilano Suspension Bridge Park, 3735 Capilano Rd., North Vancouver
• Tickets: Free with admission, which ranges from $25 child to $63 adults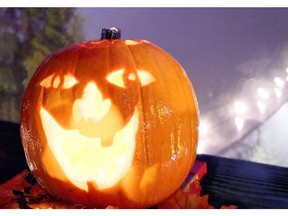 ---
Stanley Park's ghost train may be out of commission due to mechanical troubles, but head over to Surrey for a Halloween train ride aboard a historic Surrey Heritage Rail train. The hour-long ride from Cloverdale to Sullivan will take you alongside witches and werewolves, through wilderness and farmland, and over the Serpentine River. Don't miss the duke's crypt and the old engineer's graveyard. Four trips a day. Limited tickets. Costumes encouraged.
• When: Oct. 15 to 16, 2022, 10 a.m. to 4 p.m.
• Where: Cloverdale Station, 17630 Hwy. 10, Cloverdale, Surrey
• Tickets: $28.33 adults, $20.57 seniors and students, $13.92 3-11, free for two and under, but requires a ticket. Online only, no walk-ins.
Article content
---
Nothing celebrates fall like a sweet, spooktacular ride through a decorated forest at Bear Creek Park. Perfect for younger kids. After the ride, don't forget to get your treat and pumpkin.
• When: Oct. 9-31, 10 a.m. to 4:30 p.m.
• Where: 13750 – 88th Avenue at King George Blvd., Surrey
• Tickets: $11.50, free under 2; first come first serve, in person ticket sales only.
Article content
---
When the lights go down, the little ones go home and the family-friendly pumpkin train turns into a scream train that winds its way through a haunted forest. Watch out for Chainsaw Charlie lurking in the woods. Recommended for people age 12 and older.
• When: Oct. 14 to 31, 6:30 to 10 p.m.
• Where: 13750 – 88th Avenue at King George Blvd., Surrey
• Tickets: $15.75; time- and date-specific dates, must be purchased online
Article content
---
Bring your trick-or-treating to another level with this daytime treat. It starts with a thrilling ride up the gondola to the summit where trick-or-treaters can stroll Alpine Alley trail where towering trees and mountain peaks make it a perfect spooky setting for those wanting something unique. Sea-to-Sky characters make appearances along the way to hand out candy. While you're there, take advantage of other attractions at the gondola, including the Sky Pilot Suspension bridge and cantilevered viewing platforms.
• When: Oct. 23, 12 to 3 p.m.
• Where: Sea to Sky Gondola (Alpine Alley on the summit), 36800 Hwy. 99, Squamish
• Cost: Free with lift ticket or pass