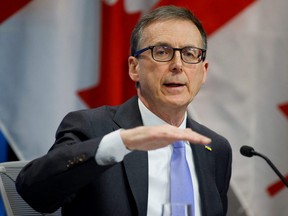 Article content
There's an adage that "inflation is too many dollars chasing too few goods."
Article content
If there are too many consumers and not enough goods or services to go around, prices go up. And up.
Article content
Now consider another fact: According to Bank of Canada numbers, the money supply (the number of dollars in circulation in Canada) grew by more than 22% between the start of the pandemic and spring this year.
That means more than one in five dollars currently in circulation in Canada didn't exist pre-pandemic. When you think about it, that's a staggering amount.
As the Trudeau government kept spending (and spending and spending) on pandemic related "relief" programs, the Bank of Canada kept pumping out more and more new money to cover this orgy of government expenditure.
(Of course, the Bank of Canada doesn't really print much of these new billions. Just as you probably use cash very little these days, so do banks, governments and corporations. This new money was created mostly electronically.)
Article content
This rapid and massive expansion of Canada's money supply has had a profound impact on inflation in this country.
RECOMMENDED VIDEO
Yes, certainly, international supply chain slowdowns and businesses' troubles in finding more workers has meant there are too few goods and services to satisfy demand, which has driven prices up.
A good example of this is how the limited supply of new vehicles for sale has driven up the price of used vehicles as people desperate to replace an old clunker have had to settle for something.
But, while the Trudeau government and the Bank of Canada have spent more than a year denying any blame for inflation, the truth of the matter is the biggest single cause of Canada's inflation is the tsunami of extra cash the government and the bank pumped into the economy.
Article content
That money is mostly still sloshing around out there. It's also one of the biggest reasons housing prices have skyrocketed: There are hundreds of billions of dollars on the market and a limited supply of housing.
It's not complicated.
The Trudeau Liberals spent almost $400 billion on pandemic subsidies – by far the most, per capita, in the developed world. They didn't have an extra $400 billion to spend. They didn't tax an extra $400 billion from Canadians. What they did was issue bonds in that amount (a form of borrowing) and because there weren't enough private or institutional investors interested, the Bank of Canada chipped in and created enough new money to cover Justin Trudeau's massive overspending.
Even though the bank claimed repeatedly that it wasn't responsible for inflation, surely its staff had to know that all this extra money flooding the economy would lead to waaaay too much money chasing goods.
Article content
While Bank of Canada Governor Tiff Macklem has been reluctant to accept his institution's complicity in the worst inflation in 40 years, he is now at least admitting our inflation is homegrown.
In a speech this week to the Halifax chamber of commerce, Macklem said some of the 7% inflation Canada is suffering "reflects global developments that we don't control but inflation … increasingly reflects what's happening in Canada."
Of course, rather than pointing the finger at his own bank, he blamed businesses that are paying higher wages to attract workers and workers who are asking for higher wages to cover the rising cost of making ends meet.
Those foolish entrepreneurs and greedy workers.
The bank and the government created this inflation and now they are expecting ordinary Canadians to pay for it with higher interest rates, higher prices, lower growth, lower wages, a devalued currency, eroding savings and a general decline in standard of living.
Macklem still needs to be replaced.