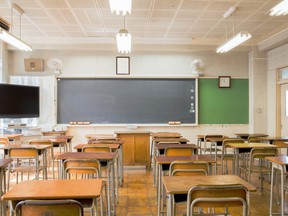 Article content
I had an amazing teaching career. I never wished I chose something else as a profession in close to 30 years and I loved each year from my first through my last.
Article content
But I believe our public education system needs a complete overhaul.
Article content
There is zero student or parent accountability. Teachers aren't to deduct marks for late work, even worse, they can't penalize students for not handing in assignments at all; "just mark what they did do."
If they fail every test and do nothing, they may be given an "R" (meaning they failed) or an "I" (insufficient data to assess), but they go to the next grade regardless and that "R" or "I" becomes the teacher's problem because they need to justify the mark.
Guess what? Those kids now get a D or a 52.
The elementary school curriculum is a kilometre wide and a centimetre deep. Enough with the "back to basics" talk. It's not basic; it's foundational learning and it is critical.
Article content
Our system has teachers jumping from unit to unit to cover a ridiculous number of expectations and the critical learning components end up getting whitewashed.
Reading, writing, math — and reading some more — need to be done consistently all year long, at least through the primary and junior grades.
Our students need to learn and practice language conventions and be given time to edit and correct their work. Stop blaming the technological era for all of our issues. Technological devices and tools they provide are actually awesome, but they can't replace concrete learning.
Let kids be kids and stop using liability as an excuse for not providing equipment and opportunities. Bring back swings and climbers and allow the students to play, yes even hands-on play – as long as it's not malicious, obviously. No wonder kids aren't active anymore.
Article content
Bring back full-day special education classrooms and allow those teachers to look for ways to integrate the kids into classes which interest them with the requisite modifications. I had five students with individual education plans (IEPs) in my grade eight class last year and the teacher across the hall had nine.
The board of education and education ministry calls this "inclusiveness," but in my view it has nothing to do with that for them. It's about money, as are all cutbacks.
I had a great class of fairly bright students my last year, however, based on their actual work this year, six to eight would have failed if they were in school in 1995.
The problem is they learn very early on, even in grades three or four, how they can't be failed or held back, so why bother studying or handing in assignments?
Article content
A few students have the awareness and insight to understand work they do now is an investment in their future and allow them opportunities to choose their future educational and career goals, but the rest too often think like kids and are only concerned with the present or immediate future.
The ministry and school board also make coaching or running clubs such a daunting task that most teachers have now completely turned their back on it — and I don't blame them.
I will say, it was coaching and running clubs that helped me build the greatest connections with students and their parents over the years. Now, the waivers, liability issues and parent drama weigh heavily on teachers often choosing to opt out of these important activities.
Article content
In my estimate, 80 to 90 per cent of our parents are great, but the system too often is catering to the minority of malcontents that constantly complain to the school principals and our board's superintendents.
All too often they are appeased leaving the rest of us scratching our heads.
We keep trying to remove basic stress from children's lives. Why? We need to teach them to deal with stress, overcome obstacles and persevere through challenges.
I feel schools and the workplace now reflect what we have created, young people who are entitled and expect to be treated as if they deserve something long before they've done anything to earn it.
Misbehaving students too often are treated with kid gloves for fear of angry parents calling to complain or going to the superintendents.
Article content
We can finger wag and say it's parents, policy or technology — or just the world we live in now.
But we need to fix the system and do our part as educators. Raise the bar back up. The kids are still great. They will adapt and overcome if we provide them the opportunity to do so.
Heck, students in our class last year all delivered an old school, three- to five-minute speech (with a few accommodations for IEP'd students) and not a single student suffered a breakdown of any kind.
I loved my job and I leave with no regrets, but I'm sincerely worried about what the future holds under our current public education system.
Bil Nolin is a recently retired teacher who resides in Kingsville.