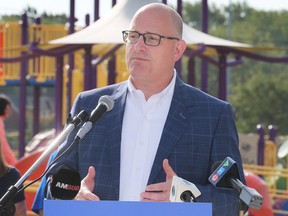 Article content
Drew Dilkens is a friend. I was privileged to supervise his thesis on amalgamation of local governments in three Ontario regions – Ottawa, Toronto and Windsor.
Article content
His enormous and often complex statistical analysis of local government consolidation in Ontario was a comprehensive research achievement.
Article content
Dilkens is not only astute he is also a person I believe with an immense sense of decency and loyalty. Thus, I can see no reason why Drew Dilkens should not be re-elected as mayor of the City of Windsor.
I will elaborate.
On more that one occasion I've said to Drew that if he needs to let off steam or seek the wisdom of an old guy, give me a call. Now and then over the past years we've had what I often term "thought discussions."
I do not ever ask for anything more in return from Dilkens than a letter now and then in support of ElderCollege's constant pursuit of grants. As a non-profit educational activity for seniors, ElderCollege is perpetually seeking funding to keep its gentle educational program for seniors thriving in Windsor-Essex.
Article content
However, on a broader perspective, I am firmly of the opinion Dilkens not only has performed exceptionally well as mayor, but that he keeps improving and ranks as a municipal statesman.
Certainly, we have had our disagreements, but most often I exercise discretion and keep views to myself.
I do not agree with the concept of the "celestial beacon" streetcar cluttering the waterfront. Yet, I applauded his enthusiasm for a magnificent Christmas festival of lights at Jackson Park.
I disagree on the issue of an auditor general to monitor city finances. Perhaps because I co-authored a book on public financial management I claimed substantial understanding of the role of auditor generals in public finances. I support him on the megahospital.
Article content
What many residents in Ontario often do not understand is under Ontario's Municipal Act 2001 the role of "head of a local municipal council" (known as mayor or reeve) is immense and defined by both Statute and a mountain of regulations.
Among those many roles are significant responsibilities including representing the city locally, provincially and even internationally. The mayor is a linchpin between elected council members and municipal administration.
The mayor is Chief Executive Officer (CEO) and serves as the conduit moving council's directions to city administration and, in turn, moving administration recommendations back to council for appraisal — and if needed, approval. The mayor may cast a deciding vote at council meetings.
Article content
Dilkens was exceptionally forceful in dealing with consequences of a senseless Ambassador Bridge blockade. As municipal governments are often children of provincial governments, elected municipal officials can "lobby" and complain to the federal government, but cannot formally do more than appeal for financial help. He worked hard on that file.
Understanding our regional economy, he vigorously argued to have the border opened.
Dilkens also made a tactical decision to support Premier Doug Ford in the recent provincial election. Not biting the hand that can feed him was probably a wise idea. That seems to have paid dividends in terms of provincial support for the projected battery factory.
While there may be half a dozen candidate names for the position of Windsor's mayor, in real terms only two meet the fundamental requirement of demonstrated municipal political experience or track records,
Article content
Chris Holt and Drew Dilkens.
Holt has worked hard on council, but often been more strident than fully effective political skills. He has experience, but remains an uncertain entity to many people. Indeed, I feel his views on our new hospital have been murky.
The mayor's job requires ability to craft workable compromises and offer leadership.
Mayors need to be articulate, think precisely and speak clearly. The mayor speaks for the city and must do so in an efficient and effective manner.
In my view, Dilkens has a major advantage in his ability to speak precisely, forcefully and often with youthful enthusiasm on behalf of Windsor. He has learned a mayor needs to understand that in working with senior levels of government that diplomatic skills are essential.
I believe Dilkens has matured in his role and responsibilities as mayor. I see no reason why he should not be re-elected.
Lloyd Brown-John is a University of Windsor professor emeritus of political science. He can be reached at [email protected]