"It reinforces the already negative perceptions of the police among Black Montrealers that they are not there to protect and serve us but rather to profile and stigmatize us."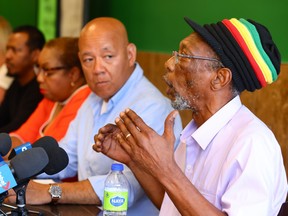 Article content
Community groups are demanding answers after about 15 police officers descended on a peaceful, family-oriented barbecue in the parking lot of a Grenadian restaurant in Lachine, leaving the largely Black attendees feeling "intimidated, stigmatized and racially profiled," community groups say.
Article content
The incident occurred at a fundraiser for a Grenadian festival on June 24, outside Greenz Restaurant on St-Jacques St.
The police intervention, which included officers from Montreal's force as well as the Sûreté du Québec and the RCMP, was "excessive and insensitive" to the Black families present, including many children and seniors, Gemma Raeburn-Baynes, vice-president of the Spice Island Cultural Day Association in Quebec (SICDAQ), told a press conference Wednesday.
She said about 60 people were at the event, where no alcohol was served.
"It reinforces the already negative perceptions of the police among Black Montrealers that they are not there to protect and serve us but rather to profile and stigmatize us," she said.
Article content
Police arrived en masse at about 8:30 p.m., surrounding the restaurant, with one of the officers saying they had received two noise complaints, Raeburn-Baynes said. She said the music wasn't loud but the DJ was asked to turn down the music.
All the officers left after about 30 minutes, Raeburn-Baynes said. No arrests were made and no tickets issued.
She said her organization lost thousands of dollars in fundraising dollars because, spooked by the police intervention, everyone left the barbecue after the incident.
A letter sent to Mayor Valérie Plante on July 6 seeking an explanation and an apology has gone unanswered, Raeburn-Baynes said.
The letter was signed by SICDAQ and 14 other organizations serving racialized and religious minorities, as well as associations representing women and seniors.
Article content
Raeburn-Baynes said Plante and interim police chief Sophie Roy should meet with the community immediately to discuss the incident.
Leon Charles said there have been no incidents in the five years he has owned Greenz Restaurant. "Now our image has been tarnished," he said. "Black businesses and hard-working businesspeople like me deserve better."
Fo Niemi, director-general of the Center for Research-Action on Race Relations, said he has never seen an incident where two noise complaints led to 15 police officers being dispatched, including RCMP officers and members of Montreal's anti-gang squad.
Racial profiling expert quits Montreal job with police, joins anti-racism group

Two Montreal police officers suspended 30 days without pay for racial profiling
This story will be updated.