"The reality is there's been lots of challenges in the musical industry post-pandemic and I think that impacted the timing a little bit around securing the act."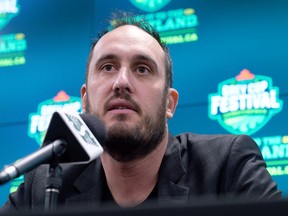 Article content
As reporters tossed out band names in hopes of hearing the beans spilled on the Grey Cup halftime act, festival co-chair and Saskatchewan Roughriders president and CEO Craig Reynolds kept his cards close to his chest.
Article content
"No comment," Reynolds said to guesses including Streetheart and The Sheepdogs.
Article content
"I will confirm that it is not Streetheart," he conceded.
A Grey Cup halftime act has been secured, but an announcement won't be made until next week, Reynolds said during an announcement Thursday morning outlining festival activities planned for the big week.
"I will also confirm it is not The Wiggles, although our festival plan is very family-friendly, we have not taken it that far," Reynolds joked. "We're really happy with where they landed."
Given that it is the league that books the act, Reynolds said the planning falls to the CFL, and in an industry that has dealt with COVID cancellations, increased costs for touring acts and other new pressures, there were some bumps in locking down the entertainment.
Article content
"The reality is there's been lots of challenges in the musical industry post-pandemic and I think that impacted the timing a little bit around securing the act," he said.
2022 Grey Cup Festival schedule launched with a focus on youth

Grey Cup tickets appearing for resale, still no halftime show announced
Leading up to the celebrations in Regina, happening from Nov. 16 to 20, the team has said there is a need for approximately 1,000 volunteers. Reynolds said the team has hit that target, but there are still approximately 60 per cent of shifts that need to be signed up for.
Registration to volunteer has been extended to Oct. 31.
To register, people are required to pay $85 plus GST. When asked if that cost has pushed people away from volunteering, Reynolds said no.
Article content
"We've had really good signup and really good participation," he said. "It's become standard practice in large events, really. We did it in 2013, as well, so it's not new."
In 2013 the cost to volunteer was $50.
The money paid by volunteers is a way to "offset" some of the costs that volunteers present in terms of jackets, equipment, food and drinks, and more.
When it comes to local attendance, Reynolds said while the Riders did not live up to expectations this season the Grey Cup is still sold out. But many tickets have been posted for resale, and when asked if this poses any concerns, Reynolds said he felt it was typical of any championship game.
"There will be thousands of tickets that will shift hands as playoff matchups are set," he said.
Article content
Given the current economic realities faced by people in Canada, Reynolds said he and the team are not deterred by economic factors when it comes to people showing up for the game and attending other ticketed events like tailgate parties and galas, tickets for which range from $20 to nearly $300.
"Large events are, post-pandemic, what people are gravitating towards," said Reynolds, adding that the Labour Day Classic saw the second largest turnout in the history of the match.
"I think they will for the Grey Cup as well."
In addition to an the Path to Glory tournament led by SKL Esports, and other youth-focused events announced over the summer, Reynolds said Thursday that Colin James will play a free concert during the Grey Cup kickoff party on Nov. 16.