If one First Nation or municipality goes it alone on dikes, it could affect others downstream, so a regional approach is needed, says Tyrone McNeil of the First Nations Emergency Planning Secretariat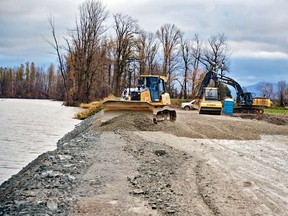 Article content
Frustrated with provincial and federal efforts, First Nations and local governments on the lower Fraser River are seeking regional collaboration on improved flood mitigation that will require spending billions of dollars.
Article content
That plan could include upgrading dikes and raising their height, but also moving or removing dikes and buying out homes to restore flood plains in B.C.'s most populous region.
Community leaders say spending needs to take place now with a more co-ordinated plan and one that involves First Nations, instead of one where communities fight over scarce dollars from the province and Ottawa and where no priorities, targets or timelines are set.
At a forum scheduled in Abbotsford Thursday, local governments and First Nations hope to hammer out principles of this collaborative strategy, critically important they believe because floods are expected to increase in frequency and severity because of climate change.
Article content
"The funding moves too slow. And I charge that specifically to a lack of a regional strategy," says Tyrone McNeil, chair of the First Nations Emergency Planning Secretariat and president of the Stó:lō Nation, a co-host of the forum.
Representatives of 31 First Nations and 35 local governments are expected to attend, as well as flood management experts and environmental groups.
B.C. Public Safety Minister Mike Farnworth plans to attend in person — and federal Public Safety Minister Bill Blair will attend remotely.
McNeil stressed it's important to understand that if one local government or First Nation creates a flood protection measure, it has the potential to affect something downstream.
"Let's map it out from Yale to the (ocean), so that we all know what we are doing and how to collaborate together," said McNeil, referring to the 200-kilometre length of the lower Fraser River.
Article content
"Ultimately, my end goal is to bring the decision making to the ground, to those directly impacted. We should be making decisions. Not Ottawa, not Victoria," said McNeil.
Jason Lum, chair of the Fraser Valley Regional District and the other forum co-host, stressed the status quo is simply not working.
He said, historically, these discussions haven't happened with the number of stakeholders that need to be involved in decisions.
If local government and First Nations can build agreement on projects on a regional basis that represents a significant message to the province and Ottawa that these projects are worthwhile and should be funded without delay, said Lum, who is a City of Chilliwack councillor.
But it also may need a new authority, perhaps a Crown corporation, or a person with the authority to work with communities to make priority funding decisions, said Lum.
Article content
A consistent request of communities has been a predictable, stable funding source and stable funding partners in the province and Ottawa, he noted.
"I don't think that's a lot to ask," said Lum.
British Columbia, including the Fraser Valley, was hammered last November by catastrophic flooding, requiring 14,000 people to evacuate and causing billions of dollars in damage.
A recent Postmedia investigative series found that municipalities don't have the billions of dollars needed to upgrade flood protection after the province downloaded responsibility to municipalities beginning in 2003.
Tamsin Lyle, of Ebbwater Consulting and a co-ordinating member of the forum, said best practices in flood management are not being used in Canada and she noted there is no flood mitigation plan provincially or federally.
Article content
There are no targets that explicitly lay out how much risk will be reduced to citizens by a certain time, said Lyle.
A collaborative, regional approach that sets priorities and includes alternatives to building dikes higher, and involves First Nations and considers the environment, would be a start, she said.
"It's baby steps by starting to work together," said Lyle.
The B.C. government has promised a new flood strategy but not until next year. As part of that strategy, a plan that would address the need for new dikes is not slated until 2025.
Earlier, both B.C. and Ottawa have committed billions of dollars to recover from the devastating floods and wildfires in B.C. last year.
But most of that money is earmarked for response costs and human aid, helping individuals and communities restore buildings and infrastructure, and increased government operations spending.
Article content
It is not targeted at building climate-resilient infrastructure such as upgrading B.C.'s more than 1,100 kilometres of dikes or building new or alternative flood protection measures.
The deadly floods last year destroyed homes and washed away roads and bridges, also cutting off shipment of goods through ports and requiring gasoline rationing.
---
More news, fewer ads: Our in-depth journalism is possible thanks to the support of our subscribers. For just $3.50 per week, you can get unlimited, ad-lite access to The Vancouver Sun, The Province, National Post and 13 other Canadian news sites. Support us by subscribing today: The Vancouver Sun | The Province.