Dorval Mayor Marc Doret welcomed the protection of Golf Dorval, an 18-hole public course next to Trudeau International airport.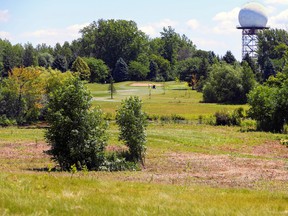 Article content
Golf Dorval has been added to a growing list of golf courses protected by a sweeping interim control by-law (RCI) by the Montreal Metropolitan Commission (CMM).
Article content
The other two courses protected are Club de Golf Boucherville and Golf Ste-Rose in Laval. All three courses, covering some 190 hectares of land, are located within the urban perimeter of the Greater Montreal region.
Article content
The CMM council ratified an amendment to the existing RCI, or freeze, in order to include the three additional courses in the Greater Montreal region with "potential for conversion into green space or natural environment."
The total number of golf courses protected by the CMM's RCI now stands at nine. In June, the CMM protected six other courses:  Beloeil, Candiac, Mascouche, the Chambly municipal, Le Boisé golf club in Terrebonne and the former Rosemère golf course.
The CMM said the courses were being protected "where the possibility of real estate development will henceforth be limited."
Article content
Dorval Mayor Marc Doret said he welcomed the protection of Golf Dorval, an 18-hole public course next to Trudeau International airport.
Doret said the city has already begun using the green space for other leisure pursuits during the winter months.
"In 2021, the city of Dorval decided to make of Golf Dorval something more than just a golf course and turned it into a public urban green space that could be used throughout the year for seasonal activities deemed important to the well-being of our residents," Doret said.
The Dorval mayor said the green space is also home to wildlife and fauna.
"The many acres of land and wetlands covered by the RCI represent an incredible living biosphere, including 216 species of birds, 265 species of plants, and numerous wildlife such as foxes, raccoons, and coyotes," Doret said.
Article content
"That is why we welcome this RCI as it supports and solidifies our decision. It provides an opportunity to better plan the future recreational development of this large area, one of the last of its kind in our municipality."
Golf Dorval, the West Island's only public golf course, is in its 40th year of operation.
The course opened in June of 1982. The original 18-hole layout was designed by renowned course architect Graham Cooke.
Nine more holes were added in 1983. It then became a 36-hole course in 1984 when the sport of golf was booming in the Montreal area. Golf Dorval also hosted the Quebec Open twice in 1994 and 1996.
In 2007, the course was reduced to 18 holes because of the expansion of the adjacent Trudeau International Airport.
After the nine-hole Dorval Municipal course next to the airport closed in 2015, Golf Dorval became a destination for amateur golfers in the community, including many seniors.
Golf Dorval gearing up to launch its 40th season in April

Fairview Forest included in temporary freeze for Greater Montreal