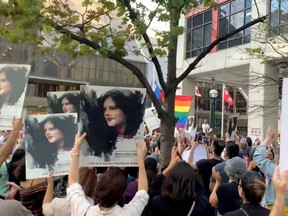 Article content
The Trudeau government is sucking and blowing at the same time by publicly calling Iran's Islamic Revolutionary Guard Corps — the thugs now terrorizing the brave women of Iran — a terrorist organization, while refusing to declare this under Canada's Anti-Terrorism Act.
Article content
On Friday, Deputy Prime Minister Chrystia Freeland, accompanied by Prime Minister Justin Trudeau at a media conference, declared that in the government's view: "The IRGC leadership are terrorists. The IRGC is a terrorist organization. Today, Canada is formally recognizing that – and acting accordingly."
Article content
But Canada hasn't formally recognized that and apparently has no plans to do so.
That would mean declaring the IRGC a "listed entity" under the Anti-Terrorism Act, including it among groups the Trudeau government has deemed are terrorist organizations, such as the Proud Boys.
While Trudeau and Freeland announced further sanctions against Iran on Friday, the PM's continued refusal to list the IRGC as a terrorist organization is utterly bizarre.
Article content
RECOMMENDED VIDEO
Perhaps it has something to do with Trudeau not wanting to admit he was naive when he campaigned in the 2015 federal election to restore diplomatic relations with Iran, after former Conservative PM Stephen Harper severed ties in 2012 and listed the Islamic Revolutionary Guard Corps' Qods Force as a terrorist entity.
The Qods Force is the external branch of the IRGC. 
It exports Iran's state-sponsored terrorism to other countries, providing arms, funding and paramilitary training to terrorist groups such as Hamas, Lebanese Hizballah, Palestinian Islamic Jihad (PIJ), the Popular Front for the Liberation of Palestine-General Command and the Taliban.
The Trudeau government is refusing to list the internal branch of the IRGC, which operates inside Iran terrorizing its own population, as a terrorist entity.
Article content
This despite the fact the IRGC is at the forefront of suppressing ongoing anti-government demonstrations in Iran, presiding over a propaganda campaign to discredit them as "a conspiracy of the enemy" and launching drone and artillery attacks on what it says are bases of Kurdish separatists.
Trudeau's stand is hypocritical given that for the past week he has accused Conservative Leader Pierre Poilievre of misogyny because of a hidden tag in his YouTube videos referencing an anti-woman organization, that Poilievre said he removed as soon as he became aware of it in a report by Global News.
RECOMMENDED VIDEO
Poilievre last week attended and spoke to a massive rally in Richmond Hill, where police estimated the crowd at 50,000, supporting protests by Iranian women in Iran, demanding freedom after 22-year-old Mahsa Amini died in the custody of Iran's morality police, known as the Guidance Patrol.
Article content
She was arrested for not wearing her hijab properly under Iranian law requiring women to cover their heads in public.
Trudeau, the self-described "feminist," was nowhere to be found.
His refusal to designate the IRGC as a listed terrorist entity is even more bizarre given that in 2018, Liberal and opposition MPs voted in favour of a resolution to declare the IRGC's domestic security force a terrorist organization.
The Trudeau government also holds the IRGC's Aerospace Force responsible for shooting down Ukrainian International Airlines Flight PS752 in January 2020, killing all 176 people on board, including 55 Canadian citizens, 30 permanent residents and more than 100 in all with significant ties to Canada.
Last year, Ontario Superior Justice Edward Belobaba ruled in civil proceedings arising from the IRGC's downing of the civilian airliner with two surface-to-air missiles that it was a terrorist attack.