The Vancouver Whitecaps released a lot of pent-up energy by beating the Seattle Sounders for the first time in five years, and head into their final two games still(!) alive in the playoff race in the West.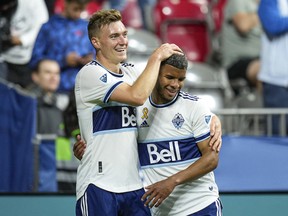 Reviews and recommendations are unbiased and products are independently selected. Postmedia may earn an affiliate commission from purchases made through links on this page.
Article content
Ryan Gauld broke down the left wing, cut back to his right — putting the ball between the legs of Seattle Sounders defender Xavier Arreaga — then whipped it to the far side of the goal, where Pedro Vite was there to hammer it home.
Article content
"The first goal, guys, it's beautiful," Whitecaps coach Vanni Sartini after their 2-1 win over the Sounders on Saturday night at B.C. Place.
Article content
"I don't want to say what it's better than, because we are in PG-13 (environment). But I can say it's a soccer orgasm, the first goal."
The goal, coming in the 29th minute, was Vite's second goal as a Whitecap. Julian Gressel also scored his second goal for his new club, in the 37th.
And it was just as arousing, tittliating, stimulating … exciting as the first. A long throw-in was headed in, and Gressel was there to one-time a top-shelf goal to make it 2-0 Vancouver over their Cascadia rivals.
Article content
Did Vanni tell him his goal was pure sex, too?
"He hasn't mentioned anything, so we'll see," he laughed. "But that first goal was great.
"It was a lofted ball, very high," he added of his score.
"And I was like, 'Oh God, what am I going to do with this?' And I just kind of ran through it and tried to get a clean strike on it. And I did … Pretty good goal."
Article content
What this means
The Whitecaps are alive. The pulse is still there.
It after the Whitecaps thumped the LA Galaxy 3-0 on Wednesday. Vancouver can still make the playoffs if they win both games and if they get some help.
They are ninth in the Western Conference with 40 points off 32 games.
In front of them, in eighth, is a late-season-swooning Real Salt Lake team, which dropped a 2-1 decision to FC Cincinnati on Saturday. Salt Lake, on 43 points, has lost three of four (0-3-1) and have three games left.
The Galaxy jumped into seventh place on Saturday with a 4-1 domination of the Colorado Rapids, and are also on 43 points but with a game in hand. One of their four games remaining comes against Salt Lake.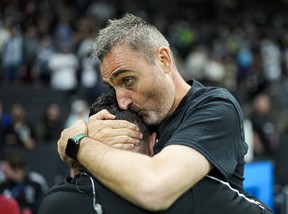 The Sounders are now behind Vancouver in 10th place, but also have a game in hand on the Caps. A win would have given them a 50 per cent shot at the post-season. Now, their quest to extend their record 13-year playoff streak has odds of just 15 per cent.
Article content
The Whitecaps' odds are still low — but jumped up to four per cent with the win, which was their first in the last 16 games against Seattle.
"The playoffs are still very far. We still need results to go in our way and even winning both games doesn't give us the possibility to be in the playoffs. Let's keep (thinking) that we have still the one per cent (chance). Let's just focus on the next game," said Sartini. "In Colorado we played well. We didn't deserve to lose. In San Jose, we played well. We didn't deserve to lose.
"It's gonna be very hard (on Oct. 1) because Austin is the No. 2 in the West, the surprise team of the of the year, but it seems like we like to make an impossible mission. So let's try to do another one."
Article content
Four on the floor
The Whitecaps went back to a 4-2-2, which was really a 4-4-2, and took a shutout into the 88th minute.
The defensive lapses that plagued them all season haven't been there in the past two games, and while the opposing teams have dominated possession, the Whitecaps have been the ones dominating the scoring chances.
On Saturday, they had 33.8 per cent possession, a few days after having 32 against the Galaxy. They beat L.A. 3-0, and against Seattle, had more shots on target (5-4) and held Seattle to just four first-half shots — none on target.
Sartini had staunchly stuck to his three-centreback guns for nearly all of 2021 and 2022, but made the switch against Colorado. Despite the 3-1 loss, he liked how they played defensively.
Article content
Asked post-game why he's switched from a formation he was devoted to, he said it was decision based on who was playing well in training.
"The thought process was because I thought that at the moment we didn't have the wingback to play in the fullback three. And Luis (Martins) was very good lately in training," he said of their starting left-back.
"We had to create this thing that Luis can be very helpful in the build up with his crosses but also protect him (so)  that he doesn't have to press every ball. He's a much better suited player to play back four.
"Luckily we have DP (Ryan Gauld) that is not only a DP in quality, but he's a DP in work rate, so he can do the double job. Be a No. 10 offensively and a wide player defensively."
Article content
Close only counts in horseshoes, not VAR
It looked like Brian White had put the Caps up 3-0 in the 62nd minute Saturday — the entirety of the press box thought he had — but Stefan Frei's mitt scooped it out before it could cross the line completely. Green was visible between the ball and the ground, but the angle was what mattered, not what the 19,722 in attendance thought.
Article content
At the time, it would have been a cherry on top, and reward for all the running White had been doing. But it could have proven costly.
In the 89th minute, Will Bruin's glancing header off a Fredy Montero cross (of course, who else could it have been) snuck into the corner past a diving Thomas Hasal and planted a seed of doubt in the Caps. Just moments after the restart, Seattle got the bit between their teeth and were pushing hard, with Kelyn Rowe's free shot from 20 yards out causing consternation for the fans and Sartini. 
"Unfortunately, we didn't score the third goal, and at the end, of course, they have quality players and Will Bruin scored a fantastic goal. Then we're a little bit shaky and scared for the last four or five minutes," said Sartini. "But I'm very happy. Really really happy."
Article content
Vote for Pedro … again
Pedro Vite has gone from the doghouse to the Dawg House. He has, as the kids say, "got that dawg in him."
A player once stapled to the bench or even excluded from the 18 many times this season has come on to score in back-to-back games — his first MLS goals.
Sartini had challenged him several times to up his intensity level this season, and it finally clicked for him in the last month.
"I've worked very hard the last six months. Vanni said I need to work on my intensity. Now the results are coming, too," said the highly-rated 20-year-old, signed as a U22 initiative player this year.
"It's actually something very personal," he said of his motivation. Because I want to be at the World Cup to play for my national team, Ecuador. And at the end of the day, it's up to me to work hard and push hard to achieve what I want to achieve.
Article content
"Honestly, it was up to me to find myself, getting adjusted with the system. But little by little I started to get to know Vanni's playing style. And now I'm just playing out there as if I'm a kid."
What they're saying
Article content
---
More news, fewer ads: Our in-depth journalism is possible thanks to the support of our subscribers. For just $3.50 per week, you can get unlimited, ad-lite access to The Vancouver Sun, The Province, National Post and 13 other Canadian news sites. Support us by subscribing today: The Vancouver Sun | The Province.
Whitecaps 2, Sounders 1: Caps play spoilers, shoot holes in Seattle's playoff hopes

Piquant Sounders-Whitecaps rivalry gets a little bit spicier thanks to a dash of desperation