So far, even 20,000 dead Russian soldiers in Ukraine hasn't been enough to stop him.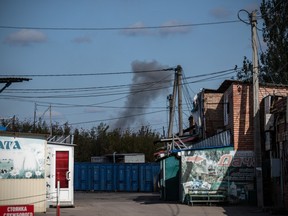 Article content
Coffins.
It's a brutally unpleasant way to describe what it will take to turn the tide against Russia in the Kremlin's savage war on the Ukrainian people, but the advantage the proposition holds is that nothing else seems to be working, certainly not the "convening" that Foreign Affairs Minister Mélanie Joly amusingly proposed last March as the unique talent Canada could bring to the cause of ending the war.
Article content
Coffins will have to do, with dead Russian soldiers in them.
That was the remedy prescribed by Eliot Cohen, the Johns Hopkins University professor and former counsellor for the U.S. State Department, last Feb. 23. It should tell you something about Cohen's prescience that he made that observation in the hours before Vladimir Putin's full-force invasion began. "Only one thing, in fact, can cause Russia to rethink and even abandon its program of conquest: coffins."
It's nearly impossible to arrive at an accurate death count, but the estimates from a variety of sources suggest perhaps 20,000 dead Russian soldiers so far, and an almost equal number of Ukrainian civilians and soldiers. It's a horrible thing to say out loud, but it has to be said. There haven't been enough Russian coffins.
Article content
It has taken an unforgivable amount of time for the leaders of the NATO countries to wake up to the fact that Putin is at war with all of us, aided and abetted by China's Xi Jinping, and some NATO leaders are only now shaking themselves from their torpor, and from the hubris of their diplomats and foreign-policy "experts."
The good news is that finally, maybe, the European Union and the G7 countries appear to be listening to what Ukrainian President Volodymyr Zelenskyy has been saying all along: Close the skies. And no, that does not mean a no-fly zone, enforced by NATO. It means more Javelin missiles, more Stingers, and more advanced air defence systems to augment Ukraine's own S-300 batteries.
U.S. President Joe Biden this week promised to deliver two National Advanced Surface-to-Air Missile Systems before Christmas. Even Germany, which until February couldn't quite decide whose side it was on, is suddenly coming through with at least one of the four Iris-T SLM systems German Chancellor Olaf Scholz promised back in June. This is to the good.
Article content
The heightened urgency, if that's what you could call it, was prompted by the barrage of missiles the Kremlin launched at several Ukrainian cities and towns this week, including the capital, Kyiv, knocking out power to almost one-third of the country. It was a show of terror after Russian forces were routed from Ukrainian territories in several embarrassing turnarounds, and nearly lost the 19-kilometre Kerch Bridge connecting occupied Crimea to Russia.
The heightened urgency, if that's what you could call it, was prompted by the barrage of missiles the Kremlin launched at several Ukrainian cities and towns this week, including the capital, Kyiv.
And again, Putin leaned into veiled threats to deploy nuclear weapons. And again, the NATO capitals were all in a flutter about it, with the same old appeals against "provocation" and "escalation" and boring entreaties to imagine the horrors of nuclear war. As if allowing Putin to get away with his barbarism in Ukraine would somehow dissuade him from pushing the red button or threatening to do so in the future, the next time he wants to get his way, perhaps with an invasion of NATO's Baltic states.
Article content
But that's the pattern. And it's why the war has dragged on. It's instructive to remember what Zelenskyy said in his address to Parliament back in March: "Can you imagine when you call your friends, your friendly nation, and you ask: 'Please close the sky, close the airspace, please stop the bombing. How many more cruise missiles have to fall on our cities until you make this happen?' And they, in return, they express their deep concerns about the situation."
He said the same to the U.S. Congress, and to the Parliament in London, and that's more or less what everybody did. We all expressed deep concerns.
And now, the global food supply is as frail as a spiderweb, Europe is battening down for a horribly cold winter and looking at inflation in the double digits. Fuel and fertilizer prices are going through the roof across the Maghreb, the Levant, Latin America and Africa. And the financial markets are convulsing.
Article content
Although British and American intelligence officials say there's no evidence at all that Putin is readying Russia's nuclear arsenal, it may well be a bad idea to call Putin's bluff. The problem is that the arguments against doing so are either embarrassingly ill-informed, a jumble of platitudes about peace and the superior virtues of diplomacy, or just plain lame.
Anders Ostlund of the Centre for European Policy Analysis is one of smarter observers of the existential struggle Ukrainians are putting up in defence of the democratic world, and he's as clear-eyed as anyone about what it will take to bring Russia to heel.
Coffins, yes. But that won't be the end of it. "There will be no end to the barbaric madness as long as Russia is around. The Russian state apparatus needs to be destroyed," Ostlund says, "the Russian Federation dissolved, (and) Russia demilitarized for this to stop."
The sooner the NATO countries, the European Union and the democratic bloc at the United Nations stop pretending this isn't so, the better.
Terry Glavin is an author and journalist.