In a news release, Strathmore RCMP Staff Sgt. Mark Wielgosz urged the public to be extra vigilant with their children as a precaution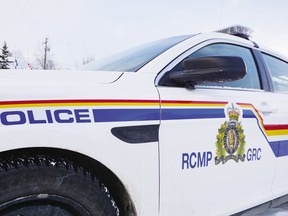 Article content
Alberta Mounties are investigating after they say a girl walking home from school was abducted Tuesday, before managing to escape to safety.
Article content
Strathmore RCMP said they responded to reports of an abduction of the girl around 6 p.m. Tuesday.
They said the girl had been walking home from her school bus drop-off when two men in a white pickup truck approached her. The men allegedly forced the girl into the truck and brought her to a residence.
The girl was able to run away to safety, RCMP said.
There is no clear description of suspects or the vehicle, police said, adding further information would be released when it is known.
In a news release, Strathmore RCMP Staff Sgt. Mark Wielgosz urged the public to be extra vigilant with their children as a precaution.
"I fully appreciate this incident may be both unsettling and disturbing," said Wielgosz, the branch's detachment commander.
"Our detachment has increased patrols and visibility in our communities. Our priority is to ensure public safety and to conduct a thorough investigation. We are also taking steps to support the victim in this matter.
"I can assure our residents we remain committed to the safety of our community and will provide more information as quickly as we can."
The RCMP said they are "investigating this matter as a priority," and encouraged anyone believing a crime has been committed or will be committed to contact police.