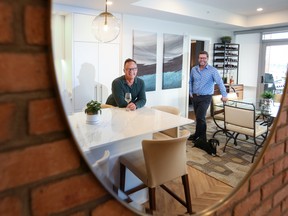 Reviews and recommendations are unbiased and products are independently selected. Postmedia may earn an affiliate commission from purchases made through links on this page.
Article content
For Brad Philpott and Brian Brownlee, the decision to make the move to Gateway, a mid-rise, mixed-use condo development with mountain views in West District, a new urban village on Calgary's westside, was a few years in the making.
Article content
"We knew the moment that we walked through the show suite in 2019 that this was what we wanted, but the timing just wasn't right," says Brownlee, a realtor with Coldwell Banker.
Article content
At the time, the pandemic was on the doorstep, and Brownlee was shifting careers from the hospitality industry into real estate, while Philpot, a human resources consultant in disability management for a downtown energy company, had begun working from the couple's home office in their two-bedroom condo in Aspen.
"Everything was just up in the air for us," recalls Philpott.
Although they loved the condo that they were in — they'd purchased it several years prior — and enjoyed its location, close to the shops in Aspen, and its views overlooking the community's iconic pond, it just didn't have the big city pulse that the couple wanted.
Article content
"We really liked the fact that Gateway has this downtown vibe, but it's not downtown," says Philpott.
The active 50-somethings wanted a lifestyle package, a low-maintenance home with great views and plenty of outdoor space, where they could step outside and be on the threshold of hip restaurants, spin studios and coffee shops, as well as be within a few steps of plenty of parks and green space for walking their 14-year-old dachshund, Mylo.
They also wanted a forever home, one that would take them through retirement, while offering easy access to the city's core. Plus, it had to be close to major exits out of the city, as they spend most weekends at their condo in Kimberly, B.C., immersed in nature, skiing and hiking.
Gateway was the perfect solution.
A mixed-use, eight-storey multi-family development, it comprises of an east and west building joined by a ground level podium brimming with restaurants, including Una Pizza + Wine and Blanco, coffee shops, and fitness opportunities — YYC Cycle and F45are tenants. Gateway features a variety of housing types from street-level two-storey Brownstone townhomes to one-level condominium homes and Skytowns — split-level townhomes spanning the 7th and 8th floors of the complex.
Article content
Morgan Fraser, digital marketing manager for Truman Homes, the developer behind West District and the sole builder in the community, describes Gateway's architecture as a blend of New York chic and West Coast relaxed.
"It really reminds me of something you'd find in Miami. It's modern and contemporary. It doesn't feel like we are in Calgary," says Brownlee.
And the location within the new community of West District ticked all of the boxes.
Bordered by 85th Street S.W. to the west, Old Banff Coach Road to the north, 77th Street to the east and 8th Avenue to the south, West District is close to it all — a variety of shops and services are within a short stroll or bike and the community's parks and pathways are connected to the city's regional network, allowing for quick and easy access to other parts of the city. The new ring road connects residents to the Trans-Canada Highway in minutes. Future plans include a new joint venture transit hub between the city and the developer, which will provide shuttle service to the train line, as well as routes that will tie into major bus lines throughout the city.
Article content
But it's really what is happening within the community of West District that sold Philpott and Brownlee.
At the heart of the community will be Central Park, an 8.4-acre park that will feature space for year-round activities, including an outdoor plaza and amphitheatre for festivals, concerts and plays, a reflecting pool, a skating rink, a bocce ball and basketball court, an off-leash dog park and spaces for outdoor training. The community is also designed to be pedestrian-friendly with 20-foot sidewalks, integrated with pathways and bike paths.
"We really wanted to create a lot of diversity within West District, a true urban village," says Truman's Fraser, adding that the 95-acre master-planned community's vision really incorporated pedestrian friendliness and a sense of connectedness, both within the community of West District and to the city as a whole.
Article content
So, with all of that in mind, when COVID-19 restrictions began to ease a year ago, Philpott and Brownlee took another look at Gateway, which by now had been completed. "This time, the timing was right, so we just went for it," says Philpott.
Within three weeks, they had sold their home and moved into their new two-bedroom plus den condo.
"It all happened so fast. Our friends and family thought it was a spur of the moment thing, but really it was a two-year process," Philpott says.
The couple purchased the 2L floor plan, a 1,269-square-foot, two-bedroom, two-bathroom corner unit single-level suite with a study. The home features banks of floor-to-ceiling windows and an almost 400-square-foot outdoor terrace.
"Because it faces north west, we have these amazing mountain views," says Philpott, who adds that the couple has filled the space with plants. "They are doing so well, because we have the late day sun."
Article content
The couple, who moved in at the end of October in 2021, has also added a New York feel to the white contemporary design of the open-concept condo by adding two bricked feature walls in the great room, which add texture and colour and juxtapose nicely with the chevron wood flooring, the white quartz countertops and flat white cabinetry in the kitchen. An oversized island that seats six, a gas stove and an integrated Fisher & Paykel fridge — all standard design selections — add some appealing luxurious touches to the home.
Since the move, the couple hasn't looked back.
"It was the right choice, absolutely. It just feels like home," says Brownlee.
DETAILS
COMMUNITY: West District
DEVELOPER: Truman
BUILDER: Truman
DEVELOPMENT: Gateway, a mixed-use, eight-story, multi-family development featuring a selection of two-level brownstone-style townhomes, two-level penthouse suites and one-level condominium-style homes. Homes feature large terraces and some have mountain views.
Article content
PRICE: Twenty homes remain. Pricing starts at $600,000 for a three-bedroom, 1,500-square-foot condo, which includes close to 300 square feet of outdoor terrace space. Depending on the home, one or two indoor parking spaces are included in the price. Two-bedroom designs are also available.
FEES: Condo fees range depending on the size of the home and start at $170 per month.
DISCOVERY CENTRE:  West District's Discovery Centre is located at 762 85th St. S.W. It's open Mondays through Thursdays from 2 to 8 p.m. and Saturdays, Sundays and holidays from noon to 5 p.m. It is closed on Fridays.
INFORMATION: www.hellowestdistrict.com; www.liveatgateway.com