Heading into his sixth season, alternate captain Thomas Chabot wants badly to see this team play meaningful games in March and April.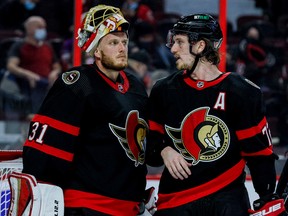 Article content
BUFFALO — The start of the season is finally here for the Ottawa Senators and their faithful.
Article content
After spending Tuesday doing a little team bonding in Mont-Tremblant, the Senators went for a skate in nearby Saint-Jovite on Wednesday before making the trek to Buffalo to open the season against the Sabres on Thursday night at the KeyBank Center.
Article content
It's been 168 days since the Senators closed out 2021-22 against the Philadelphia Flyers and as the club prepares to drop the puck against a divisional rival, they'll have a new look when the roster is introduced.
Article content
Trying to help the Senators become a contender in the difficult Eastern Conference, general manager Pierre Dorion rolled up his sleeves in the summer with coach D.J. Smith and the rest of the hockey operations staff to make significant changes.
Alex DeBrincat, Claude Giroux, Tyler Motte and top prospect Jake Sanderson will be wearing an Ottawa jersey for the first time when the puck drops against the Sabres. All will play pivotal roles if the club is going to be in the mix for a spot in the post-season.
Article content
Heading into his sixth season, alternate captain Thomas Chabot wants badly to see this team play meaningful games in March and April that will help this organization book a ticket to the NHL's big dance for the first time since 2017.
"Any time you start a season, everybody wants to make the playoffs," Chabot said Wednesday after the skate in Saint-Jovite. "That's no (secret), but at the end of the day we're aware that our division isn't easy to get through. You look the last few seasons and there's some talented teams that have made the playoffs.
"We're aware of that and we're up for the challenge. We know it's never going to be perfect all season, but I think the closer we get to it the better we'll be at giving ourselves a chance every night."
Article content
The Senators have surrounded the group they already had here with more talent. DeBrincat is a two-time 40-goal scorer, Giroux, 34, brings a strong veteran presence and Motte is an elite penalty killer who may be able to help provide some offence.
As for Sanderson, the 20-year-old didn't look out of place in the pre-season. The pace of this one against the Sabres will be a lot higher, but he's shown good poise.
This club closed out last season on a positive note and wants to pick up where it left off.
"Throughout the summer, everybody was happy when we were adding those pieces, but at the same time the new guys have come in and they've just fit right in," Chabot said. "They love having fun, but when we hit the ice it's all business.
Article content
"It's about going to work, and just having those guys around has been great."
Smith is a good coach for this group because has a strong sense of the mindset and how everybody is feeling. One of the challenges was making sure the newcomers fit in with Brady Tkachuk, Tim Stuzle, Josh Norris, Drake Batherson and Chabot.
It couldn't have worked out better.
"It's been seamless," Smith said. "These guys have built something here culture-wise in the dressing room, all those young guys, with the help of veterans like (Nick) Holden, (Austin) Watson and (Travis) Hamonic and (Anton) Forsberg.
"But I think the new guys have jelled nicely. They want to win. It's nice to say how much we like each other and all these things, but we've got to win. These guys are ready to compete to do that."
Article content
The step the Senators are attempting to make is a big one. Injuries and illness the last two years have gone a long way in sidelining what this team was trying to accomplish. Smith doesn't want players trying to overextend themselves against the Sabres.
"Less is more," Smith said. "Sometimes you make so much of that first game, and it's the same as Game 82, it's just that it's right now. You sometimes put too much pressure on yourself and you don't perform. You've just got to do the same thing over and over."
Giroux said the best bet is not to look at the big picture.
"Expectations? A lot of people talk about it. We've got to worry about the Buffalo Sabres and that's the only thing we can do right now." Giroux said. "We can't worry about making the playoffs. We've got to take it one day at a time.
Article content
"We're going to have to get better day by day. We'll see how the first game goes and we'll go from there."
A good start to the season could mean an even better finish.
"There's no way around it: The start of our season has been a real struggle the last two years," Chabot said. "We kind of put ourselves behind by not winning that many in the first 20 games. That's the biggest emphasis we have to make.
"Everybody is aware of that and everybody's looking forward to it. We have a different team now than we did last year. We know that on any given night anybody can beat anyone so we've just got to show up and be ready every night."
Twitter: @sungarrioch
It will be up to goaltender Anton Forsberg to carry the ball to start the season for the Senators

GARRIOCH: Some storylines to watch as the Ottawa Senators open the season