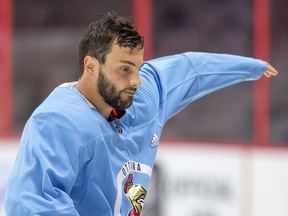 Article content
Derick Brassard is welcoming a second chance to make himself at home.
Article content
As the Ottawa Senators open their pre-season against the Toronto Maple Leafs with split-squad games at Scotiabank Arena Saturday, the 35-year-old Brassard, who celebrated his birthday on the first day of camp Thursday, will be trying to show the organization he belongs.
Article content
That might sound odd for a guy only 49 games short of the 1,000 milestone in his career, but Brassard is back for a second stint with the Senators after spend parts of two seasons here from 2016-to-2018. This time, it's different, he's trying to earn a contract.
Article content
Here on a professional tryout he wants to show general manager Pierre Dorion, coach D.J. Smith and the rest of the hockey operations staff that he belongs. Brassard is willing to do whatever it takes to earn a contract.
Article content
"There's always pressure," Brassard said. "Even when you've got a contract, you've got to prove yourself. The guy that signed an eight-year deal has to prove that he's worth that amount of money or that contract. It's always like that.
"This is the first time I've signed a PTO and I'm turning 35-years-old and I'm not getting any younger but I know I can help. I'm just going to try to play well, play loose and have fun."
A Gatineau native, Brassard wanted to come home to finish his career. He will be given every opportunity during the pre-season to make that happen. He was part of the Senators' team that went to the 2017 Easter Conference final.
He was dealt to the Pittsburgh Penguins for goaltender Filip Gustavsson at the 2018 trade deadline and returns to Ottawa with 118 games of NHL playoff experience. That was the year late owner Eugene Melnyk and Dorion decided to map out this rebuild.
Article content
"It's a weird feeling because I was one of the first guys to leave," Brassard said. "After that, everyone knows one-by-one we all left, but all the young players now are the ones that they got for guys like (Mark) Stone and (Erik) Karlsson.
"These guys aren't entry-level players anymore. They're ready for the next step and the talent is what is exciting about this group. We're just going to have to play well as a team and play with really good structure. The talent will take care of itself.
"It's a good feeling to be back. This is my hometown team and I already had a taste. We almost reached the Cup final a few years ago and it would be nice to play on this team and try to clinch a playoff spot."
Brassard finished last season with the Edmonton Oilers and worked hard this summer to prepare to play.
Article content
Who says you can't go home again?
"The staff is still here and everyone from the organization," Brassard said. "To come back here and see familiar faces is huge. I've played for a lot of teams and it's probably the best medical staff and all the people that work around the organization.
"It's always fun to come back here."
Brassard is excited about what this group can accomplish. He's kept an eye on the likes Brady Tkachuk, Tim Stutzle, Josh Norris and Thomas Chabot plus he was in the summer to see first-hand the addition of Alex DeBrincat and Claude Giroux.
Ideally, he'd like to be part of this because Brassard believes that this group is on the verge of something special.
"Everybody knows they got DeBrincat, Giroux and Cam Talbot and I don't want to forget any names but this team is ready to take it to the next level," Brassard said. "The (young) players are in their fourth or fifth year in the league and they're ready to take the next step.
Article content
"It's by adding guys like Giroux that you're taking this leadership to the next level. I'm confident in this group. We've just got to get better through training camp. I know we're playing a lot of exhibition games, but I'm sure we want to have a good camp and be here for the season."
Brassard is the kind of player Smith can use at any forward position.
"He's got to fill a role for us," Smith said. "He knows he's in a bottom-six situation and he knows that's where his career is at. The last few years, he's been figuring it out. He's winning faceoffs and he's doing all those things.
"He's just got to show the management and the coaching staff that he can still provide that to an NHL team. His leadership speaks for itself."
Brassard is still determined to contribute.
Article content
"If he wasn't hungry he wouldn't be here. He's played a long time and he can make that decision. He still wants to help so we're going to give him every opportunity," said Smith.
Reaching the 1,000-game milestone would be a bonus for Brassard.
"You're looking for motivation every summer and one of the motivations was to try to get to 1,000," Brassard said. "Early in my career, I had a lot surgeries and missed a lot of time. After four or five surgeries, that would be good. I take a lot of pride in taking care of my body.
"I just want to make sure I'm on the roster first."
Twitter: @sungarrioch
Former Senators' captain Daniel Alfredsson says he'll be a regular visitor this season

GARRIOCH: Training camp shifts into high gear as the Ottawa Senators hit the ice