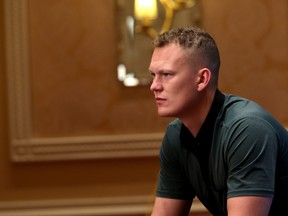 Article content
Brady Tkachuk wasted no time leaving Las Vegas.
Article content
After wrapping up the NHL's two-day Media Tour Friday afternoon, the Ottawa Senators' captain headed for the airport and took a red-eye back home as the club prepares to open training camp Wednesday with medicals at the Canadian Tire Centre.
Article content
While the 23-year-old could have opted to spend Friday night celebrating his birthday on the Vegas strip, Tkachuk's focus has turned to helping the Senators turn the corner this season and he's excited to get camp under way after all the changes made in the summer.
Article content
"It'll be good and it will be fun. Everybody is super-excited. It's going to be good," Tkachuk told this newspaper Friday from Vegas. "This is the most excited I've been coming into a season. You see the excitement coming into the rink every day.
Article content
"Everybody is fired up and they just can't wait for Day One of camp."
And, as we know that's just around the corner.
This roster has undergone an extreme makeover by general manager Pierre Dorion during the off-season. The changes started when he dealt three picks _ including the club's first-rounder in 2022 _ to the Chicago Blackhawks in exchange for two-time 40-goal scorer Alex DeBrincat.
They continued when the organization brought home veteran forward Claude Giroux from the Florida Panthers as a unrestricted free agent. Then, Ottawa acquired top goaltender Cam Talbot from the Minnesota Wild in exchange for Filip Gustavsson.
After two years struggling with injuries and underwhelming results, goaltender Matt Murray was sent to the Toronto Maple Leafs. That means Talbot and goaltender Anton Forsberg will battle it out for playing time during camp.
Article content
There's no question, this group is a lot better than it was at the end of last season.
Most of the players arrived in town Labour Day weekend and they've been skating at the Bell Sensplex since.
"Everybody knows what type of players (the newcomers) are but just getting to know them they're even better people," said Tkachuk. "They're going to help out our team so much and you can just feel the excitement.
"It's going to be awesome. It's going to be a lot of fun. We're all ready to go. We've all been pushing in the informal skates so it's going to be exciting."
One of the biggest acquisitions was Giroux. Defenceman Thomas Chabot plays an important role as the alternate captain and it would be no surprise if Dorion and coach D.J. Smith opted to give the 34-year-old the other 'A' left vacant by Connor Brown's departure.
Article content
Giroux is a former captain of the Philadelphia Flyers and will help support Tkachuk. He's heading into his second season wearing the 'C' and good leadership is pivotal.
"For me, individually, he's a guy I can lean on. He was great captain for Philly and he's probably learned lessons as he's gotten older," Tkachuk said. "Just for me to be able to talk to him and pick his brain to help me out and become a better leader to.
"He's a guy I'm going to lean on and use to help with the decisions."
And, that's just off the ice.
Tkachuk is well aware Giroux can help on the ice and be a huge contributor on the power play. He'll start on the second line with DeBrincat on the left and Stutzle in the middle.
"He's an awesome player but he can back it up in the room with the career he's had," Tkachuk said.
Article content
The key for the Senators is the core is signed and ready to deliver. Tkachuk inked a seven-year extension on opening night last year, Norris signed an eight-year deal in the summer and Stutzle agreed to an eight-year extension on the eve of camp.
"I'm super-happy for the both of them because they both deserve what they got with all their hard work growing up. They're two great players and, most importantly, they're great people," Tkachuk said.
Winger Drake Batherson and Chabot both have five years remaining. Centre Shane Pinto and defenceman Jake Sanderson are both young players, but they can make an impact.
The two days in Vegas were spent doing the rounds with media from Canada and the United States. Naturally, the No. 1 question for Tkachuk was this: Will the Senators make the playoffs?
Article content
He's not going to box himself in and say something that will get fired back at him if the club isn't in the post-season next spring.
"This is the most optimistic I've been. I was ready to go in the middle of July when all this stuff started happening," said Tkachuk. "I'm just counting down the minutes days and hours until camp starts where we can get going and get off on the right foot.
"I know there's a lot of people asking (about the playoffs). There's a lot of expectation with our group. I'm not going to promise it at all. We're excited for the challenge and excited for the opportunity that lies in front of us
"We have a lot of confidence, and belief, but we're not going to put that extra, added pressure from the outside. We're going to believe within our room and create those expectations ourselves but we're ready for whatever comes our way."
Twitter: @sungarrioch
GARRIOCH: Shane Pinto using rookie tourney as springboard for Senators training camp

SNAPSHOTS: Senators bring back veteran Derick Brassard on a professional tryout