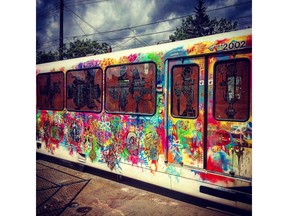 Reviews and recommendations are unbiased and products are independently selected. Postmedia may earn an affiliate commission from purchases made through links on this page.
Article content
At first glance, a decommissioned C-Train car, a church, a string of shipping containers, and a mansion in Mount Royal don't have much in common. Yet all of these form an unusual and surprising collection of alternative arts spaces in Calgary where creative juices will flow this fall.
Article content
Motivated to address the lack of low-cost or accessible venues, the people behind these passion projects aim to create opportunities for artists and musicians and capture the imaginations of Calgarians.
Article content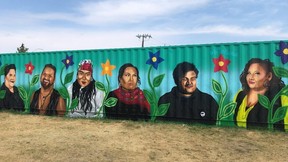 containR – Springboard Performance
From the people who brought containR Fest to the heart of Sunnyside is the continuation of the use of shipping containers emblazoned with murals as a location for artistic expression.
Initially conceived as a way to showcase Alberta artists at the 2010 Winter Olympics in Vancouver, containR has been semi-permanently located in Sunnyside (near the C-Train station) for the past nine years. Recognized with an Innovation Award from the Calgary Chamber of Voluntary Organizations, its programming has been called 'disruptive, adaptive, and innovative.'
Article content
Nicole Mion, artistic director and executive producer of Springboard Performance, has been the driving force behind containR since inception.
"How do you have art on a street corner?" she asks, and then answers, "If you're walking to Safeway and you see a show you think, 'that's kind of interesting.' It's art woven into the living, breathing community."
Open to performers and ideas from across the city, containR recently had a firepit installed at the location. Imagined by Stoney Nakoda artist Andrew Holloway, this masterpiece of metal casts flickering shapes of bison and other Indigenous imagery, reminding that creativity can connect us to our past and present in an elegant fashion.
And it's not just visual artists making use of the space. On Sept. 24-25, the Judith Mendelson Kids Theatre will perform at containR.
Article content
For more programming details, check the website at Springboardperformance.com. Located at Sunnyside LRT station.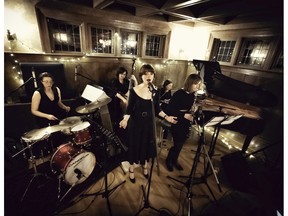 BuckingJam Palace
Nestled on a hill in the tree-lined neighbourhood of Mount Royal, BuckingJam Palace was inspired by the son of its founders.
The home of Lisa and Tom Buck, this stately mission-style mansion built by D.J. Young in 1910 served as a boarding house during the 1920s Depression. Since 2018, in addition to being a family home, it has evolved into BuckingJam, a registered charity and vibrant jazz venue.
The Bucks became interested in jazz after their son took it up in high school. "We weren't even jazz fans," admits Lisa. "We opened up our living room and all of a sudden, there was a place to jam."
Article content
The living and dining room in the home accommodates approximately 60 paying guests along with the Bucks and a small group of dedicated volunteers. IN addition to being a music venue, the Bucks often offer touring jazz musicians from Vancouver, New York and Montreal a room for the night and a homemade meal.
"It's a ton of work but it's incredibly rewarding," says Lisa. "To have them in your home, it's special."
From Jazz superstars such as drummer Lewis Nash to talented local acts still earning their chops, BuckingJam has become a must-visit destination for Calgary jazz lovers in the know.
Tentatively scheduled upcoming shows include the Gentiane MG Trio on Oct. 1, the Steve Amirault Trio from Montreal on Oct. 29 and Toronto-based sextet Turboprop on Dec 3.
Article content
Check the website for up-to-date information, buckingjampalace.com. Located at 2101 8th St. S.W.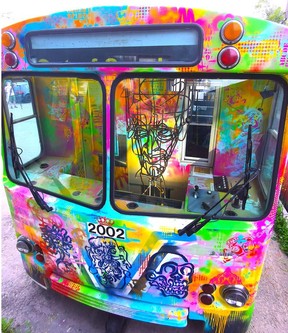 YYC LRT
What might at first appear to be the carcass of a graffitied New York City subway car that's gone far off its rails is in fact YYC LRT.
It's the brainchild of Bryan Faubert, an artist and impresario who bought a decommissioned C-Train car for $1 while an art student at the University of Calgary. More recently, YYC LRT has formally partnered with the U of C's Department of Art, as well as Contemporary Calgary and the Downtown West Community Association, to create a focal point for creativity and research.
Part art installation, part studio, part public engagement experiment, YYC LRT has found a home at the corner of Stephen Avenue and 10th Street S.W. in the area dubbed West Village.
Article content
"'I'm going to be doing free art Fridays," says Faubert. "Come in and make some art for free."
The open studio happens every Friday from 1-4 p.m. with basic drawing supplies provided.
Find out more at YYC LRT is located on Stephen Avenue at 10th Street S.W.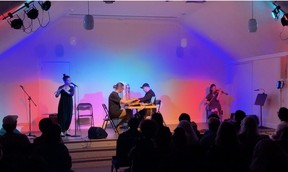 Theatre 1308
Named 1308 for its location on Edmonton Trail N.E., this performance arts space, was created by full-time tech entrepreneur and part-time arts promoter Graham Neumann.
While it resides inside the Calgary Inter-Mennonite Church, it is operated separately and Neumann promises there will be no proselytizing at Theatre 1308, except to convert more Calgarians to alternative performance and jazz.
Article content
"It was proposed to be more of a community asset," says Neumann. "We wanted it to be an affordable, well-equipped venue."
With significant renovations, a new sound system, and upgraded lighting, this intimate space has routinely attracted cutting-edge artists such as the eclectic group Tadpole, comprised of experimental violinist Laura Reid and flautist Jiajia Li, of Who Cares?, collaborating with electronic musicians Krzysztof Sujata and Whitney Ota.
Coming up at 1308 is the Calgary Jazz Composers Collective and the first in the Beyond Borders music series. Curated by Frank Rackow, Beyond Borders promises to be a melodic collision of sounds from across the planet including Arabic and klezmer music to Indian jazz.
See what's on at theatre1308.com. Theatre 1308 is located at 1308 Edmonton Tr. N.E.