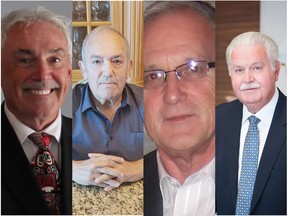 Article content
With longtime Mayor Aldo DiCarlo deciding not to seek reelection, Amherstburg is poised to have a new mayor following the upcoming Oct. 24 municipal elections.
Article content
There are four candidates seeking to replace DiCarlo who announced months ago he will not make a bid to return after eight years as mayor.
Article content
Current Coun. Michael Prue is among the candidates after serving the past four years in Amherstburg, along with a lifetime in public service in the Toronto area that includes serving as mayor in East York and 13 years as MPP in the riding of Beaches East York.
He moved to Amherstburg 12 years ago and was elected as councillor in 2018.
"I was approached by a number of people on council when the mayor and deputy mayor decided to quit," Prue said. "I'm supported by a number of other people. They are trusting my ability to run meetings, history in municipal politics and experience in town."
Article content
Being on council the past four years has taught him the "intricacies" of life in Amherstburg, so he will "feel comfortable as mayor," he said.
His years in politics feature a "history of never raising taxes," so fiscal responsibility is key to his campaign.
"I will also use my experience in bringing new business and industry to Amherstburg," he said. "With the Stellantis project they are looking to add factories for components and parts. They say there will be up to 12 or 15 in Southwestern Ontario.
"I feel we would be ideal to be one of those locations and the best place would be the (former) General Chemical site. There is a port, railway line and three access points from the road."
Frank Cerasa, founder and long-time owner of Cerasa Homes, is another candidate. His leadership of the home-building company has provided him with the necessary business skills to lead the town, he said.
Article content
"Right now, the town is at crossroads," he said. "There is quite a bit of debt and the current political leadership is not qualified in my view to manage the town going forward. You have a large amount of debt, the interest rates are rising and the economy may be going into a recession.
"I feel someone with a business background right now would be much better."
Cerasa has lived in Amherstburg for 60 years as do members of his extended family, so he has incentive to "leave the town in better shape than I found it," he said.
He believes the town must expand its tax base beyond primarily residential and pursue manufacturing, industry and added commercial opportunities.
"We need to keep Amherstburg growing," Cerasa said. "I will run the town as a business. The current political approach is not as efficient as a business approach."
Article content
His son now runs his home-building company, so Cerasa added he has time to make a full-time commitment to the mayor's job.
"I will be hands on and spend a lot of time at town hall," he said. "I will look at every proposal brought forward. I have the time and vision to keep us growing as a community. I grew my own business from nothing into a successful business. I will do the same thing for the town."
Bob Rozankovic has been a council watchdog who heads a group called the Amherstburg Taxpayers Association and was also former chairman of the town's police services board just prior to Windsor police taking over the service. He unsuccessfully ran for deputy mayor in 2018.
Rozankovic retired two years ago from the tool industry, but still works as a part-time consultant, which he would give up if elected mayor.
Article content
His decision to run for mayor was triggered by "not being happy with a number of things in town over the last eight to 10 years," he said.
"I've chaired committees and served on the police services board, so that has given me insight to things and the way they work and negotiate things," Rozankovic said.
He listed himself as being a "financial conservative" who favours zero tax increases.
"Yes, you need to spend money to get ahead, but you better spend it wisely," said Rozankovic, who listed parks, the Duffy's property and Bellevue House still remaining incomplete projects despite tax dollars being spent on each.
"Those taxes (spent) are a loss right now," he said. "I'm all for progress, but it has to be pragmatic, you can't just let it happen or else you get in trouble quickly.
Article content
"You need to get the town's finances straightened out. It has been getting better, but there is a ways to go still."
His cited frequent attendance at council meetings and lengthy local involvement as giving him an advantage over other candidates.
"I've been going to council for 10 years," he said. "I think the town needs fresh blood leading it."
Longtime Amherstburg resident John LaFramboise is also running to become the next mayor. He is a former businessman, real estate developer and a fundraiser who was involved in the early days of the funding campaign to save Assumption Church.
"I love the town and lived here pretty much my entire life," he said. "I started my first business here (a men's wear store) and would like to assist in any way I can. Both the mayor and deputy mayor are stepping down, so there is an opportunity to get involved."
Article content
LaFramboise emphasized the need for an overall strategic business plan for the town.
"Many candidates running believe there has been a lack of business plan," he said. "You have had a huge turnover of (administrative) personnel. Many projects have been a one-off and there isn't a strategic plan for development in place for the entire town. That would be very helpful from a financial point of view and people point of view."
A focus by council on completion of the Duffy property "needs to be made a first priority," LaFramboise said.
He cited addressing the lack of amenities in several of the town's parks and and need to "reclaim" the town's senior citizens' centre so it can be restored as other priorities.