On Wednesday, former students of Legacy Christian Academy and Minister of Education Dustin Duncan met for the first time since the allegations were first reported by CBC.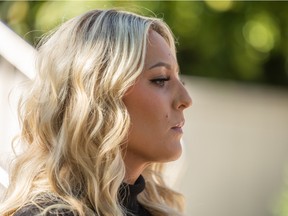 Article content
Pleading for more action after what she and others allege has been decades of abuse, a former student at a Christian school in Saskatoon has directly asked Saskatchewan's education minister to close the school.
Article content
Caitlin Erickson was among three former students of Legacy Christian Academy — once known as Christian Centre Academy — to meet with Education Minister Dustin Duncan and ministry officials on Wednesday. The meeting, which included the students' lawyer Grant Scharfstein, took place at Duncan's request after weeks of Erickson and the former students seeking an in-person sitdown to discuss their allegations of physical, sexual and psychological abuses. Erickson is lead plaintiff in a $25-million class action against Legacy Christian Academy and Mile Two Church.
Article content
According to Erickson, after providing the minister and deputy minister Donna Johnson specific examples and evidence of their allegations, Erickson directly asked Duncan to close the school. Erickson said Duncan did not commit one way or the other to the school remaining open.
Article content
"We appreciate them meeting with us, but there's so much that has gone on at that institution. We're talking about, right now, four decades of abuse victims that have come forward," Erickson said in an interview.
"I don't think anybody wants their legacy as the sitting education minister, a fifth decade of abuse victims. So, I did directly ask him to close the school."
The Ministry of Education in an email confirmed that Duncan met with former students to hear first-hand of their experiences and historical allegations against the school. The meeting was a followup to one between former students and an appointed administrator at Legacy Christian Academy.
"While the Ministry of Education has not been named in the lawsuit, it will continue to monitor this situation as it moves through the legal process," the province said in a statement.
Article content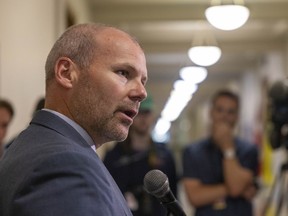 The province, in its statement, noted it has implemented administrators at three schools named in the lawsuit, and that it is "enhancing the regulations and oversight of the schools, and fully cooperating with the Advocate for Children and Youth in its investigation into the oversight of Independent Schools in Saskatchewan."
Erickson said the conversation on Wednesday, first reported by CBC, was one-sided, with former students and their lawyer doing most of the speaking.
"They did a lot of listening, which we appreciate, but having that much information about this situation, we were hoping for a little more from them as far as what they're going to do to prevent this happening in the future," Erickson said.
Article content
Scharfstein in an interview said the students have been waiting for the meeting for some time. He called it a step in the right direction and said Duncan listened "attentively." The meeting, Scharfstein said, was an opportunity to provide the minister and ministry with information about what happened at the school, share their concerns about independent schools, the schools' provincial funding, and what the students feel is a lack of oversight of the schools.
"I have no doubt he heard what we had to say. Can I tell what will come of it? I can't. I don't know. But they certainly know what the issues are," Scharfstein said.
Their claims are not political, since the "total failure of this ministry" occurred under NDP, Conservative and Saskatchewan Party governments, Scharfstein added.
Article content
"We wanted to make it clear there was a total failure to protect these children's interests, both academically, based on the curriculums being taught and who was teaching, as well as the abuse issues that arose in these schools," he said.
Saskatoon police have confirmed that a criminal investigation into the allegations is taking place.
The Saskatoon StarPhoenix requested comment from Legacy Christian Academy as well as its parent organization, Mile Two Church, but received no response.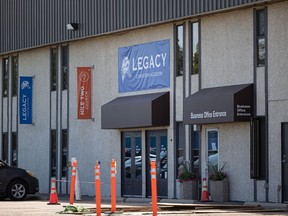 In August, former students of the school filed a class-action lawsuit against Legacy Christian Academy, formerly known as Christian Centre Academy, and Mile Two Church, alleging both organizations perpetrated and allowed the spanking of students, fondling of minors by church staff and other physical, psychological and sexual abuse.
Article content
The lawsuit, which seeks $25 million in damaged, named 21 individuals as defendants, including former teachers and administrators. The allegations have not been tested in court.
As of Friday, no statements of defence have been filed.
Postmedia has spoken with a dozen former students who attended the school between the mid-1980s until the early 2010s, who alleged people working at the church and school hit them with large wooden paddles as a form of discipline. The Supreme Court declared the use of corporal punishment on students illegal in 2004.
The ministry appointed administrators in late August to oversee Legacy Christian Academy, Grace Christian School in Saskatoon and Regent Christian Academy in Prince Albert.
Article content
Duncan revoked Grace Christian School's permission to operate after the school's director refused to co-operate with the administrator, a spokesperson previously said.
Legacy Christian Academy is classified as a "qualified independent school" which is operated and owned by a non-profit organization, but receives direct provincial funding. It now has to follow the provincial curriculum, but can offer locally developed courses at the secondary level approved by the education ministry.
In 2020-2021 it received $736,000 in provincial funding.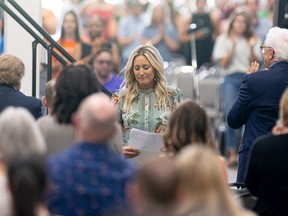 — With StarPhoenix files from Zak Vescera
'They tried to tear us apart': How a Saskatoon church with radical ideology controlled students, families
The news seems to be flying at us faster all the time. From COVID-19 updates to politics and crime and everything in between, it can be hard to keep up. With that in mind, the Saskatoon StarPhoenix has created an Afternoon Headlines newsletter that can be delivered daily to your inbox to help make sure you are up to date with the most vital news of the day. Click here to subscribe.