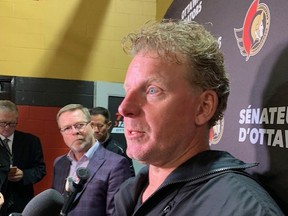 Article content
Daniel Alfredsson looked pretty comfortable behind the bench at the Canadian Tire Centre coaching his club's scrimmage on Day 2 of Ottawa Senators' training camp.
Article content
And, though the former Ottawa Senators' captain won't be joining the organization he does plan to spend more time at the rink. Just for good measure, Team Alfredsson skated to a 5-0 win over Team (Chris) Neil so it was nice to get rewarded with a win as well.
Article content
The 49-year-old Alfredsson, who will be inducted into the Hockey Hall of Fame in November, is excited about being back at the rink. He was the first player in the modern franchise history of the organization to have his number retired, he's looking forward to reconnecting with the team.
Article content
"It was a lot of fun actually. It's nice to be back in the rink and I really enjoyed it," Alfredsson said. "I know Neiler is frustrated because I pulled the pirate move by grabbing the home bench and he wasn't happy about that. I think it carried into the game.
Article content
"I've gotten to know a couple of the guys the last year. Being around them in this environment brings back a lot of memories, The start of camp, the start of a new season and it feels like there's a lot of energy with this team going into the new season. There's a lot of optimism, they'll have a good camp and then they'll get going."
Alfredsson noted he'll be around the rink more this season but won't be joining the club in any formal capacity anytime soon.
"I'm a guest and it's going to stay that way. I'm going to be around more than I have been that's for sure," he said. "It's going to be come in and talk to the guys if they need that or they have questions. I'll be there for them which is exciting.
"It's fun to be part of it again and that's the way it's going to be this year."
Article content
The club reached out to Alfredsson when they decided to name the three teams in camp after him, Neil and defenceman Chris Phillips.
"A couple of the guys thought it would be fun if I could come around and coach. I said, 'Yeah, for sure' and that's how it started," said Alfredsson.
Alfredsson finished his career with 444 goals, 713 assists and 1,157 points in 1,246 NHL games while he also added another 100 points (51-49) in 121 playoff games with Ottawa. His numbers in the regular season place him 55th amongst all-time NHL scorers.
The key to Alfredsson's success was his ability to play at both ends of the ice. His 444 goals rank him 65th in NHL history. He's ranked No. 2 in that category among Swedish players, behind former Toronto Maple Leafs captain Mats Sundin, who had 564 goals in 1,264 games.
Article content
Named the club's captain in 1999, Alfredsson suited up for 1,178 games with the Senators before signing with the Detroit Red Wings to close out his career.
Just driving to the rink had a special meaning.
"Like I said, it's fun to be at the rink. There's no question," Alfredsson said. "It feels, even though I've come back here and there in the last few years, there's so many memories that come back when you drive into the rink or even walk into the rink.
"You see the same people at the loading dock, the security guys and it feels like deja vu."
Alfredsson said he's seen the buzz around the city about this season.
"There's a different optimism, just among my friends, and tennis pals. You can tell they're excited by the changes on the roster. They're hoping they're going to take the step and at minimum be at playoff contender and, hopefully, get into the playoffs," said Alfredsson.
More later …
Twitter: @sungarrioch
Hamonic gets first shot at playing supporting role for rookie Sanderson

SNAPSHOTS: Patrick Kane was sad to see Alex DeBrincat dealt to the Ottawa Senators