Had there been "any suggestion" the man was going to use the gun parts to commit a crime, the prosecution says its sentencing position would've been different.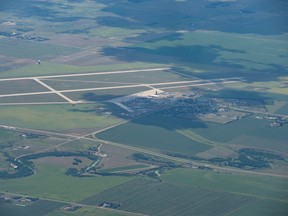 Article content
A former member of the Canadian Armed Forces who was charged after being found with components of a so-called "ghost gun" still has a chance of keeping his record clear of convictions.
Article content
That was the opportunity offered at the end of a legal saga faced by 32-year-old Rhys Paradis, who recently received a conditional discharge, after pleading guilty in a Moose Jaw court to two of the four charges he originally faced. Those included unlawful possession of a restricted firearm and unlawful possession of a prohibited device.
The Crown stayed charges of manufacturing a restricted weapon and unlicensed possession of a restricted firearm with readily-accessible ammunition, according to Moose Jaw prosecutor Rob Parker, who explained the details of the case and its outcome during a telephone interview Tuesday.
Essentially, the conditional discharge Paradis received on June 21 will allow him to conclude the matter with no criminal conviction on his file. But the conditions he must follow for 18 months to achieve that result are "extremely onerous," the prosecutor said.
"These sorts of offences don't normally attract conditional discharges."
The sentence was suggested through a joint submission, which is an agreement between the Crown and the defence.
But just how that agreement came to be was a process that involved some serious consideration on behalf of the prosecution, according to Parker, who stressed that "the consequences that (Paradis) suffered are significant."
The prosecutor spoke of how CBSA agents "intercepted" gun parts that were being sent to Paradis from "out of the country," and police executed a search of his residence at CFB Moose Jaw on Dec. 10, 2021.
Article content
They seized a "lower receiver" for a handgun, Parker said, which is not a complete firearm, but constitutes the part of a restricted firearm required to be registered under Canadian law. When it pertains to a semi-automatic handgun, this part is often referred to as the frame and normally includes the grip and structure upon which the rest of the parts are assembled.
"The problem is these things come in, and it's got no serial numbers," he said.
"What ends up happening is there's the ability to put together what's essentially known as a ghost gun."
He elaborated to say such a firearm is "not traceable" without the serial number, to which a legal registration would be attached.
Paradis did not follow the method to "import" such a receiver legally, he said, referring to knowledge gleaned through conversation with members of the specialized National Weapons Enforcement Support Team (NWEST).
"There was no suggestion Mr. Paradis, given his military background and his previous lack of a criminal record, was acquiring these items for the purposes of putting together a non-traceable firearm for the purposes of committing a crime."
"He'd been otherwise a law-abiding citizen with no previous criminal record," Parker said.
But if he'd received "any suggestion" from law enforcement that Paradis may have had criminal plans for the gun parts, the prosecutor was clear that the "sentencing position would've been considerably different."
Article content
In addition to the seizure of the gun parts and what Parker termed an "over-capacity magazine" (semi-automatic pistol magazines are limited to a 10-round capacity under Canadian law), police also seized 10 legally-acquired long guns from Paradis, who had the required firearms license to own them.
"He agreed to forfeit those to ensure the Crown recommended a conditional discharge," Parker said, noting the legal guns were said to be worth over $25,000.
In addition, an order was made against the "hobbyist and firearms enthusiast," prohibiting him from possessing guns for 10 years.
In order not to run afoul of the conditions attached to his discharge, he must: report to his probation officer; live in an approved residence; adhere to a curfew for six months; perform 80 hours of community service work within six months; and submit to a warrantless search of his person, his vehicle or his residence, though search of his residence is limited to twice monthly.
Paradis joined the armed forces in 2008, and worked in varying specialties, including "weapons technician," according to information once available on a federal website. He was said to have later moved on to be an authorized aircraft structures technician who was "excited to be part of the 2021 show season with the Snowbirds."
However, his lawyer told court he is no longer a member of the military, Parker said.
The news seems to be flying at us faster all the time. From COVID-19 updates to politics and crime and everything in between, it can be hard to keep up. With that in mind, the Regina Leader-Post has created an Afternoon Headlines newsletter that can be delivered daily to your inbox to help make sure you are up to date with the most vital news of the day. Click here to subscribe.