"It's been a journey,. I'm looking forward to a good year this year."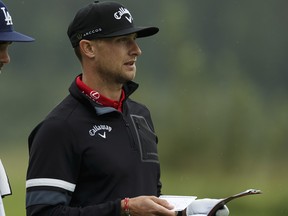 Article content
It's been quite the transition.
Article content
Gone are the days of having six tries to get in one drive.
Gone are the days of picking and choosing between 14 drivers in the golf bag.
No more mulligans.
No second, third, fourth, fifth or sixth tries.
For former world long-drive champion Jamie Sadlowski, it's been quite the adjustment to playing real golf on the professional scene and no longer merely driving for both show and dough.
It hasn't been easy but Sadlowski continues to work at his game on the PGA Tour Canada circuit, where he is currently ranked No. 26 in points for the 2022 season after a T-13th finish in Victoria and T-50th finish in Edmonton.
Sadlowski is in the 156-player field at this week's Elk Ridge Open near Waskesiu.
"If you hit it into the trees on the first tee, you don't get a mulligan, unfortunately," chuckled Sadlowski, a native of St. Paul, Alta.
"It's definitely a different strategy and different mind-set."
Sadlowski was a two-sport athlete who played for the Alberta Junior Hockey League's Bonnyville Pontiacs. On the golf course, he became one of the longest drivers in the world, twice winning the RE/MAX world long drive championship (2008, 2009) and recording a personal-best of 445 yards.
"I used to show up at the driving range with 14 drivers; now I have 14 clubs to do this," explained Sadlowski, who is listed at 5-foot-11 and 170 pounds.
"It's definitely been a transition period for me, not having any college (golf) background. I never played for a school and played college golf. We all know the experience that you need and I think it's something you really notice in PGA Tour Canada and, when these kids come out from school, they're ready to play, they're ready. They have the experience and they know how to practice … they know how to travel."
Article content
During his 20s, Sadlowski looked forward to crushing the ball off the tee. He turned that into a living until about 2015. In the fall of 2016, he decided to step away and take a crack at professional golf.
"It's been a journey," said Sadlowski. "I'm looking forward to a good year this year."
Sadlowski was a regular on the Canadian circuit in 2017, 2018 and 2019. He's also played in a couple of PGA Tour events, as well as four Korn Ferry Tour events over the years.
He's into his fourth year of PGA Tour Canada events.
"I'm getting old," he said with a chuckle. "My game's been progressing and I think I've got enough professional golf under my belt now to hopefully string a stretch of good golf and take the next step in playing professional golf. I'm looking forward to the year and PGA Tour Canada gives us the opportunity to play all summer but also opportunities that come along with that so I'm looking forward to it."
The biggest adjustment over the years, adds Sadlowski, is "a combination of everything" and "the consistency of playing week in and week out."
He's gone from being very "one-dimensional" at the pro level, to having to "actually add all aspects to my game."
That means chipping and putting and managing a golf game instead of the long-drive scene "where I had six balls to get only one in."
"Honestly, when you step on the first tee, you have to stay focused for 5 ½ to six hours and really navigate and have a game plan," said Sadlowski. "I think that's been the biggest adjustment from not having any college golf or really any junior golf experience. It's been a learning curve. It's been a couple of years where now when I come out here, I feel a lot more confident in my ability and I feel more like a veteran instead of a kid that's out here."
Article content
At 33, Sadlowski is still putting in the work.
"Putting is something I've worked really hard on and wedging it, you've got to be really good from inside 150 yards. That's something I've focused a lot of time on … Every week, you've got to be consistent and you can't have too many lulls. You've got to make a lot of birdies."
The news seems to be flying at us faster all the time. From COVID-19 updates to politics and crime and everything in between, it can be hard to keep up. With that in mind, the Saskatoon StarPhoenix has created an Afternoon Headlines newsletter that can be delivered daily to your inbox to help make sure you are up to date with the most vital news of the day. Click here to subscribe.