"The work never stops … you got to work harder," 35-year-old veteran says. "I don't take too much time off in the summer."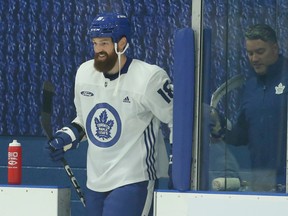 Article content
TORONTO — Life has been a bit of a whirlwind for Jordie Benn since he left the Canadiens following the 2018-19 season.
Article content
The Victoria, B.C., native decided to go back home as a free agent, signing a two-year, US$4-million contract with the Vancouver Canucks on July 1, 2019.
Article content
During his second season with the Canucks, Benn was dealt to the Winnipeg Jets at the NHL trade deadline in exchange for a sixth-round pick at the 2021 NHL Draft.
Last summer, Benn signed a one-year, US$900,000 contract with the Minnesota Wild as a free agent and posted 1-7-8 totals in 39 games. This summer, he signed a one-year deal with the Leafs as a free agent for the NHL minimum of US$750,000.
"It's been a lot of ups and downs," Benn said after the Leafs' morning skate at Scotiabank Arena as they prepared to play the Canadiens Wednesday night in a preseason game.
"I had a really good time being a Hab," the 35-year-old veteran of 11 NHL seasons added. "It's been a long road after (the Canadiens), but definitely some special times when I was putting on that jersey."
Article content
Benn spent three seasons with the Canadiens after being acquired from the Dallas Stars on Feb. 27, 2017 in exchange for defenceman Greg Pateryn and a fourth-round pick at the 2017 NHL draft.
When asked what he misses most about Montreal, Benn said: "Just everything, really. The people … we were living in Old Montreal when we were there. Just the city, the food. Just hanging out, walking around town. It's a beautiful city. Definitely me and my wife have talked about going back and visiting and just walking around our old stomping grounds. It's just kind of one of those things that it was a really special time in a really special city and I'd love to just go back and walk around."
The Leafs will be in Montreal next Monday for a preseason game and will also open the regular season against the Canadiens at the Bell Centre on Oct. 12.
Article content
Benn still has his big, bushy beard and is one of the few players left in the NHL who doesn't wear a visor — a throwback to an earlier time. While the game has evolved and keeps getting faster, Benn has been able to stay in the league.
"Just keep working," he said when asked about his longevity after never being selected at the NHL draft. "It's hard to get into the league and it's harder to stay in it. I realized that early.
"The work never stops … you got to work harder," he added. "I don't take too much time off in the summer. I get back to work to stay in shape. These days you got to keep up with all these young kids that skate year-round. It's one of those things, you don't take your foot off the pedal and you just keep grinding away."
Article content
Injuries to Timothy Liljegren (hernia surgery) and Jake Muzzin (back discomfort), as well as the absence of unsigned defenceman Rasmus Sandin could open a spot on the Leafs' roster for Benn and also Victor Mete, another former Canadien who signed a one-year, US$750,000 contract with Toronto this summer as a free agent. Benn and Mete both shoot left, but they were partners at times during their two seasons together with the Canadiens and can both play on the right side.
Benn and Mete were both slated to play on the right side against the Canadiens Wednesday night with Benn playing with Morgan Rielly and Mete paired with Carl Dahlstrom, who played last season with the AHL's Toronto Marlies.
Benn said he's still not sure what his role could be with the Leafs this season.
Article content
"I just take it day by day," he said. "We'll see as the year goes on here. But if I just come in and do my job and work hard, that's all I need to do.
"It's awesome," he added about being a Leaf. "I never thought I would ever really put on a Leafs jersey and when it came into play it was pretty special. It's a storied franchise and I couldn't be happier."
Stu Cowan: Canadiens' Jake Allen to play 'stabilizer' role this season

Former Canadiens Mete, Benn battle for blue-line spots with Leafs

Stu Cowan: Nervous, exciting Canadiens debut for Mike Matheson