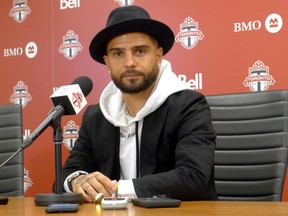 Reviews and recommendations are unbiased and products are independently selected. Postmedia may earn an affiliate commission from purchases made through links on this page.
Article content
Toronto FC president Bill Manning said the way back to MLS respectability is to build on the foundation the club laid down last summer with the signing of the two Italian stars, Lorenzo Insigne and Federico Bernardeschi.
Article content
With that, Manning added that the club needs to sign the absolute right Designated Player in the off-season — a Sebastian Giovinco as opposed to a Yeferson Soteldo.
Article content
"(Insigne and Bernardeschi) are guys that we're going to build around and use their special qualities hopefully to then be a club that competes for championships," Manning said in an end-of-season media availability on Wednesday. "Cup contenders, that is the goal. The goal is to go out and win championships. I think (next year) we will be a team that will compete and certainly be a club that aspires to be a championship club contender. But we need to see how we get out of the gate, how things come together. We need to get some of the right key players to add to the roster to get there. That's the goal.
Article content
"We know what we need to do and what a winning club looks like, what a championship club looks like," Manning added. "We're not there. We're still a long way away. There's still a lot of work to do. (But) there's a sense of urgency, trust me."
For the second season in a row, TFC finished out of a playoff spot, despite being a team with one of the highest payrolls in MLS. Toronto lost five games in a row to end the year (9W 18L 7D) — a huge disappointment to the team's fan base.
Article content
Almost right from the start in 2022, the Reds ran into trouble with key players getting injured. Unfortunately, the team's young replacements weren't able to carry the load and that sunk the team's playoff chances early. By the team the Italians arrived, the chances of making the playoffs were slim.
Article content
Toronto added a couple of other key players, Richie Laryea and Mark-Anthony Kaye, to the roster mid-season. But, again, too late to salvage the 2022 campaign.
"I think early on we knew it was going to be a bit of tough sledding. And the hope all along was that when some of the new acquisitions came during the summer that we'd get on a run and hopefully qualify for the playoffs," Manning said. "And we had a good little run there. We were 4-1-3 through eight games (but) then we had a very tough family situation with Lorenzo, which took a lot of the steam out of the team. It was a tough moment for our club. And then we ended the season very poorly."
A few games before the end of the 2022 season, Insigne took leave of the team because of a personal family tragedy — the loss of an unborn baby it was later revealed. Through an interpreter, Insigne commented on the situation for the first time on Wednesday.
Article content
"Not everybody knows what happened to us, we had a great family problem," he said. "I have great difficulty explaining what happened to me. It's a great loss for me and my wife. We're going to try to stay united. I have two other great children that helps keep us going forward. And we're going to try to stay united as possible. But she's always going to be in our thoughts."
TFC yielded a club record 66 goals against in 34 games in 2022. Obviously one of the team's needs heading into 2023 is improvement at centre back and in goal.
"You're just not going to win a lot of games when you let up almost two goals a game," Manning said.
The Reds also need a forward to complement Insigne and Bernardeschi on the wings. That terrific duo carried Toronto's offence.
Article content
First-year TFC striker Jesus Jimenez scored a team-high nine goals (tied with Jonathan Osorio) in 2022, but both he and Ayo Akinola slumped terribly through the second half of the season.
Manning said the situation with the club now reminds him of the TFC off-season between 2014 and 2015. Up until 2015, Toronto had never qualified for the MLS Cup playoffs.
"They had built a bit of a foundation that year, bringing in Giovinco and (Jozy) Altidore (in Jan. 2015)," Manning said. "They had Michael Bradley from the previous season, but we still weren't the completed project. In 2015, we wound up getting knocked out in the first round of the playoffs. We had a foundation in place but we still needed work. And if you remember that off-season (2015-2016) we brought in Clint Irwin and Drew Moor and Steven Beitashour and Will Johnson, all defensive-minded players and all quality pros and that really was kind of the missing pieces to really go on a good run. And I do look at (the team now) a bit like that.
Article content
"Certainly we don't want an entire overhaul again because that doesn't work. But we still need to add some pieces to round out the team. I do think we have a foundation in place now with some of the guys that came mid-season, but we're still going to make some acquisitions this off-season similar to 2015 into 2016 season.
"We do have difference-makers now, but we still need to round out the team with some guys that help keep the ball out of the net, that help us not lose."
Manning said TFC will look at every way to improve, including trades or selling some players.
OSO GETTING HEALTHIER AND WILL GET WEALTHIER
One major question mark for TFC heading into the off-season is whether all-time appearance leader Osorio will be back.
Article content
The veteran midfielder became a free agent after the 2022 season. For his part, Osorio said where he ends up signing for 2023 won't be determined until after the FIFA World Cup this fall.
"I'm just focusing on getting back and healthy and playing in the World Cup and then we'll see what happens from there," he said, adding that there have been "conversations" with TFC.
"We're working with each other, but I've always expressed that I don't want to make any final decisions until after the World Cup. I'm just trying to focus on getting healthy."
Manning said the club is going to "work hard" to keep Osorio.
"Oso's an incredibly important part of the team," he said. "I think he's the only player this year when he started that we had a winning record. You saw his impact when he played. We only had one game this year when he and Mark and Michael (Bradley)started together, which was supposed to be the ideal midfield from the summer going forward.
Article content
"He's a legacy player, he's played over 300 games (318). We're going to do our best to present an option to continue his career here and potentially end his career here. He's someone that clearly we're better with when he's playing."
Osorio has expressed interest in playing in Europe.
"Everything's an option at this point," he said. "Should an opportunity presents itself overseas, if it's the best option, then I'll take it. It's not about going to Europe because I dreamed about it. It's about now I think I'm at the point of my career where it has to be the right move for me playing-wise and for my career and for the future of where I stand with the national team and things like that. There's a lot of factors into what will be going into my decision.
Article content
"(But) everybody knows how much I love Toronto and, when I'm done playing, I'm going to be a fan of Toronto FC. That's no question," Osorio continued. "But a playing career is only so long and I have to do what's best for my family and for myself. And so for me, all options are on the table."
Osorio, 30, said the head injury he has been dealing with the past few months is post-concussion syndrome, the result of an elbow to the head against Chicago on July 13. That, as well as some earlier injuries, resulted in him getting into only 23 games this year.
Despite that, he played well and put up good numbers, recording a career second-best nine goals, while also picking six assists. Osorio seemed to be his old self on Wednesday.
"I've seen a good amount of progress in the last couple of weeks, especially the last week," he said of the head injury. "I'm feeling more myself. It's been big learning curve for me, learning more about this type of injury and being patient. Now I feel like I'm in a really good spot. I'm on the field (training) now. This week we're ramping up the intensity. (Tuesday) was my first real intense training in a long time."
Article content
Osorio said he is optimistic that he'll be ready to join the Canadian national team in time for pre-World Cup training in a few weeks.
INSIGNE SURPRISED BY MLS INTENSITY
"Before I signed with Toronto I never watched any MLS games. Since January I started watching MLS games. It's incredible the intensity that the players (put out)," Insigne said. "I see how (MLS) is taking players from all over Europe and making it a more important league, a serious league."
Insigne, 31, said joining TFC mid-way through the season was tough.
"Coming in I knew it was going to be a difficult transition. Me, Federico, Mimmo (Domenico Criscito) and Richie, we all arrived late and we knew that was going to be a difficult situation," he said. "But next year we're going to start together, we're going to be united, we're going to stick together. It's going to be a great season, a great championship and we know that next year we're going to win many things."
AROUND THE PITCH
Laryea's loan from Nottingham Forest runs until June. Bob Bradley said there have been discussions to make that transfer permanent … Winger Jacob Shaffelburg was loaned to Nashville SC in August and Bradley believes that Nashville will pick up the option to make that loan permanent. The Port Williams, N.S., native scored two goals in eight games for Nashville … Manning said despite TFC missing the playoffs again this season, the season ticket cancellation rate is lowest since 2007-08.