Impostori dishes the real thing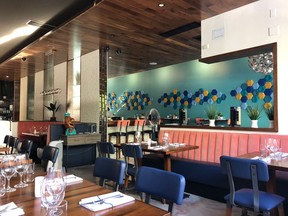 Reviews and recommendations are unbiased and products are independently selected. Postmedia may earn an affiliate commission from purchases made through links on this page.
Article content
There are a lot of familiar faces here at Impostori Trattoria + Negroni Bar, a new upscale-ish, Italian-ish restaurant on South Granville Street.
Article content
There's Neil Ingram (formerly of Boneta) behind the bar, wine pro-about-town Gordon Ritchie welcoming guests, and Monica Acs (ex of Bishop's) dropping off a plate of pasta. But it's not just the staff who've followed chef Andrey Durbach to his newest restaurant. It's his loyal guests, hungry for the kind of updated classics he does so well.
Article content
"We have happy customers. The banquettes are nice and the food is great, of course," Durbach says, but adds, a little darkly, "nobody sees the Wizard of Oz behind the controls."
Few chefs in this city are as adept at opening new restaurants as Durbach. After getting his start at Bishop's, Il Giardino and the Culinary Institute of America in New York, he opened Étoile (in 1996), Parkside (2003), La Buca (2006) and Pied-à-Terre (2007), followed by Cafeteria and Sardine Can. In 2017, looking to actually own the property where he cooked, he hightailed it to Courtenay, where he opened Il Falcone in a charming yellow house surrounded by cherry and quince trees.
Article content
Then COVID-19 hit, his marriage crumbled and Vancouver called him back home to open one more restaurant, this one in the old Chow location where chef J-C Poirier operated his first, ground-breaking restaurant back in 2007.
But Durbach has returned to a very different scene than the one he left.
He's struggling with "COVID, inflation, no staff, crazy high prices in Vancouver," he says. "It's been 16-hour days, five days a week—and then I work on my days off. I haven't seen an environment like this ever before."
But you'd never notice the cracks as you take a seat in the colourful dining room and sip on an icy Negroni while pondering the choice between sfoglina Marta Pan's freshly handmade pastas, the lamb rack or veal tenderloin, the Brunello or the Barolo. Instead, it feels almost like a throwback to the 1990s era of opulent dishes, extravagant wines and meticulous hospitality dished out by what Durbach calls "the best service staff I've ever worked with."
Article content
True, the prices are high for what's meant to be a casual restaurant, but that's just the reality of inflation, labour woes and supply chain issues. But a $60 veal chop or $30 plate of pasta isn't going to stop the customers who know that Durbach is going to serve them just what they're craving most.
"Most of the people coming through my doors are people who've been coming through my doors for the last quarter century," Durbach says. Besides, he adds, "guys like myself, I don't really know how to do anything else."
Recipe: Caramel Panna Cotta
At Impostori Trattoria + Negroni Bar, chef-owner Andrey Durbach serves perfect little desserts his loyal fans will remember from Il Falcone, like this classic panna cotta topped with salted caramel sauce and crunchy hazelnut praline. Recipe excerpted with permission from Island Eats: Signature Chefs' Recipes from Vancouver Island and the Salish Sea (Figure 1 Publishing).
Article content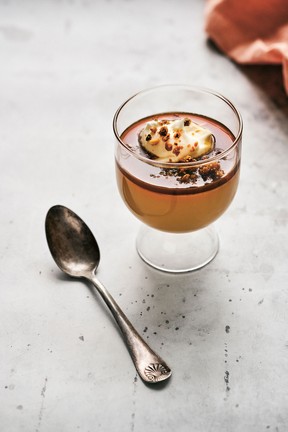 Serves 8
Panna cotta:
1 (300 mL) can condensed milk
4 cups whipping (33%) cream
1/4 cup brandy
1/2 tsp salt
6 sheets gelatin
Salted caramel sauce:
1 cup sugar
1/2 cup water
1/4 cup (1/2 stick) butter
3/4 cup whipping (33%) cream
1 tsp fine sea salt
Hazelnut praline:
Non-stick cooking spray
2 cups sugar
1/2 cup (1 stick) butter
1/2 cup water
1/3 cup light corn syrup
1/2 tsp baking soda
2 cups toasted hazelnuts or other favourite nut
Assembly:
Crème fraîche or whipped cream
Panna Cotta
Peel label off condensed milk can. Place unopened can on its side in a large saucepan, then add enough water to cover the can by 2 inches. Bring to a boil, then reduce to a lively simmer and cook for 2 hours, making sure the can is always covered in water. Top up with more hot water if necessary.
Article content
Using tongs, remove the can of condensed milk from the pan and run under cold running water until cool enough to handle. Open. You will have a soft, rich, sweet, deep golden-brown caramel known as dulce de leche.
In a large saucepan, combine cream, brandy and salt and bring to a near boil. Reduce heat to medium-low and gently simmer. Pour in caramel and whisk until smooth.
In a small bowl, soak gelatin in lukewarm water for 3 to 4 minutes, until softened. Remove gelatin and squeeze out excess water. Whisk gelatin into the caramel mixture until combined.
Pour into a large serving dish or into 8 ramekins, then chill for at least 4 hours until set.
Salted caramel sauce
Bring sugar and water to a boil in a medium saucepan. Add butter, reduce heat to medium, and cook for 3 to 4 minutes, until a deep golden amber in colour.
Article content
Working quickly and carefully, remove pan from heat and pour in cream. Vigorously whisk the bubbling caramel sauce until it begins to subside, then add salt. Reduce heat to low and cook for another minute, until silky smooth. Set aside to cool.
Hazelnut praline
Line a baking sheet with parchment paper. Generously spray paper with cooking spray.
Attach a candy thermometer to a tall-sided, heavy-bottomed saucepan. Combine sugar, butter, water and corn syrup and cook over medium-high heat until temperature reads 300°F (hard-crack stage).
Remove from heat, then add baking soda, which will cause mixture to bubble up. Quickly stir in hazelnuts, then immediately pour mixture onto the prepared baking sheet and spread with a silicone spatula. Mixture should lie as flat as possible. This is a very sticky operation so you'll need to work quickly and safely. Oven mitts are perhaps a good idea for the less confident. Set aside to cool and harden.
Break up and pulse in a food processor to make praline. (Or just break up instead and eat as brittle.)
Assembly
Top panna cotta with a layer of salted caramel sauce, a dollop of crème fraîche (or whipped cream) and a generous sprinkle of hazelnut praline.
Food Front: Francis Mallmann goes green in his new cookbook

Food Front: Seven great hotel brunches to savour in Vancouver