"But we want to work with anyone with young children, because as much as we want to combat food insecurity, we also want to get more children involved with gardening." — Garden of Hope coordinator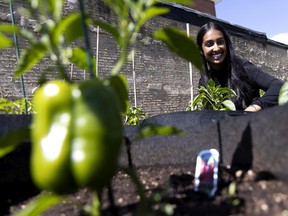 Article content
In the most unlikely of places — vacant land sandwiched between a daycare and a fire station on a commercial street in Roxboro, a community garden is thriving.
Article content
Rows of pods growing tomatoes, bell peppers, cucumbers, lettuce, squash, herbs and fruit are tended by experienced hands and novice gardeners alike. The 200 round fabric pods, about the size of a rain barrel cut in half, will supply fresh produce for about 30 low-income households, single-parent families and garden volunteers. The surplus produce goes into baskets for the West Island Assistance Fund (WIAF) food bank.
This is the second year of the WIAF's Garden of Hope, located on the site of its former office building, which burned down in 2019. With COVID-19 spacing restrictions lifted, more pods have been added this year.
"We're expanding to include more low-income families that could be living in apartments or their own home who don't have space for a garden," said garden coordinator Navdisha Sandhu. "But we want to work with anyone with young children, because as much as we want to combat food insecurity, we also want to get more children involved with gardening."
Article content
Alaa Aldana is a busy Roxboro mother of three children ages 3, 7 and 9. They first noticed the garden on the walk to school and her children asked if they could "visit."
"We live in an apartment and we don't have any experience with garden plants so my daughters were so excited and had so many questions," Aldana said. "They love watering the plants. They know that some need a bit of water and others need more. When we have extra time, we go to the garden."
Sandhu said volunteers don't have to make a summer commitment: "We do want them to drop in but when it comes to specific days or hours, we're very flexible."
Pauline Edward is a first-time volunteer. A retired Roxboro resident, she found out about the garden too late last year and was quick to sign up this summer. "It's a godsend and a replacement for my beautiful garden when I had my bungalow," said Edward, who now lives in a condo.
Article content
Edward used to grow herbs for teas and homemade balms. The community garden will include microgreens and edible wild plants this year and Edward will demonstrate how to prepare them. "Nature is so magical, everything we need is in there," she said.
The soil pods make gardening easier according to Sandhu: "The pods sit on top of pallets, the water drains down so you can't accidentally drown your plants, there's no soil contamination and you can move the pods if the plants are not happy, like not getting enough sunlight."
Some volunteers, like Edward, have gardening experience. "I know there are grannies and grandpas out there who would just love to get their hands in the dirt," she said.
Sandhu stressed that experience is not necessary: "All people need are a desire to learn and time to spend in the garden."
The WIAF is a non-profit community organization that works to eliminate food insecurity in the West Island and runs a food bank while supporting initiatives that encourage well-being and self-sufficiency.
The garden is located at 9 Centre-Commercial St. in Roxboro and is open between 9:30 a.m.–4:30 p.m. on weekdays. For more information, email [email protected] or consult their Facebook page.
Kramberger: WIAF aims to rise from the ashes bigger and better

West Island community groups assist victims of Dollard fire