COVID-19 cases are averaging at about 200 per week, according to the Ministry of Health's most recent surveillance report.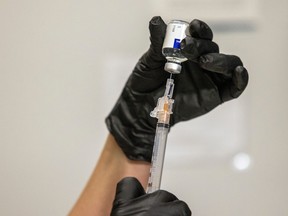 Reviews and recommendations are unbiased and products are independently selected. Postmedia may earn an affiliate commission from purchases made through links on this page.
Article content
The Kraken variant of COVID-19 is on the rise in Saskatchewan, which is also moving into the late stages of the flu season, according to the Ministry of Health's most recent community respiratory illness surveillance program (CRISP) report.
Article content
The bi-weekly report was released on Thursday, offering data for a reporting period from Feb. 12 to 25.
Article content
COVID-19 remains the dominant respiratory virus in circulation, as both influenza and respiratory syncytial virus (RSV) trend downward.
Saskatchewan continues to see approximately 200 COVID-19 cases reported cases weekly — although there is less testing — a continuing downwards trend that began in January from a peak of over 370 cases per week reported on Jan. 1-7.
Of the 396 cases reported between Feb. 12-25, 42 per cent were in the 20 to 64 age group, and 43 per cent were in the over 65 years group.
Seven more people have died due to COVID-19 in the past two weeks, all aged 60 years or older.
The ministry issued a correction to it's Feb. 16 CRISP report, clarifying that the number of deaths cited for the previous reporting period from Jan. 29 to Feb. 11 initially stated 18, but has been corrected to 16.
Article content
With the correction, this brings the total number of deaths to 63 in 2023 thus far. Since the pandemic began in March 2020, there have been 1,890 deaths now recorded in Saskatchewan.
An additional 13 deaths have been included as a back-data update in this report, but the ministry does not clarify when those deaths occurred.
Test positivity is at 6.5 per cent, up from the previous reporting period at 6.1 per cent. The ministry notes that more cases are appearing in patients under the age of 64, a change from prior reports.
Presence of the XBB.15 sub-lineage of COVID-19, colloquially called the "Kraken" variant by the public, has more than doubled, rising from 10 per cent to 23.3 per cent of lab positive cases in the past two weeks.
Article content
The lion's share of cases are still being identified as BQ.1.1 and other Omicron subvariants, at 49.3 per cent.
Hospitalizations linked to COVID-19 are averaging just over 50 per week, with 122 new patients admitted during the two-week reporting period. Eleven patients have been admitted to intensive care units.
Of all the staffed inpatient beds in the province, 5.7 per cent are currently occupied by COVID-19 patients.
RSV currently tops the charts for respiratory viruses, with a lab test positivity of 12.1 per cent, primarily in pediatric patients with 50 of 96 new cases in those aged 0-4 years.
The first case of Type B influenza was identified in the province in the past week, but there were no hospitalizations linked to the virus.
Article content
"Type B influenza generally has a mild clinical manifestation," states the report, noting that the virus's appearance is typical for March and April.
Flu positivity jumped slightly as a result, said the report, but with five of eight cases found in patients aged 20 to 64 years old. This marks a notable change from cases over the previous months, which have largely been detected in school-age children.
Vaccination rates continue to be unmoved, as only 46.2 per cent the province has received up-to-date vaccination for COVID-19.
Booster uptake shows that 20 per cent of individuals over the age of 12 have sought a bivalent booster dose.
Influenza vaccination is also down this year. Just 27 per cent of residents have received a dose since the campaign began in October, a drop of 10 per cent compared to the same time last year.
The news seems to be flying at us faster all the time. From COVID-19 updates to politics and crime and everything in between, it can be hard to keep up. With that in mind, the Regina Leader-Post has created an Afternoon Headlines newsletter that can be delivered daily to your inbox to help make sure you are up to date with the most vital news of the day. Click here to subscribe. 
For more health news and content around diseases, conditions, wellness, healthy living, drugs, treatments and more, head to Healthing.ca – a member of the Postmedia Network.