Will decide today if Flair's partnership with Miami-based investment company 777 Partners violates foreign-ownership rules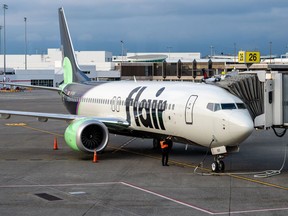 Article content
The fate of one of the handful of companies that has dared challenge Canada's airline duopoly in recent years could be decided today.
Article content
Canada's transportation regulator said in April that it would decide whether Edmonton-based Flair Airlines Ltd.'s partnership with Miami-based investment company 777 Partners LLC violates foreign-ownership rules on June 1.
A violation would see Flair barred from offering domestic flights. The Canadian Transportation Agency (CTA) has already said that a preliminary investigation raised questions about the nature of 777 Partners' involvement with Flair, a discount carrier that offers short- and medium-haul flights throughout Canada and to destinations in the United States and Mexico.
Flair responded to the initial findings by announcing a suite of changes, including a promise to boost Canadian representation on the company's board of directors. The CTA said it would review the airline's response before rendering a final verdict by the start of June.
Article content
Under the federal Transportation Act, at least 51 per cent of a domestic airline's voting shares must be Canadian, and no more than 25 per cent of voting interests can be held by a single non-Canadian company or person.
Flair's American backers ostensibly hold a minority 25-per-cent stake in the company. But the CTA's investigation suggested 777 Partners could have "control in fact," since the airline depended on its U.S. investors for financing and the leasing of aircraft. The private equity firm was also suspected of playing an active role in the management of Flair's business.
But if Flair is nervous about the final outcome of CTA's investigation, it isn't letting on.
The company's CEO, Stephen Jones, was expected to address the CTA decision at a press conference. This week, a spokesperson for the airline dismissed speculation on social media that recent hiccups in operations and service cancellations could be attributed to the company's regulatory problems.
Article content
"Flair has had a delay in getting aircraft from Boeing so that route will have to wait," Flair spokesman Mike Arnot said in response to a complaint that the airline had stopped selling tickets for nonstop flights between Anchorage, Alaska and Vancouver.
Flair Airlines' future in Canada remains up in the air until June 1

'Flair Airlines is here to stay,' CEO assures passengers in fight to keep flying in Canada

Canada's airline industry calls on Ottawa to reject Flair exemption

Flair goes frugal as 737 Max buyer plans European-style relaunch
The upstart airline has aggressively pursued market share since it began offering scheduled commercial service in 2017, taking on debt to grow its fleet even during the pandemic when air travel had all but ground to a halt.
Some Canadians have cheered the embattled carrier's progress through the recent regulatory hurdles, citing a desire to see more competition in a sector dominated by Air Canada and WestJet Airlines Ltd.
"Most Canadians like the idea of the feisty underdog that's going to give them great prices as an ultra low-cost carrier," said Karl Moore, associate professor with the Desautels Faculty of Management at McGill. "And they like the idea that the big players will have to respond by being a bit more price-conscious as well."
• Email: [email protected] | Twitter: mpotkins