'Flair is controlled in fact by Canadians… the Agency finds that Flair is Canadian'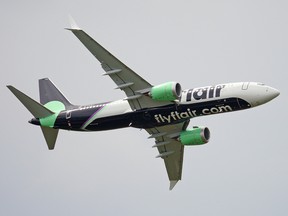 Article content
Flair Airlines Ltd. can continue to fly domestically following a ruling by the Canadian Transportation Agency (CTA), ending months of speculation about the future of the discount carrier.
Article content
The Edmonton-based airline, which offers cheap fares and no-frills service for flights throughout Canada and to destinations in the United States and Mexico, had been facing the possibility of losing its domestic operating licence over concerns it had violated Canadian foreign-ownership rules.
"We're thrilled to receive the positive decision today from the CTA which reinforces that Flair is a Canadian airline," CEO Stephen Jones said at a press conference on June 1. "The question has been answered. It's done."
A preliminary investigation by the CTA in March found evidence the company did not meet the requirements for Canadian ownership of a domestic airline. Under federal law, at least 51 per cent of a domestic airline's voting shares must be Canadian, and no more than 25 per cent of voting interests can be held by a single non-Canadian company or person.
Article content
The regulator was concerned about Flair's partnership with Miami-based 777 Partners LLC, which owns a 25-per cent stake in the airline. The CTA pointed to the American investment firm's control of the board of directors and suggested it had "control in fact" of Flair since the airline depended on it for financing and the leasing of aircraft. The private equity firm was also believed to be playing an active role in the management of Flair's business.
In its decision, the CTA acknowledged Flair had made changes to limit 777's influence following the preliminary investigation.
Flair overhauled its board to boost the number of Canadian directors and amended its shareholder agreement to strip 777 of some of its unique shareholder rights, according to the CTA. The company also reported that it has been cash self-sufficient since March, and has been working to diversify its funding sources and to refinance the balance of its debt to 777 Partners.
Article content
"The (CTA), after considering all of the facts together finds that 777 is not in a position to exercise control in fact over Flair," the ruling said. "Moreover, with the changes to the corporate governance structure, Flair is controlled in fact by Canadians… the Agency finds that Flair is Canadian."
The regulator also noted that Flair had extended the maturity date on its loan from the U.S. investment firm, and removed a lot of the conditions that could have allowed it to be called in earlier than what was agreed.
"We've really sort of taken away any ability for people to perceive that we could be controlled through the (debt)," Jones told reporters. "It's not that we were, but the perception sat there and so we've dealt with that."
Article content
Flair Airlines' fate hangs in the balance as regulator set to rule on licence

Flair Airlines' future in Canada remains up in the air until June 1

'Flair Airlines is here to stay,' CEO assures passengers in fight to keep flying in Canada

Canada's airline industry calls on Ottawa to reject Flair exemption
The company, which launched in 2005 as a charter operator before transitioning to scheduled service in 2017, was struggling in 2018 when its U.S. backers stepped in to provide a financial lifeline. With the help of 777, Flair aggressively pursued market share and expanded service even as the COVID-19 pandemic battered large incumbents such as Air Canada and WestJet Airlines Ltd.
Prior to its regulatory troubles, Flair had announced plans to expand its fleet to 30 aircraft by mid-2023, and then to 50 by 2025.
Article content
Amid the recent scrutiny of its operations, Flair has repeatedly accused its competitors of working to protect the industry's status quo. Vindicated, Jones doubled down, suggesting the company's regulatory problems were the "natural reaction" of the big carriers to the threat posed by Flair.
"There's been such a cozy duopoly here for so long that whenever you stir the pot — whenever you come and spoil the party by actually showing people that you don't need to spend $800, you can spend $150 to fly across the country — of course people are gonna be upset and so they use their power to try and destabilize the business," Jones said.
Aviation observer and McGill University professor Karl Moore said he wasn't surprised that the CTA elected to allow Flair to continue operating.
Article content
"Given the relatively low competition in the Canadian marketplace, it makes sense they would like them to go forward," Moore said.
However, Moore said, Flair also saw the writing on the wall and fundamentally changed its relationship with its U.S. backers in order to address the issue of Canadian control.
"I think they've done the right things and obviously the CTA thought that as well," Moore said. "There would be a public outcry that they had reduced competition by having Flair go away.
"They've met the criteria and the CTA was probably relieved to let them go forward."
• Email: [email protected] | Twitter: mpotkins