AHS said the new ambulances will help combat a chronic high volume of emergency calls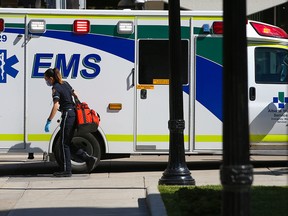 Article content
Alberta Health Services has added five new ambulances to Calgary streets as the province continues to contend with high 911 call volumes.
Article content
In a Tuesday news release, the health authority said the new ambulances will help combat a sustained high volume of emergency calls. That escalating pressure has led to some long EMS wait times, as well as a spike in red alerts, when no ambulances are available to respond to emergency calls in a community.
Article content
AHS also said it has hired 20 primary care paramedics in Calgary to staff the new ambulances. Edmonton also received five new ambulances and 20 new paramedics.
"Our teams have been planning ahead and working closely with our suppliers over the last year to expedite the arrival of these vehicles so that we can continue providing the best care to Albertans," EMS chief paramedic Darren Sandbeck said in a statement.
The ambulances were purchased from General Motors, a procurement that carries a 10- to 12-month lead time.
Article content
After arrival in Alberta, a company builds and installs components of the ambulance. After AHS receives the vehicles, crews add further equipment including radios, stretcher systems, defibrillators and medical supplies.
AHS deploys four new ambulances in Calgary, five in Edmonton

Okotoks, Chestermere boosted to 24-7 EMS coverage

Alberta releases EMS plan as paramedic demand reaches all-time high

'Never seen it like this': EMS staff shortage triggers four red alerts in Calgary
The new ambulances are a start but "only a drop in the bucket" for what's needed to meet emergency service demand, said the union representing about 28,000 Alberta health-care workers, including paramedics.
Health Sciences Association of Alberta president Mike Parker said more human capital is needed to improve EMS response.
Article content
"Ambulances are a good start, but they don't care for the sick and injured, people do," Parker said. "We started this week in Alberta with more than 500 paramedic shifts unstaffed . . . New equipment is always necessary, but it's people who answer the emergency calls and respond, not phones and ambulances."
The new ambulances and staff are funded through $16 million earmarked in the Alberta government's Budget 2022.
The announcement is the latest in a series of boosts to the EMS system, part of a 10-point plan outlined by the United Conservative government in early 2022 to ease all-time high pressure on emergency services. That strain is linked to increases in calls amid both the COVID-19 pandemic and the opioid crisis, as well as staffing shortages across the medical system.
Article content
In August, AHS announced it was boosting ambulance coverage in Okotoks and Chestermere to allow 24-7 service. That followed a July announcement of four new ambulances in Calgary and five in Edmonton.
"We are delivering on the commitment to fund new ambulances for service as quickly as possible. These new ambulances will help create additional capacity in the system, which is much needed," Health Minister Jason Copping said in a news release.
In a statement, Opposition NDP health critic David Shepherd blamed the UCP for increased ambulance response times, and raised continued concerns over paramedic shortages.
"The UCP have completely neglected paramedics, leaving them to face tremendous increased pressure on health care without added support," Shepherd said.
"The current situation is not sustainable and, as a result, more paramedics are leaving the profession altogether. This leads to staff shortages that mean ambulances stay parked instead of responding to Albertans' emergencies."
Twitter: @jasonfherring