If you've ever been on crutches, you know the effort it takes to accomplish even the simplest chores.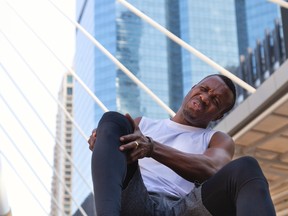 Postmedia may earn an affiliate commission from purchases made through our links on this page.
Article content
There are a lot of reasons to stay in shape. Better mental and physical health, more energy when you need it, reduced risk of chronic disease and some forms of cancer, more restful sleep and stronger bones and muscles are some of the more highly touted benefits of regular exercise. But sometimes life forces into view other benefits that don't often make the headlines.  
Article content
A few weeks ago, I dislocated my ankle. Playing pickleball. I lunged right, my shoe gripped the court and the ankle kept going. Several hours later, I left the emergency room with a pair of crutches, my lower leg in an Aircast boot and instructions to stay off my ankle for six weeks.
Article content
If you've ever been on crutches, you know the effort it takes to accomplish even the simplest chores. Going up a couple flights of stairs requires the energy of a 5K run. Preparing a meal demands a level of vigour and grit worthy of an elite athlete. And since these types of tasks are repeated multiple times a day, I'm thankful for the resilience I've acquired from years of long runs, swims, spin classes, paddles and gym workouts.  
But fitness isn't just about stamina. I didn't break any bones — a rarity when it comes to an ankle dislocation, and something the doctor partially credited to strong bones. Chalk up another benefit gained from all the years spent pounding the pavement. Running slows the rate of bone loss associated with aging, making the bones in my lower body more resilient to accidents like this.
Article content
Then there's the acrobatic routine performed every time I get in and out of the bathtub, made easier by the flexibility I've maintained through yoga. Also coming in handy is my upper body strength when lowering and lifting myself in and out of the pedestal tub. Finally, I'm thankful for all the balance training I've done, which makes it easier to sit and stand using a single supporting leg.
Admittedly, I didn't have all this in mind while I was working up a sweat for all those years. But the sheer volume of physical assets I have acquired over decades of workouts has suddenly become even more valuable, letting me maintain as much independence as possible while waiting for my injury to heal.
But no matter how much I rely on my overall fitness to mitigate the impact of my injury, it will be months before I can resume my normal workout schedule. Inactivity of this scale will most certainly cause my physical conditioning to erode. Fitness isn't something that can sit idle in a bank waiting for a rainy day — it demands a constant and consistent investment of time and effort. Knowing my exercise options are limited for the next six or more weeks, I wondered just how much of my hard-earned fitness will be lost during the hiatus from the gym.
Article content
Using the large worldwide community of masters athletes as their study subjects, researchers have accumulated a fair amount of data regarding what happens to physically active individuals who suddenly become inactive. Not surprisingly, there's a rapid loss of aerobic fitness — more so than the average sedentary individual would experience. While there's no significant loss in the first few days of inactivity, it's not uncommon to experience a seven per cent decrease in aerobic fitness (VO2 max) after 12 days of inactivity, which goes up to 18 per cent after 12 weeks.
That's the bad news. The good news is that VO2 max rapidly improves when training resumes. That improvement often occurs sooner in younger athletes, but masters athletes are also inclined to bounce back fairly quickly. A boost of nine to 13 per cent in cardiovascular fitness has been noted in masters athletes from 20 to 70 years of age after just eight weeks of high-intensity interval training.
Article content
Restoring lost fitness after an injury such as mine should be focused on more than regaining aerobic fitness. Rebuilding the muscle mass, strength, mobility and proprioception in my injured leg and ankle joint is imperative if I want to resume the activities I love, including a return to the pickleball court. I have a small team of professionals on standby to help me put all the pieces together, including the slow progression from non- or light weight-bearing activities like swimming and cycling to walking and eventually running.
It's going to take time and commitment to get where I want to be physically. And there will likely be setbacks along the way. But that's no different than it is for anyone who's trying to stay healthy and achieve their performance goals.
So the next time you wonder whether all that hard work in the gym really pays off, it does. And sometimes in ways you least expect.
Fitness: Here's how you can get more muscle in less time

Fitness: There's more than one way to sweat away the blues

Fitness: Can 'super shoes' give runners super speed?