Some First Nations have already created or started work on forming community safety officer programs.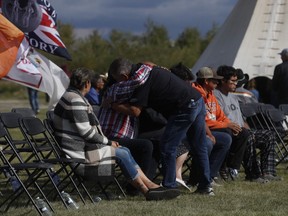 Article content
When Flying Dust First Nation created its community safety officer program three years ago, it wanted to have more of a uniformed presence in the community.
Article content
Chief Jeremy Norman said having the CSOs on the First Nation, which is home to between 600 and 700 people, has delivered results.
Article content
Flying Dust is less than five kilometres northeast of Meadow Lake, Sask. and close to 300 kms northwest of Saskatoon. It has a policing agreement with the RCMP, but usually saw Mounties only when there was a specific call for service, Norman said.
Flying Dust allocated money generated through business, and its program achieved accreditation in 2019. The officer it hired to focus on crime prevention conducts patrols, visits schools and collects information to be shared with RCMP.
"We took that on as a community, as leadership, just to improve the safety in our own community, with no funding of any kind," Norman said.
Article content
Calls for First Nations or tribal policing have grown since 10 people were killed in a mass stabbing on James Smith Cree Nation and on Weldon, Sask. on Sept. 4. The body of Damien Sanderson, 31, who had been identified as one of two suspects, was discovered the next day. The other suspect, his brother Myles Sanderson, 32, died after his arrest on Sept. 7. Charges against both men were withdrawn due to their deaths.
As Postmedia reported Sept. 8, James Smith Cree Nation Chief Wally Burns and Prince Albert Grand Council Chief Brian Hardlotte said the tragedy showed a need, among other things, for more autonomy for First Nations communities, including tribal policing and band council resolutions that could ban individuals from a community.
Article content
Norman said Flying Dust found there were limits to its RCMP contract — they no longer enforced band council resolutions or bylaws established by the First Nation, such as a curfew to enhance community safety.
"A law is no good if you don't have an enforcement or a means to take it to a court system," Norman said.
He wants to expand his community's program in the future, and would also like bylaws, which the CSO can enforce, prosecuted in the court system. Having a CSO is "definitely" a step in the direction of having its own policing, and he feels the CSO program would benefit every community, Norman said.
However, the startup cost is about $200,000, which not every community can afford on its own, he noted.
Last week, The Canadian Press reported that Federal Public Safety Minister Marco Mendocino promised to table legislation this fall that would declare Indigenous policing an essential service. There are currently 35 First Nations police services across Canada, including one in Saskatchewan.
Article content
RCMP have said the first of the mass stabbings on James Smith Cree Nation was reported to them at 5:40 a.m. on Sept. 4, and the first officers were dispatched at 5:43 a.m. Officers didn't arrive at the first scene until 6:18 a.m., 38 minutes later.
In an email to Postmedia, the RCMP said the Melfort detachment has 16 police officer positions, one of which is specifically assigned to James Smith Cree Nation, but all Melfort RCMP officers respond to calls for service at James Smith.
RCMP have approximately 25 detachments or offices on First Nations in Saskatchewan, including main detachments like Ahtahkakoop and satellite detachments, such as Montreal Lake, which is a satellite of Waskesiu RCMP. In other cases, they are provided a dedicated working space on the First Nation, RCMP said.
Article content
Other First Nations have also taken their own steps toward creating community safety programs.
Cumberland House Cree Nation has also considered creating its own community safety group. Earlier this year, it started recruitment for 12 peacekeepers to form the Swampy Cree Tribal Clan.
A First Nations Community Safety Officer program is funded by the federal and provincial governments.
The provincial Ministry of Corrections, Policing and Public Safety said it has been working with Public Safety Canada to fund three First Nations CSO positions on Whitecap Dakota First Nation and three on Muskoday First Nation, and discussions are ongoing with other First Nations.
Muskoday and Whitecap Dakota drove the project's development and were the first two communities to enter into an agreement to launch the project earlier this year.
Article content
In an interview in April, Muskoday Chief Ava Bear said the goal ultimately is to work toward either a stand-alone police service for the community or a policing partnership with neighbouring communities. CSOs can carry pepper spray and batons, and can respond to low-risk incidents. They could also, unlike RCMP, follow up on the First Nation's laws, including ones related to trespassing.
The ministry said 24 First Nations receive police services through Saskatchewan's provincial policing contract with the RCMP, including James Smith. Forty-five First Nations receive policing services through community tripartite agreements, according to the province.
One First Nations police service exists in Saskatchewan serving five Treaty Four nations: File Hills First Nations Police Service, incorporated in 2002.
Article content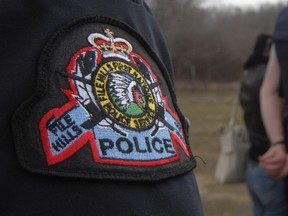 FHFNPS is stationed on Okanese First Nation, and serves it and Peepeekisis Cree Nation, Carry the Kettle Nakoda Nation, Star Blanket Cree Nation and Little Black Bear First Nation. It has six constables, a corporal, a staff sergeant, five special constables and a police chief.
Most other policing models for rural communities, such as RCMP, have limited duration posts, so members are only in those communities for a specified period of time, then are rotated out, FHFNPS Police Chief Paul Avanthay noted.
"With our police service, our members are permanently posted to our police service, so they provide a continual service. Our members are 100 per cent Indigenous currently. We've recruited quite a few members from the communities themselves who are active members of our force," Avanthay said.
Article content
Because its members have grown up in First Nations communities, they are already familiar with the struggles and traumas the communities have faced.
The Okanese, Little Black Bear, Pepeekisis and Star Blanket communities are also very close to each other, so the response time is faster, as Avanthay said. Carry the Kettle is about an hour away, and has a sub-office.
"The response times to calls are shortened because we're not responding from an hour away or two hours away. A lot of First Nations communities are remote and their policing service providers, whether it be RCMP or whomever else, you're already looking at increasing your response time just based on the remoteness of the community away from the detachment that services it," Avanthay said.
Article content
In his four and a half years with FHFNPS — he has been chief of police since December — many other First Nations have called expressing interest in setting up similar models, he added.
"A change in policing doesn't happen overnight. There's a process that's involved. But the sooner the process starts and leadership, whether it be at the provincial, federal or local level, the sooner they all get on board to move a project forward, the better it is for everyone," Avanthay said.
"That being said, there is an end date to people's patience as well. Public safety is what matters most in the end."
The news seems to be flying at us faster all the time. From COVID-19 updates to politics and crime and everything in between, it can be hard to keep up. With that in mind, the Saskatoon StarPhoenix has created an Afternoon Headlines newsletter that can be delivered daily to your inbox to help make sure you are up to date with the most vital news of the day. Click here to subscribe.