Ranbir Dhull is on trial at Saskatoon Court of King's Bench, charged with first-degree murder in the death of 23-year-old Samandeep Jhinger.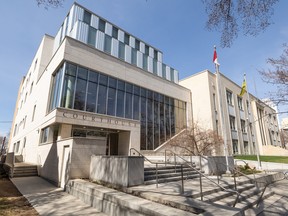 Article content
A Saskatoon taxi driver said he was left in shock after another driver told him he had killed someone and put the body in his basement.
Article content
"His main priority was to dispose of the body more than anything else," Malik Draz told a Saskatoon King's Bench courtroom about a conversation he had with Ranbir Dhull at a Saskatoon autobody shop on July 2, 2020.
Article content
Dhull, 44, is charged with first-degree murder in the death of his wife's cousin, 23-year-old Samandeep Jhinger. His judge-alone trial began Monday. 
In her opening statement, Crown prosecutor Tyla Olenchuk said there is no disputing Dhull killed Jhinger, but the trial will decide whether it is first or second-degree murder.
Olenchuk said Jhinger's wrists were bound to her legs, clothing was wrapped tightly around her neck and tape was on her mouth. The Crown will prove she died in the commission of a confinement, making it first-degree murder, she told court.
Article content
Police said Jhinger's body was found in a Warman home on July 3, 2020 the day after she was reported missing. Court heard she was supposed to catch a flight to Winnipeg, and her family called RCMP when she didn't show up. 
Draz testified that during their conversation, Dhull referred to the person he killed as "sali." He said the Punjabi word denotes a wife's relative, and can be used to express hate toward that person.
Draz said Dhull also used a Punjabi word that means "kill." The word has no meaning regarding intention, he testified.
Under cross-examination, he told defence lawyer Andrew Mason that there are slight differences in Pakistani Punjabi, which is his native language, and Indian Punjabi, which is Dhull's native language. He said he can understand both dialects because they are so similar.
Article content
On the witness stand, Draz re-enacted a gesture he said Dhull used when talking about the killing, raising his right arm at shoulder height and moving his fist in toward his upper chest. He told Olenchuk that he took this to mean that Dhull choked the victim.
He said Dhull complained that "they" wanted to control or "take over" his life, and mentioned something about gold and jewelry.
Draz testified he called police after Dhull said he wasn't going to turn himself in.
Saskatoon police Sgt. Deanne Bakker searched the home at 206 Third Street West in Warman in the early morning of July 3, 2020. She testified that she saw Jhinger's face after lifting a piece of heavy black plastic that was behind a rolled up carpet she had removed from a basement shelf.
Article content
"The body was well hidden," Cpl. Cory Teniuk, the primary lead investigator with the RCMP's Major Crimes Unit, said when Mason asked why Jhinger's body wasn't found during an initial search, despite having information from Draz that the body was in the basement.
Teniuk said Dhull's wife had told police that she and her cousin worked at 7-Eleven and would take turns staying home with Dhull's children during each other's often late shifts.
Dhull's wife said she received a text from her cousin around 1 a.m. saying she didn't need a ride to the airport because her flight was leaving earlier. She said it was odd because she didn't know anyone else who could take Jhinger to the airport, Teniuk told court.
Article content
twitter.com/breezybremc
Ranbir Dhull committed to stand trial on first-degree murder charge out of Warman

Man charged with first-degree murder of wife's cousin was awaiting trial on unrelated domestic assault charge
The news seems to be flying at us faster all the time. From COVID-19 updates to politics and crime and everything in between, it can be hard to keep up. With that in mind, the Saskatoon StarPhoenix has created an Afternoon Headlines newsletter that can be delivered daily to your inbox to help make sure you are up to date with the most vital news of the day. Click here to subscribe.